Toilets are important. We may not think about them very often, but toilets are a vital part of our everyday comfort and well being. Toilets are also a key factor in creating a more environmentally friendly society. Did you know that according to the EPA 30% of household water usage is from flushing the toilet? Some older toilets can use as much as seven gallons of water with every flush. That is billions of gallons of unnecessary water going down the drain every year. Thankfully, there is an easy solution to this problem: low flow toilets.
Low flow toilets can use as little as 0.8 to 1.6 gallons per flush, making them better for the environment and better for your wallet. Some states and cities are starting to require low flow toilets for new construction and offering rebates and incentives to those who replace their old toilets with low flow units. This has led many big-name companies to design and produce eco-friendly toilets. With that in mind, we decided to do a little research and compile a list of the best low flow toilets on the market today.
Top 5 Best Low Flow Toilets of 2021
---
Reviews of the Best Low Flow Toilets
Quick Look: Round-bowl toilet with dual-flush, 1.1Gpf/1.6Gpf. Comes in two pieces, seat not included. Available in 10 inch, 12 inch, and 14 inch rough-in. Comes in four colors. Includes 1-year warranty.
Check Price at Amazon
If you want to save water and still have a stylish bathroom, then look no further than the Wellworth Low Flow Toilet from Kohler. Not only is this toilet designed to look good with any bathroom decor, but it will also save you thousands of gallons of water every year.
This unit comes in two pieces, the base and the tank, for easy installation. The tank contains a powerful flush jet that will ensure that your toilet flushes properly every time. The base and trapway are glazed to prevent particles from sticking to the surface meaning fewer stains and less frequent cleanings.
Best of all, this toilet comes with a nested chrome flush lever that allows you to choose between a smaller 1.1-gallon flush or a 1.6-gallon flush. This means that you only use extra water when you need it.
Learn More and Buy Now at Amazon
---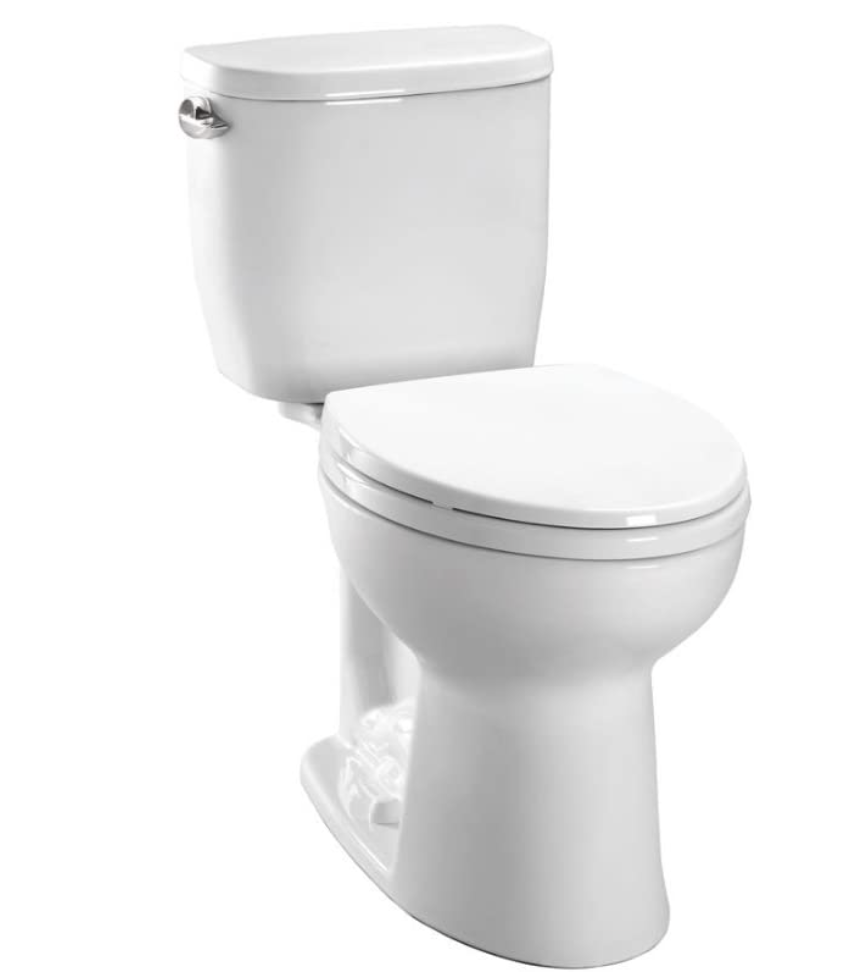 Quick Look: Round-bowl low flow toilet, 1.28Gpf. 16 inch seat height. 12 inch rough-in. Comes with an E-Max flushing system and 3 inch wide flush valve. Compliant with the EPA Watersense, CEC, Calgreen, and ADA requirements. Includes 1-year warranty..
Check Price at Amazon
Sometimes you have to spend money to save money, but with this Low Flow Toilet from Toto, you can save money and then save even more money. This budget-friendly model comes with all the features you need without the stress of a huge price tag.
This unit is the perfect choice for those looking to build a new home or do an environmentally friendly upgrade. It meets the criteria for both of California's CEC and CALGreen requirements as well as the EPA's Watersense requirements. On top of that, it is also ADA compliant, checking all the boxes for what you would need to meet city or state ordinances.
The Toto Entrada uses only 1.28Gpf, but don't let the small volume worry you. This system comes with a 3" wide flush valve and extra-large siphon jet. Combined those features with the large trapway and you know you'll get a clean flush every time.
Learn More and Buy Now at Amazon
---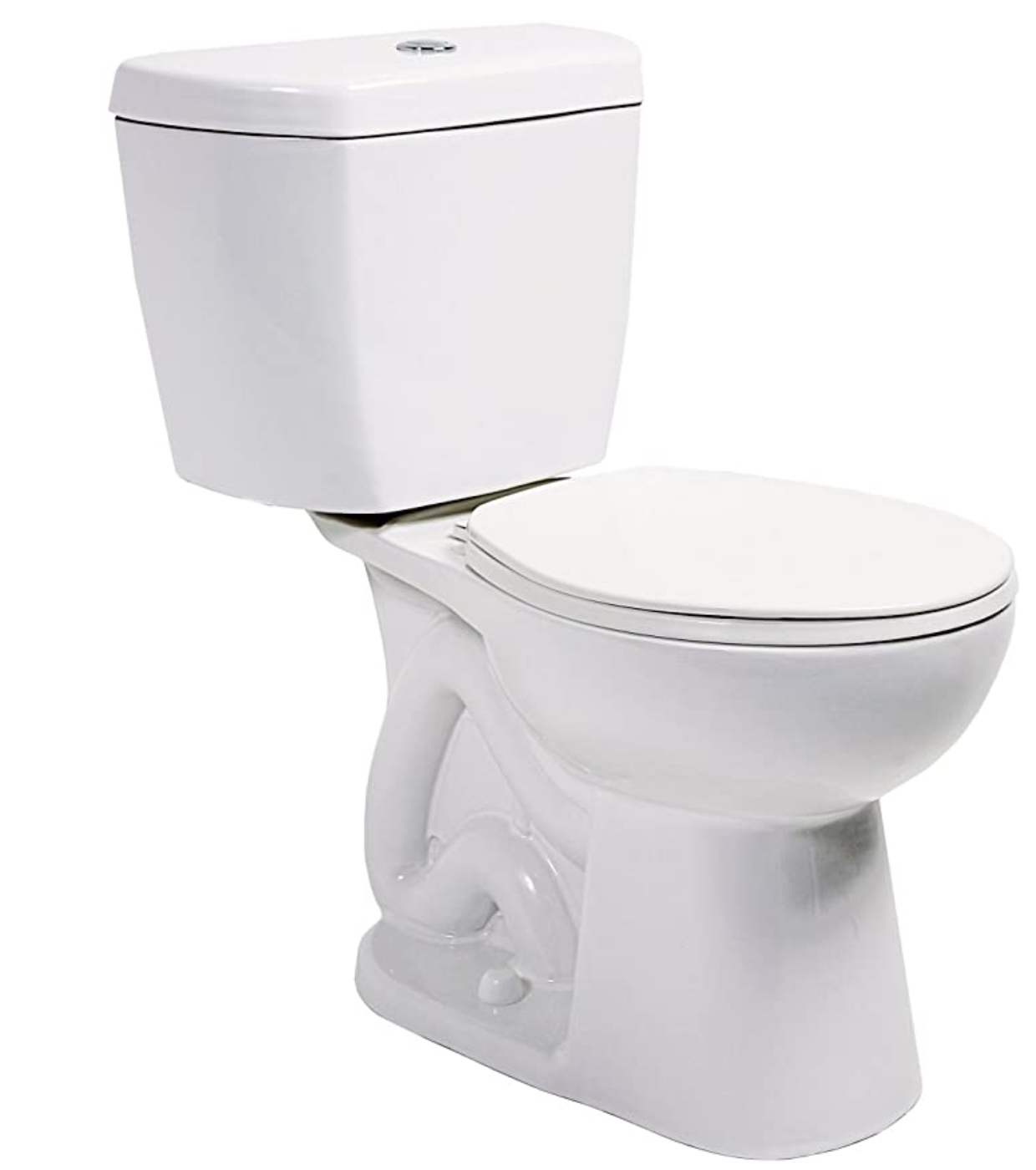 Quick Look: Ultra-low flow, high-efficiency toilet. Round-bowl, 16 inch seat height, and 12 inch rough-in. Easy to install. High-quality materials, highly durable. Clean, compact design.
Check Price at Amazon
If your goal is to save as much water as possible, then this is the model for you. This well-designed low flow toilet from Niagara offers the flushing power you need while only using 0.8Gpf.
This unit comes in two pieces and has a 12" rough-in, meaning it will fit most modern plumbing. The round bowl makes it more compact for smaller washrooms, while the 16" seat height makes it comfortable even for taller users. It also offers quieter flushing than the standard low flow toilet, so you never have to worry about your neighbors knowing every time you use the facilities.
Niagara designs their toilets to be long-lasting. They are made from high-quality materials that are stain-resistant and meant to last for years. Both the bowl and the trapway are fully glazed to ensure a clean flush every time, no double-flushing required!
Learn More and Buy Now at Amazon
---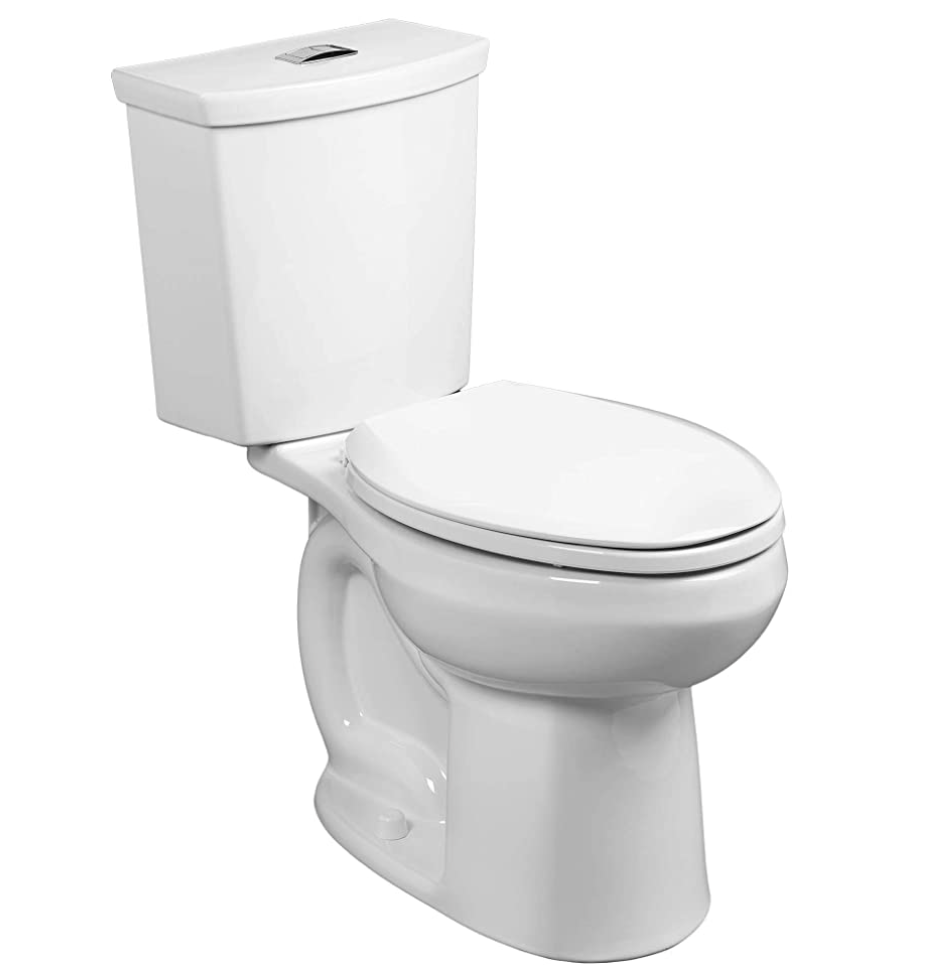 Quick Look: Elongated-bowl low flow toilet with dual-flush, 0.92Gpf/1.28Gpf. 16 inch seat height. 12 inch rough-in. Comes with EverClean surface protection and a powerful siphon jet. Includes a limited lifetime warranty on chinaware and a 5-year warranty on all mechanical parts.
Check Price at Amazon
American Standard strives to meet the highest quality standards for all their products and this toilet is no exception. The H2Option is a dual-flush toilet that is highly efficient as well as quite stylish. The clean lines, compact tank, and chrome top-mounted push-button actuator combine to make a unit that would look classy in any washroom.
This model offers two flush options, 0.92Gpf and 1.28Gpf, giving you control over the amount of water you use every time you flush. This can help you save thousands of gallons of water every year, not to mention the money you can save on energy bills. The included high-power siphon jet helps to ensure that you will get a clean flush every time, even when using the lower volume flush.
Although the main functions and design are great, it's the details that set this model apart. It comes with EverClean surfacing over the entire unit which helps to keep the bowl looking clean between cleanings. It also comes with a sanitary bar on the bowl and PowerWash rim technology for easy cleaning and two color-matching bolt covers for seamless installation. These elements may not be strictly necessary, but who doesn't love extra perks?
Learn More and Buy Now at Amazon
---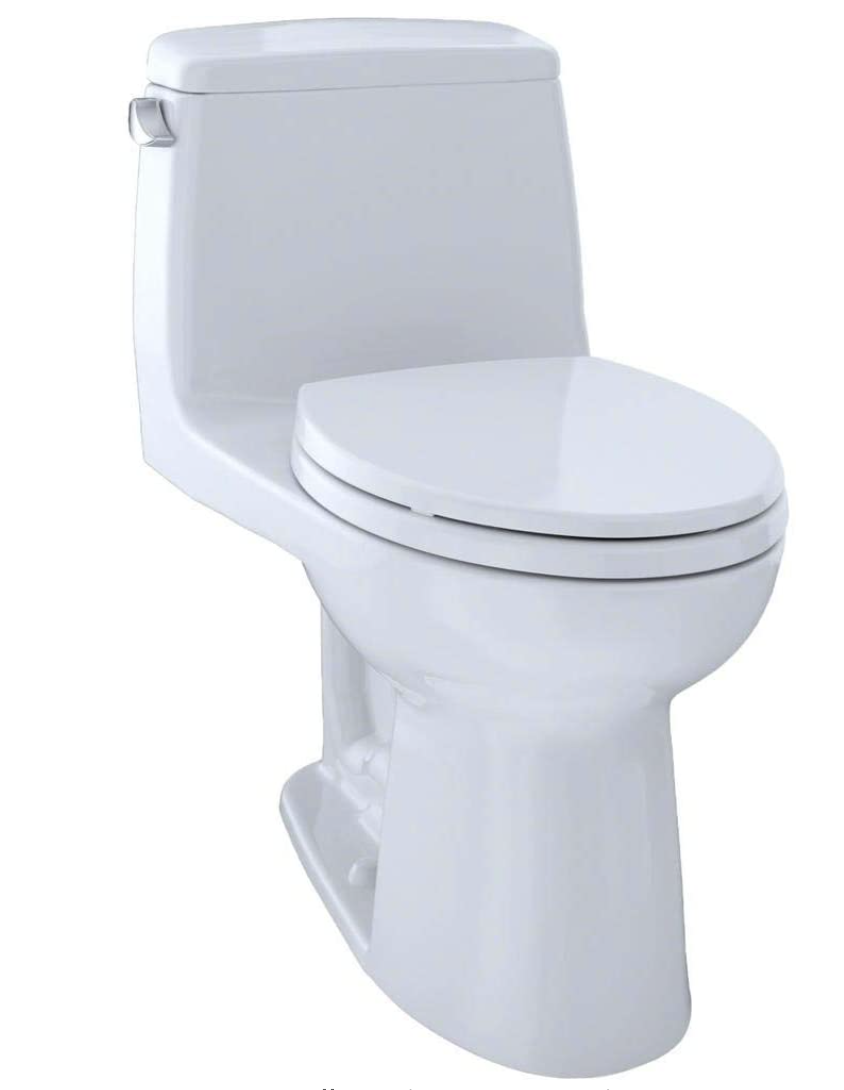 Quick Look: Elongated bowl, single-piece low flow toilet, 1.28Gpf. 17.6 inch seat height. 12 inch rough-in. Comes with E-Max flushing technology and Sanagloss coating. Includes a 1-year limited warranty.
Check Price at Amazon
Elongated bowl, single-piece low flow toilet, 1.28Gpf. 17.6" seat height. 12" rough-in. Comes with E-Max flushing technology and Sanagloss coating. Includes a 1-year limited warranty.
Looking for an environmentally friendly toilet that is ADA compliant? Then check out this model from Toto. The Eco Ultramax has a seat height of 17.6" making it the perfect height for anyone who struggles with low seating. It also comes with an elongated seat for a fully comfortable experience.
If you or your loved one has a hard time bending down, the seat height may not be your only concern. Cleaning can also be a challenge in these situations. For that reason, Toto designed this toilet to be easy to clean and maintain. The bowl and trapway are both fully glazed with Sanagloss. This coating not only prevents particles from sticking, but it also repels contaminants meaning that it stays cleaner longer.
The single-piece design also adds to the user-friendly features of this low flow toilet. The single-piece design means that there aren't any extra seals or bolts that could eventually leak or collect contaminants. The main body of the unit is compact and easy to clean, making it a great choice for everyone not only those with mobility limitations.
Learn More and Buy Now at Amazon
---
How We Chose The Best Low Flow Toilets
Although toilets are fairly simple home fixtures, there are a lot of models and styles to choose from nowadays. To help us narrow our search, we choose to focus on a few simple elements including water conservation, quality materials, and ease of use.
Water Conservation And Functionality
The best low flow toilets should function just like regular toilets with the added benefit of not wasting water. Unfortunately, not all low flow toilets are quite up to that standard. That is why we looked for models that used less water but still offered the flushing capabilities of a standard toilet.
Quality Materials
Because low flow toilets can be a bit more expensive than traditional toilets, we wanted to find quality models that were built to last. All of the models on our list are made with quality materials and most come with a warranty. These features make each of the models on our list a good investment that you can feel good about.
Ease of Use
Using, "Ease of Use" as a standard for choosing toilets may seem a bit odd, but we weren't just thinking about standard use. We also took factors like installation, cleaning, and maintenance into consideration. Early designs for low flow toilets left a lot to be desired. Many lacked the flushing capabilities required to remove waste and properly rinse the bowl. That is why we looked for modern designs that were capable of functioning properly, even with long-term use.
What You Need To Know About Low Flow Toilets
As you've probably guessed, low flow toilets work very similarly to traditional toilets with a few simple differences. Here is a quick rundown of what you should know before making the switch.
What Is A Low Flow Toilet?
A low flow toilet is a toilet that uses less than 1.6 gallons of water per flush (Gpf). Traditional toilets use anywhere from 3.6 to 6Gpf, so switching to a low flow toilet could save you more than 50% in water usage with every flush.
Low flow toilets work with a combination of gravity and siphon jets. The siphon jet is located in the tank of the toilet. When the toilet is flushed, the jet forces the water through the flush valve and into the toilet bowl. The pressure forces the waste down the drain leaving behind a clean bowl.
Not all low flow toilets use the same amount of water. The majority use somewhere between 0.8 to 1.6Gpf, but some use less. Dual flush toilets provide two flushing options, one for smaller amounts of waste and one for larger flushes. These are the best option for most users because the lower volume flush usually uses less than a gallon of water, saving even more water over a single-flush toilet.
Is Low Flow Worth It?
As we mentioned earlier, some low flow toilets can be more expensive than traditional fixtures, but knowing the benefits of a low flow toilet can help to justify the cost. A little simple math can prove their worth right away. Let's say you have a standard toilet that uses 3.6Gpf and that toilet is flushed an average of eight times per day. If you switched to a low flow toilet that uses only 1.6Gpf, you would save nearly 6,000 gallons of water in a single year. A toilet that uses 1.28Gpf would save you nearly 7,000 gallons. Depending on the cost of water in your area, it could pay for itself in a short time.
Keep in mind that maintenance can also contribute to the cost. Even the best low flow toilets have lower pressure than a standard toilet which can lead to clogging. If you have a large household or concerns about the toilet not having the flushing capabilities you need, you may want to contact the manufacturer before investing.
Don't Forget The Accessories And Plumbing
Most product descriptions and pictures will show the toilet fully installed which can be a bit misleading. You should be aware that most toilets are not sold with all the accessories and items needed for a full installation. Items like wax rings, bolts, and the seat are often sold separately, so be sure you purchase all of the required items before beginning installation.
Another important element to check before you begin installation is your plumbing. Many older houses do not have the proper plumbing for a low flow toilet, so you may have to do a few updates before you can install your new toilet. If you're not sure about your home's plumbing, you should consult a plumber.
How to Choose The Best Low Flow Toilet For You
Now that you know all about low flow toilets and how beneficial they can be, it's time to talk about how to choose the best low flow toilet for your home.
City Ordinances And Rebates
The best place to start is to sort out the legal stuff, especially if you're building a new home. Some cities and states have special ordinances concerning the type of toilet you're allowed to install in a new home, so you will want to ensure that you are purchasing the correct type. Many places also offer special rebates for purchasing a low flow toilet, so you may be able to get money back if you choose a model that is Watersense certified.
Space
Once you know the legal requirements, you can move on to space requirements. How much space do you have for your toilet? Remember to make allowances for the surrounding area. Does the door open inward? Is there a cabinet nearby? What about your toilet paper holder? These are all details that you will want to consider before making your purchase. Nothing is worse than going through the trouble to install a toilet only to find that you can't close the bathroom door or that you can no longer open the drawers in your vanity.
Style
Let's talk style. When it comes to low flow toilets, there are a few style elements to consider. Firstly, you should consider whether you want a dual-flush or a single-flush unit. Dual-flush is the most efficient, but not completely necessary.
Next, you should consider whether you want a round or an elongated bowl. This may have already been determined by the amount of space you have, but if you have a larger space you can base this decision on comfort. Many people find elongated seats more comfortable while others say it makes no difference.
Lastly, you can consider the look of the toilet. Many manufacturers offer models in a few different colors such as white, black, or cream. They also offer open or enclosed bases. This simply means that the base of the toilet either shows the shape of the plumbing or not. An enclosed base is flat on the sides, making it easier to clean and giving it a more uniform look. An open base will look more like a traditional toilet which some prefer because it looks less bulky.
Bottom Line
Choosing the right toilet for your home can make a big difference. Not only for your peace of mind but for the environment as well. A low flow toilet will help you to save money on energy costs and decrease your carbon footprint.
The biggest difference between choosing a low flow toilet and choosing a traditional toilet is considering your city's requirements or possible rebates. Once you know the local ordinances, you can proceed with your decision based on your space requirements and personal preferences just as you would with a traditional toilet. We hope this article has given you all the knowledge you need to switch to a low flow toilet today.
Top 5 Best Low Flow Toilets of 2021