We use water for a myriad of different things throughout the day. From washing our hands to watering the houseplants, we rely on water to help us live healthier lives. Unfortunately, some of our daily tasks that require water also cause us to waste it. For example, did you know that if you leave the faucet running for the full two minutes it takes to brush your teeth that you could be wasting 5 to 7 gallons of water? Depending on how old your faucet is, you may be wasting even more. We all know that wasting water can harm the environment, but what can we do? Simple, switch to a low flow faucet.
Low flow faucets help you save water by restricting the amount of water that flows through the faucet. A quality low flow faucet will help you save water while still providing the water pressure you need. Although there are thousands of low flow faucets to choose from, we have done our research and compiled a list of the top five best options on the market today.
Top 5 Best Low Flow Faucets of 2021
---
Reviews of the Best Low Flow Faucets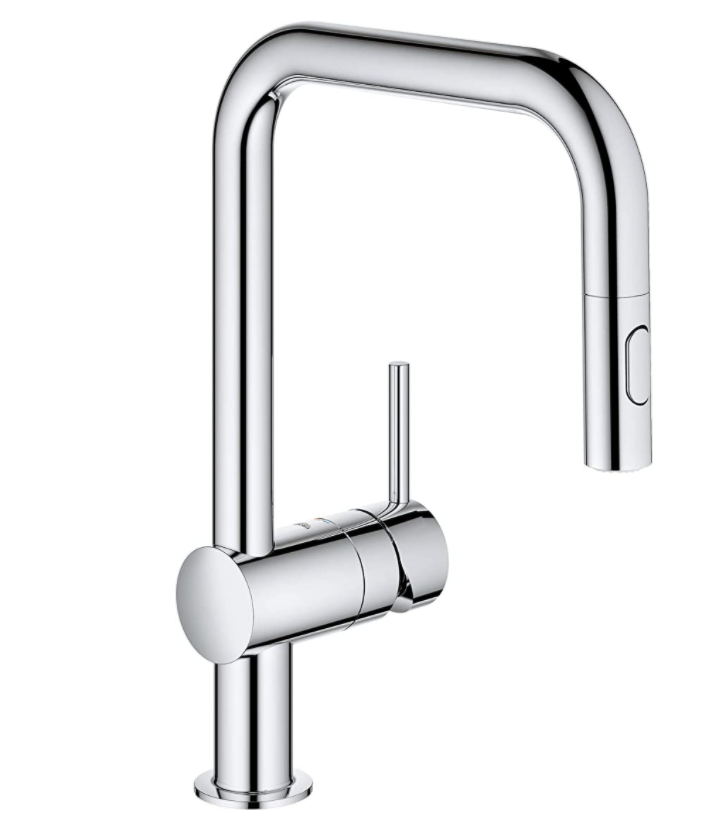 Quick Look: Single-hole 1.72gpm kitchen faucet. Includes dual-function pull down sprayer. Single, lever-style handle with 360° swivel faucet. Tarnish and scratch-resistant. Comes with a Limited Lifetime Warranty.
Check Price at Amazon
Washing dishes is rarely a fun experience, but it can at least be worry-free with this stylish, water-saving faucet from Grohe. With its tall angular design and seamless pull-down sprayer, this faucet makes washing dishes a breeze. Not only is it easy to use, but it also saves water, making it better for the environment as well as your budget.
This eye-catching faucet comes in two finishes, Starlight Chrome and Super Steel Infinity, meaning it would be the perfect addition to most modern kitchens. It offers a single-hole design that is simple to install and maintain. The single, lever-style handle gives you complete control over the water pressure and temperature.
Grohe takes pride in designing and building fixtures that will last a lifetime. For that reason, this faucet comes with a Limited Lifetime Warranty. Although with this solid design and tarnish-resistant finish, you shouldn't ever have to use the warranty.
Learn More and Buy Now at Amazon
---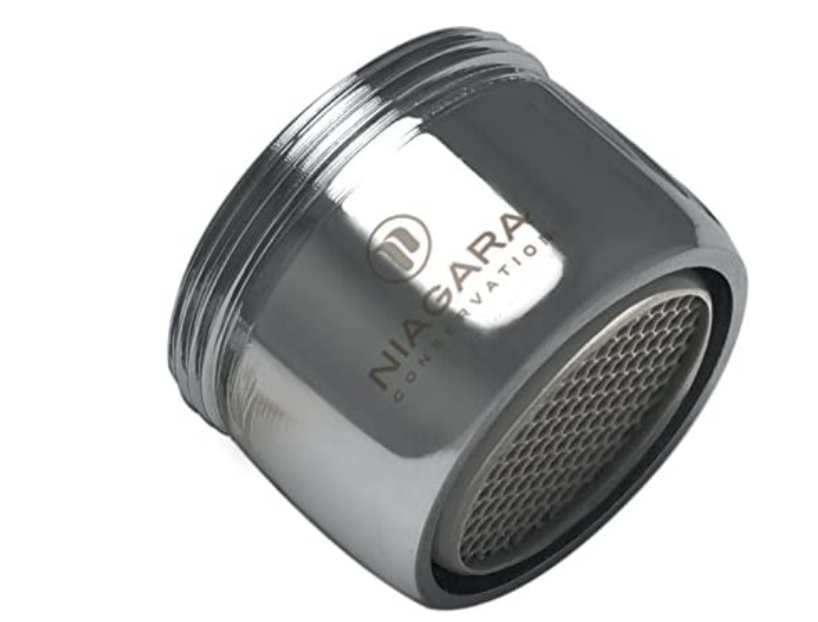 Quick Look: Multi-pack of 1gpm faucet aerators. Includes patented pressure compensator. Fits most modern bathroom and kitchen faucets. Male: 15/16 inch-27, Female: 55/64 inch-27. WaterSense certified. Comes with a 10-year warranty.
Check Price at Amazon
If switching all your faucets to low flow isn't in the budget right now but you still want to save water, check out these faucet aerators from Niagara. These aerators come in a 6-pack at an ultra budget-friendly price, allowing you to upgrade every faucet in your home without breaking the bank.
These aerators are engineered with Niagara's patented Pressure Compensator. The compensator is designed to maintain consistent water pressure, even if your home water pressure fluctuates. This means that your faucet will have better spray velocity while still saving water.
You can purchase these aerators in chrome or brushed nickel, ensuring that they will match your current faucet design. They are built with quality materials and come with a 10-year warranty, making these aerators a smart choice no matter what your budget looks like.
Learn More and Buy Now at Amazon
---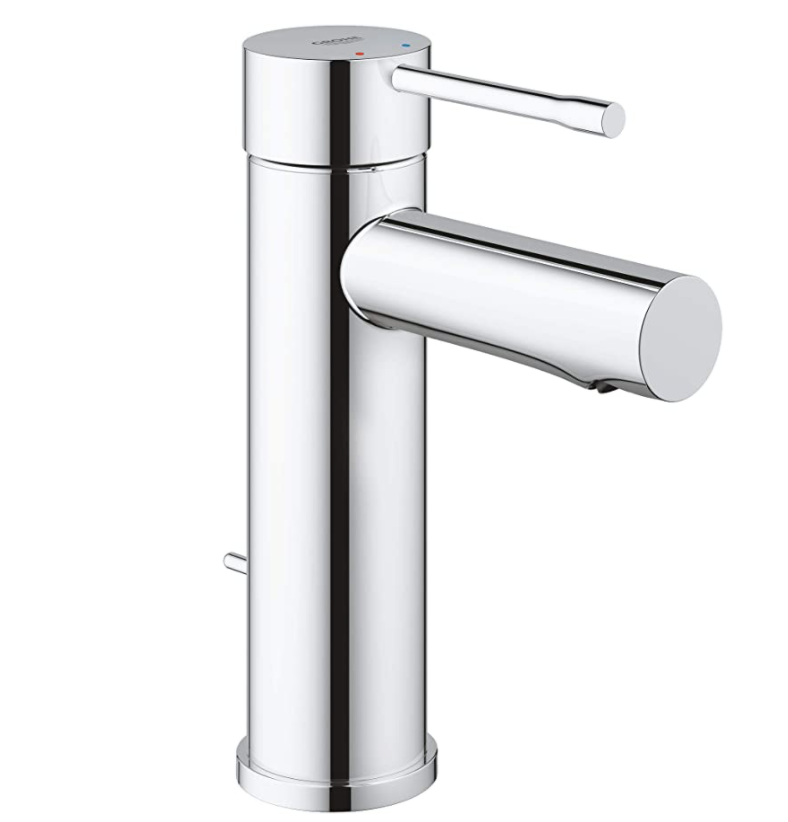 Quick Look: Center-set bathroom faucet, 1.2gpm. Comes in five finishes. Includes adjustable aerator. Scratch and tarnish-resistant. WaterSense certified. Includes a Limited Lifetime Warranty.
Check Price at Amazon
Choosing the best faucet for your decor can be challenging but with this classy fixture from Grohe, all your design worries will be washed away. This minimalistic faucet has a classy design that would blend in with any decor. Plus, it comes in five different finishes including chrome, nickel, and graphite, so there is something for everyone.
Not only will it look great, but it will also save you money. This faucet runs at only 1.2gpm and includes a ceramic cartridge that limits the temperature. This means you'll use less hot water, saving water and energy.
Grohe designed this faucet to be ultra user-friendly. It is both easy to install and simple to maintain. It comes with Grohe's exclusive Silk Move technology that allows the faucet to function smoothly and efficiently for years to come. It is also scratch and tarnish-resistant, so it will always operate smoothly and look good doing it.
Learn More and Buy Now at Amazon
---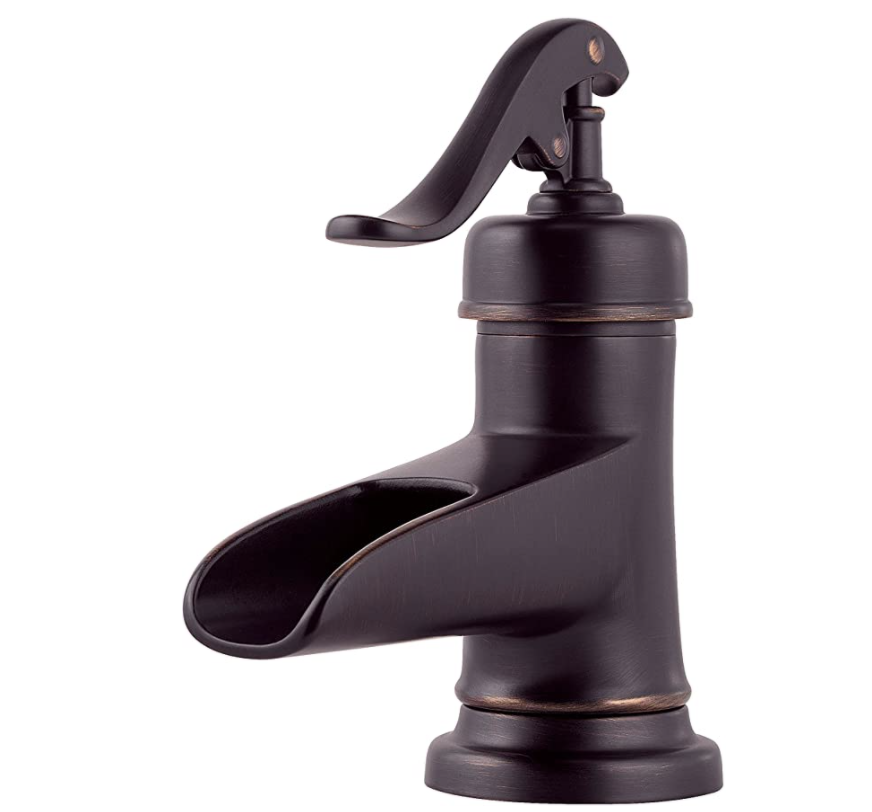 Quick Look: Centerset bathroom faucet, 1.2gpm. Compatible with single and three-hole sinks. Includes optional deck plate. Comes with plug. WaterSense certified. Includes a Never-Leak Guarantee and Duration of Ownership Warranty.
Check Price at Amazon
Looking for something a little less modern-looking, but still environmentally-friendly? Then Pfister has the bathroom fixtures for you. The Ashfield Collection includes everything you need to design your perfect rustic-chic washroom, including this eye-catching faucet.
This spout-style faucet can be installed in a single-hole or three-hole sink using the included deck plate. It comes with an easy to install design that will have you enjoying your new faucet in mere minutes. It also includes a simple 3-piece push-plug that can be installed just as quickly.
Not only is this faucet easy to install, but it is simple to use and maintain as well. The single-handle design offers effortless control over both temperature and water pressure. The Never-Leak Guarantee and Duration of Ownership Warranty give you peace of mind knowing that you'll never have to worry about your faucet ever again.
Learn More and Buy Now at Amazon
---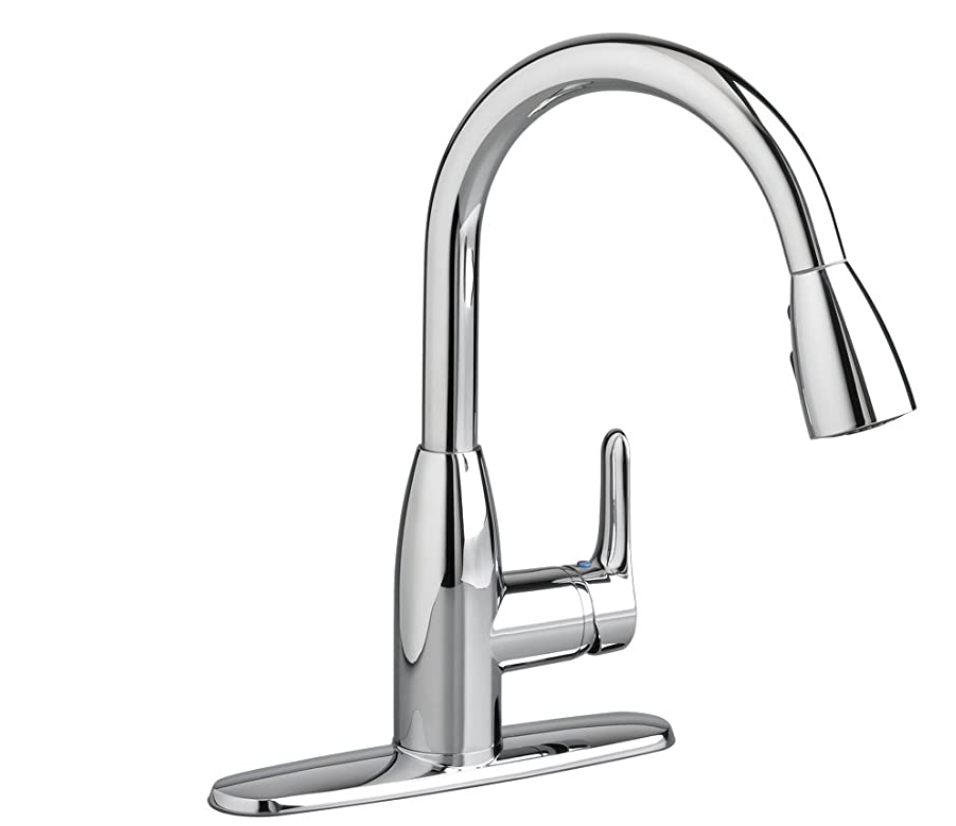 Quick Look: Centerset kitchen faucet, 1.5gpm. Pull down adjustable sprayer. Compatible with single and three-hole sinks. Includes removable deck plate. Drip and maintenance-free. ADA certified handle. Comes with a Limited Lifetime Warranty.
Check Price at Amazon
Kitchen faucets can be pricey, but, thanks to American Standard, there are some quality options out there for those of us with more limited finances. This dual-flow faucet from their Colony Soft collection is the perfect example.
This faucet comes with all the features you would look for in a quality kitchen faucet. It has a pulldown sprayer with adjustable flow options, an easy to control single lever-style handle, and a swivel swan neck that makes it perfect for dual sinks. All of that and it only uses 1.5gpm, making it earth-friendly as well.
American Standard designs their home fixtures to be long-lasting and user-friendly. This faucet is built with quality materials and is guaranteed to be drip and maintenance-free. It is easy to install and can be installed in either single or three-hole sinks using the removable deck plate. This faucet also comes in two finishes, Polished Chrome and Stainless Steel, making it a great choice for any kitchen.
Learn More and Buy Now at Amazon
---
How We Chose The Best Low Flow Faucets
Sorting through all the amazing low flow options out there was a challenge, but we decided that the best way to choose would be to stick to the basics. For that reason, we based our choices on these simple factors: pressure and flow, quality materials, and ease of use.
Pressure And Flow
One of the big drawbacks of early low flow faucets was that they simply didn't offer desirable water pressure. They were often too weak to be effective. Thankfully, modern designs are much better, so we were able to find units that combined low water usage with quality water pressure. All of the units on our list offer high-quality water pressure that would be comparable to their regular flow counterparts.
Quality Material
Faucets are not something that you want to be replacing very often. Not only are they expensive, but dealing with plumbing is never fun. That is why we looked for faucets that were built with quality materials that would last through years of regular use. We also looked for manufacturers who offered quality warranties so that if something does go wrong, you wouldn't have to worry about it.
Ease of Use
There are many things in life that are complicated but your sink shouldn't be one of them. All of the faucets on our list come with easy installation and even easier use and maintenance. They are easy to operate, simple to clean, and most of them are maintenance-free, you can't get much more user-friendly than that.
What You Need To Know About Low Flow Faucets
If you're reading this article, you probably already know a fair bit of information about low flow fixtures but if you're new, this section is for you.
What Is A Low Flow Faucet?
Just as the name implies, low flow faucets are designed to restrict the flow of water in order to save water. Low flow faucets can range from 0.5 gallons per minute (GPM) to 2gpm. The majority of these faucets are built with what is called an aerator. Aerators are basically a tiny sieve that separated the single stream of water into a bunch of tiny streams. This process adds air to the stream of water, spreading it out and making it seem like there is more water than there is. This allows you to use less water while not feeling like you're being restricted.
Forcing the water through the aerator also increases the water pressure. Have you ever put your thumb over the end of a garden hose to make the water spray further? It works like that. That built-up pressure allows you to have the water pressure you need while still being environmentally conscious.
Is Low Flow Worth It?
Every time you can make a change that is better for the environment, it will be worth it. Of course, we also have to take into consideration the financial benefits and in terms of your budget, low flow is definitely the way to go. If you have an old faucet, switching to a low flow model could save you hundreds of gallons of water each month.
Even if you have a somewhat newer faucet, you may still save money by making the switch. Many modern regular flow faucets are 2.2gpm. If you install a 1.5gpm kitchen faucet, you will save 0.7gpm. If you consider how often your faucet is turned on every day, that could add up very quickly.
Another great thing about these faucets is that they are often just as affordable as a regular faucet. You can find high-end expensive models and more budget-friendly options. You can find plain or designer units. No matter what you're aiming for, you can find a unit that will fit your needs.
Do You Have Low Flow Already?
If your faucets were already installed when you moved in, you may already have low flow units. There are two easy ways to check. All you need is a large container and a timer. If you have a gallon-size jar you can simply time how long it takes to fill the jar then extrapolate from there. For example, if it takes two minutes to fill then you have a 0.5gpm faucet. If it fills in 30 seconds then your faucet is a 2gpm model.
The other option is to get a large container and simply measure how much water your sink can dispense in a single minute. This method works best if you have a large sink.
How to Choose The Best Low Flow Faucet For Your Home
Now that you know all about low flow faucets and how they work, it's time to choose the best faucet for you. Thankfully, there are only two main things to decide: how much water you want to save and what style of faucet you want.
Savings Versus Comfort
Although choosing the lowest GPM is the best choice for the environment, it may not be the best choice for you. Most modern low flow faucets are designed to offer adequate water pressure, but you won't want to go too low if you like a more powerful flow. For example, most people prefer to stay at 1.5gpm or higher for the kitchen and 0.5 to 1gpm in the bathroom.
Not sure what kind of pressure you prefer? There is an inexpensive way to try a few GPMs without replacing your entire faucet. Many companies, like Niagara, manufacture aerators that will fit most sinks. These inexpensive nozzles can be attached to most average-sized faucets and they come in a range of GPM so you could try a few to see what level of pressure works best for you.
Style
This is the fun part. Low flow faucets come in a wide range of styles and designs, so no matter what style you prefer, there is a low flow faucet for you. If you love the faucets you have, but still want to go low flow, try aerators. Most modern faucets have an easy to remove aerator that you can replace in a matter of minutes allowing you to keep your faucets and save water at the same time.
Bottom Line
Saving water is an important part of protecting our environment and decreasing our carbon footprint. Although decreasing our water usage may seem challenging at first, fixtures like low flow faucets make it easy for us to start saving water right away.
Low flow faucets are easy to install and maintain and can help you save hundreds of gallons of water every year. Choosing the best low flow faucet for you is as simple as knowing the GPM you prefer and choosing a style. Opting for low flow is a simple choice that can have a huge impact. We hope that this article has given you all the information you need to make the switch today.
Top 5 Best Low Flow Faucets of 2021