Electric toothbrushes are all the rage with dentists and dental hygienists and for good reason. These toothbrushes are more effective and require less effort than manual toothbrushes. The trouble is that there are thousands of models with tons of features, so how do you choose the best electric toothbrush for you?
We have done some research and picked out our favorite electric toothbrushes on the market and have compiled all that information here for your convenience. Take a look at our picks, then you can read all about how we chose them and what you should consider when choosing your new electric toothbrush.
Top 4 Best Electric Toothbrush Options for 2021
---
Reviews of the Best Electric Toothbrushes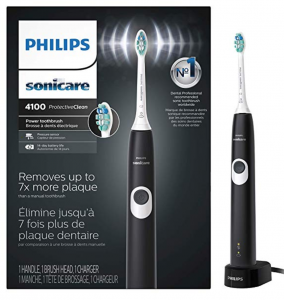 Quick Look: Built-in timer and quadpacer. Rechargeable, lasts 14 days on a single charge. Comes with an automatic pressure sensor and a 7-day start-up program.
Check Price at Amazon
You can't talk about electric toothbrushes without mentioning Philips Sonicare. As one of the most popular brands and styles, it is no surprise that Sonicare made our list. This toothbrush has all the essential features you need as well as a few handy extras. This brush also comes in three different colors.
This toothbrush removes 7 times more plaque than manual brushes remove. It has a two-minute timer that beeps every 30 seconds so that you know that you are brushing for the appropriate amount of time in each section of your mouth.
One of the best features of this model is that it comes with a start-up program for those who are not used to using a powerful electric toothbrush. This start-up mode begins with a gentle brushing mode and slowly increases the power over the first 14 times you use it. This allows you to adjust to a more powerful cleaning mode over a 7-day period. It also has an automatic pressure sensor to let you if you're brushing too hard.
Learn More and Buy Now at Amazon
---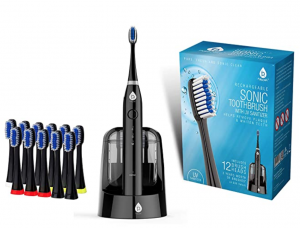 Quick Look: Built-in timer and quadpacer. 40,000 strokes per minute and 3 cleaning modes. Built-in UV brush head sanitizer. Comes with twelve extra brush heads.
Check Price at Amazon
For those of you who like that extra clean feeling for both your teeth and your toothbrush, check out the Pursonic 5750 Sonic Toothbrush. It comes with a UV sanitizer that kills 99.9% of germs on your brush head, ensuring that you get the cleanest brushing experience every time.
This toothbrush also comes with the timer and quadpacer that you need to ensure you are practicing proper brushing techniques. With 40,000 brushes per minute, you know that your teeth will be clean and protected from plaque and buildup.
With an additional 12 brush heads, this toothbrush will set you up with everything you need for exceptional dental hygiene for years to come. It also comes in black or white with blue highlights, so you can even choose the style you prefer.
Learn More and Buy Now at Amazon
---
Quick Look: Bluetooth compatible, 30-second timer, and six cleaning modes. Lasts 14 days on a single charge. Comes with a smart charging travel case. Compatible with multiple brush heads.
Check Price at Amazon
Oral-B is another big name in the world of electric toothbrushes and that is no surprise when you look at models like the Oral-B Genius Pro 8000. This toothbrush has features you didn't even know you needed on your toothbrush, such as Bluetooth connectivity.
Using the Oral-B app and facial recognition, you can get real-time feedback on how well you're brushing and which areas you need to focus on. This model comes with a suction-cup mount for your smartphone, so you can attach your phone to the mirror and use the app handsfree while you brush.
With six cleaning modes and a 30-second timer, you can ensure that your teeth will be properly cleaned no matter which area you are focusing on. This model comes with the dentist-recommended round Oral-B brush head, but it is also compatible with several of the other Oral-B replacement heads. This means you can easily swap out the brush head if you prefer one of their other options.
This toothbrush also comes with a smart travel case that can both charge your toothbrush and charge your smartphone, so you never have to worry about running out of power when you're traveling. This toothbrush also comes in five different stylish colors, so you can have the powerful toothbrush you need in a style that you love.
Learn More and Buy Now at Amazon
---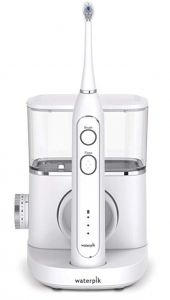 Quick Look: Toothbrush and water pick combo with 3 cleaning modes. Built-in timer and quadpacer. Offers ten pressure settings for water pick. Comes with a convenient travel case.
Check Price at Amazon
Do you love the idea of having a water pick, but do not love the idea of having an extra piece of equipment taking up your bathroom counter space? Then why not choose the Waterpik electric toothbrush that offers the best of both worlds? With this model, you can get the brushing power you need along with convenient water flossing for that extra clean feeling.
This toothbrush comes with a two-minute timer that will notify you every 30 seconds, so you know when it is time to switch sections. It comes with three brush modes: cleaning, cleaning and flossing, and just flossing. The flossing option has ten different pressure settings, so you can decide how much water pressure you need.
If you need to travel and do not want to take the water reservoir with you, the toothbrush easily disconnects from the charging stand. It even comes with a convenient traveling case, so your powerful electric toothbrush can go wherever you go.
Learn More and Buy Now at Amazon
---
How We Chose The Best Electric Toothbrushes
Having a good quality electric toothbrush can make a big difference in your oral health. That is why we looked for a specific set of features in each of our favorite picks so that no matter which one you choose, you're sure to get the cleaning power you need.
Necessary Features
Although there are all different kinds of electric toothbrushes out there, the best ones should all have two main features in common: timers and strong brushing power. You will notice that all of our picks include these features because, as you will soon learn, they are the most important features you can have on your electric toothbrush.
Quality Products
As always, we looked for toothbrushes that were made with quality materials that were meant to last. All of our choices have strong batteries that are made to last for days on a single charge so that if you travel, you do not have to worry about dragging the charger along. We also looked for waterproof models, so they would last longer. We even looked for options that came with extra brush heads so you wouldn't have to worry about buying replacements. These may seem like little things, but sometimes it is the details that make all the difference.
Ease of Use
Some of our picks do have some complicated features, but they are still easy to use. The last thing you want is a toothbrush that is so complicated that you don't want to use it. With this in mind, we tried to find different models that would fit every lifestyle.
What You Need To Know About Electric Toothbrushes
Choosing the best electric toothbrush for you has a lot to do with your personal preferences, but there are a few features you should definitely focus on when making your purchase.
Timer and Quadpacer
As we already mentioned, a timer with a quadpacer is the most important feature you can have on your electric toothbrush. Imagine your mouth is separated into four sections, upper left and right and lower left and right. Research suggests that the most efficient way to brush your teeth is to brush for 30 seconds in each of those sections, so you end up brushing for a total of 2 minutes.
A quadpacer is a timer that will beep or vibrate every 30 seconds, letting you know when it is time to move on to the next section of your mouth. This may seem like a silly detail, but if you are not using a timer when you brush, chances are you are not brushing for the appropriate amount of time. By choosing a toothbrush with a built-in timer, you are ensuring that you will be getting the most out of every time you brush and improving your overall oral health.
Pressure Sensors
Another feature that can really improve your dental health is a built-in pressure sensor. Many people do not realize that they are brushing too hard and damaging their gums. One of the benefits of choosing an electric toothbrush is that the movement of the brush head does the work for you. This means that your teeth are properly cleaned without having to press the toothbrush into your gums. With an automatic pressure sensor, your toothbrush will notify you when you're pressing too hard, saving your gums from unnecessary damage.
Cleaning Modes
Extra cleaning modes may not be necessary, they can be very handy especially if you have sensitive teeth or gums. Some toothbrushes can come with as many as six different modes. These cleaning modes can range from basic cleaning to massage for your gums and even polishing for a little extra shine. If you truly love that just-left-the-dentist feeling, you may want to consider a brush with multiple cleaning modes.
How to Choose The Best Electric Toothbrush For You
Now for the fun part, finding the best electric toothbrush for you. Choosing the right model is a pretty simple process, all you have to do is look for a model with the necessary features within an appropriate price range for you.
Necessary Features
As you are now fully aware, the timer and quadpacer are necessary, but do not forget to consider features that are necessary for you. For example, if you travel a lot, then a long battery life would be a must. If you have sensitive gums, then a gentle cleaning mode would be considered necessary. Consider your dental needs, then look for the appropriate features to match.
Price
Price is an important factor for any purchase. Thankfully, you do not have to spend a lot of money to get a quality electric toothbrush. As with any product, you will have to pay extra for lots of extra features, but you can get a great model for a very reasonable price. If you are looking for a minimalistic option, you can pay as little as $25.
Bottom Line
With such a wide variety of models and styles, it is easy to be somewhat intimidated when wading into the world of electric toothbrushes. Thankfully, there are some simple criteria that you can follow to find the best electric toothbrush for you. The best place to start is considering your personal needs. Elements like easy transport, multiple cleaning options, and extra features are all things that you should consider when making your purchase.
Choosing an electric toothbrush can really make a difference when it comes to improving your oral health. Some models can be up to 300% more effective than a manual toothbrush and they are easier to use, meaning that choosing electric is a win-win for you and your teeth.
It's hard to go wrong with any of our top electric toothbrush picks, but we recommend the Philips Sonicare for its features, ease-of-use, and performance. Compare all of your options before making a final decision, though, to make sure that you're choosing the right model for your circumstances.
Top 4 Best Electric Toothbrush Options for 2021