Have you been considering switching to an electric bike? These bikes have small electric motors that will give you that extra boost of power when you need it, so you won't have to worry about going too slow or not having enough energy to get to your destination. All the while, you will still be pedaling so you still get the health benefits of traditional biking.
We have compiled a list of our favorite electric bikes in different styles, so that you can get a good idea of what is available. After showing you our picks, we'll explain how we chose them as well as give you all the information you need to choose the perfect electric bike for you.
Top 3 Best Electric Bikes of 2021
---
Reviews of the Best Electric Bikes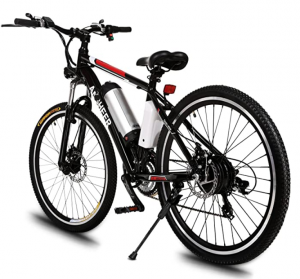 Quick Look: Aluminum alloy frame, 21 gears, removable battery, and LED headlight. Adjustable seat and handlebars. Comes with a 1-year warranty.
Check Price at Amazon
This stylish Ancheer 250w electric bike comes with a multitude of features and a reasonable price tag, making it a great choice for e-bike enthusiasts and beginners alike. It has 26" tires, an adjustable seat, and adjustable handlebars. The motor is 250w, giving you enough power to get where you need to be in no time.
The removable 36v/8ah lithium battery can be charged on or off the bike for your convenience. You can go 15 to 30 miles on a single charge, depending on which biking mode you use. This bike comes with three modes: regular bike, pedal-assist, and full electric. You can use the extra power when you need it and conserve battery power when you don't. When you do use the full electric option, you can go up to 15mph.
This bike is extra durable and lightweight. It has a high-carbon aluminum alloy frame and a carbon steel fork. This model is designed to stand up to the rough terrain of mountain biking, but sleek enough to look great while you cruise around the city.
Learn More and Buy Now at Amazon
---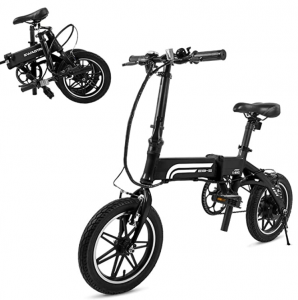 Quick Look: Lightweight, foldable, 14" tires, and 250w motor. Adjustable seat and handlebars, comes pre-assembled.
Check Price at Amazon
If your commute includes time on the subway or climbing stairs and you need a compact electric bike that can go everywhere you go, then the SwagCycle EB-5 Pro is the one for you. This bike folds in three places and weighs 37lb, making it easy to store and transport.
The 36v battery will go up to 15.5 miles on a single charge if you strictly use the electric mode. If you choose to use pedal-assist, you can go even further. You can go up to 15mph, getting you to your destination in no time at all. The lithium battery charges in less than 5 hours.
This compact bike comes with a few other big features such as an adjustable seat that is designed to fit all universal seats. This means you can easily swap out the seat if you so desire. The handlebars are also adjustable, so you can set the height to fit your preferences. This bike also comes with an easy push-button start and a battery life indicator on the handlebars, so you always know how much battery power you have left.
Learn More and Buy Now at Amazon
---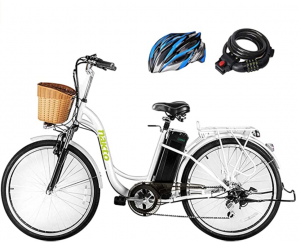 Quick Look: Cargo bike with basket and luggage rack. 26 inch tires, 250w brushless motor, and LED headlight. Comes with a 1-year warranty.
Check Price at Amazon
Looking for a bike that you can use for your commute and trips to the grocery store or local market? Then look no further. The Nakto 250w has the storage options you need with both a front basket and a luggage rack on the back so you can attach a secondary basket or carrier.
The frame and fork are made out of high-strength carbon steel, so you know this bike is built withstand a lot of use. The 26" anti-slip and wear-resistant tires are designed to keep you going for miles, no matter what the terrain. With a built-in horn and LED headlight, this bike is even good for riding at night.
The brushless 250w motor will get you up to 25mph. The removable 36v/10ah battery will carry you 28 miles using electric mode and much further with pedal assist. This bike comes with three modes: regular bike, pedal-assist, and electric mode. This gives you the option to ride the way you want to ride.
This model comes 95% preassembled, so you will not have a lot of fuss to get it ready for your first ride. It also comes with a 1-year warranty, so you can rest assured that if anything does go wrong, you're covered.
Learn More and Buy Now at Amazon
---
How We Chose The Best Electric Bikes
Choosing the best electric bike is very similar to choosing a regular bike, this means that the best model for you may not be the best one for someone else. There are a few things that all electric bikes have in common and those are the criteria we looked for when choosing our favorite models.
Power
The whole reason for choosing an electric bike is the extra power you get when biking from place to place. This means that choosing a bike with the right amount of power is very important. We chose models with enough power to get you through those tough spots on your commute. We also looked for models that would go the distance, at least 15 to 20 miles on a single charge, so that you are never left in the lurch.
Quality Materials
Electric bikes are more expensive than conventional bicycles, so buying one can be a pretty serious investment. As always, when you are about to make a big purchase, you want to know that the product you're purchasing is of high quality. When it comes to electric bikes, you want to look for the same materials you would look for in a regular bike, such as aluminum alloy frames and steel forks. Electric bikes have the added requirement of needing a quality battery, which is why we chose models with lithium batteries. Lithium batteries are designed to last through recharge after recharge, so you will not have to worry about buying another battery for a long time.
Handy Features
Who doesn't love extra features? The extra features on your bike can make a big difference in how much you enjoy riding it. We looked for extra features that we thought would be the most helpful such as headlights, extra room for cargo, fat tires, and foldability. Everyone has different needs when it comes to their bike, so we looked for a wide variety of features that may inspire you to find a bike with features you didn't even know you needed.
What You Need To Know About Electric Bikes
Even though choosing an electric bike is a lot like choosing a conventional bike, there are a few distinct differences and elements that you should be aware of before making your purchase.
Know The Law
Electric bikes come in three classes. Class 1 electric bikes are pedal-assist only and can go up to 20mph. Class 2 bikes have pedal-assist as well as throttle control and can also go up to 20mph. Class 3 bikes can go up to 28mph with pedal assist. It is important to know the classes because different regions and states have different laws about who can ride electric bikes and where you can ride them. Most places will allow you to ride an electric bike anywhere that regular bikes can be ridden but other areas have more stringent laws, so be sure to check the laws in your area before making your purchase.
Know The Weather
This applies to regular biking as well, but do not forget to consider the type of weather you will be biking in. If you live in a colder climate, be sure you buy a bike that is meant to go through the snow. Fat tires can be a good option for snowy rides because they offer better balance and traction. Going along at 20mph might not sound very fast in terms of riding in the car, but when you are out in the open on a bicycle, 20mph can be pretty fast. This is especially fast on slippery sidewalks and streets, so always practice good safety precautions when riding your bike in the ice and snow.
If you live in an area where the temperatures dip below freezing, you will also want to choose an electric bike with a removable battery. The constant cold can decrease battery life, so it is better to choose a model that allows you to remove the battery and bring it into the house where it can stay warm.
Know The Weight
The addition of a motor and battery makes electric bikes heavier on average, which can affect you and your biking experience in several ways. First of all, it can affect how easy it is to transport your bike. These bikes can weigh upwards of 50lb, so lifting one onto a bike rack can be challenging. Or if you live on an upper floor and you take your bike into your apartment, the extra weight can make things more complicated. There are lightweight models, just keep this in mind when you go to choose your new bike.
You should also know that many of these bikes have weight limits based on the strength of the motor. If you do choose a smaller model so that you can carry it, make sure it has enough power to carry you.
Know The Ride
Although you never forget how to ride a bike, you will have to learn a few new things about riding an electric bike. For example, you will have to pedal faster. Electric bikes work more efficiently when you pedal at a faster cadence. They also require you to brake sooner than a regular bike. These bikes are heavier and move faster, so you have to apply the brakes earlier. You also have to keep track of your battery power, which is certainly different from a regular bike ride. As long as you use the electric mode as little as possible, you shouldn't have to worry about running out of juice, but it is something to keep in mind. There are a few other subtle differences, but these are the main ones to pay attention to.
How to Choose The Right Electric Bike for You
Now for the fun part, finding the best electric bike for you.
The Terrain
The first thing to consider when choosing your bike is the terrain you will be riding on. Just like regular bikes, electric bikes come in different styles such as mountain, cargo, cruiser, and so on. Choose your bike according to the terrain you will be riding on the most. If you are going to be out in the woods riding on trails, choose a mountain bike. For the street, choose a cruiser or cargo bike.
The Right Fit
The next element to factor in is you. Once you know the style of bike you need, go out and test drive a few. Like we mentioned before, this is a big investment, so you want to make sure that you choose a bike that is perfectly comfortable for you. Most bikes come with adjustable seats and handlebars, but you need to know that the body of the bike is the right size. If you are not sure what you need, ask a professional at your local bike shop. They can give you tips about finding the best electric bike for your body type and riding style.
Features You Love
Last, but not least, look for those features you love. Keep in mind that this is an investment into something you plan on using a lot. Do not cut yourself short, make sure you find a model that has the features you know you need. Riding at night? Make sure you get an LED headlight. Using your bike for trips to the store? Look for that cargo options. Going for a lot of hilly rides? Look for gear options. You are the only one who knows which features you need, so make sure you look for them.
Bottom Line
Choosing the best electric bike can seem challenging, but there is no need to be discouraged. Simply choose the style you need then find the model that fits you and your riding style. Remember to research the rules in your area concerning electric bikes so that you do not run into any surprises.
It's hard to go wrong with any of our top electric bike picks, but we recommend the Ancheer 250w for its power, run time and overall durability. Compare all of your options before making a final decision, though, to make sure that you're choosing the right model for your circumstances.
Top 3 Best Electric Bikes of 2021