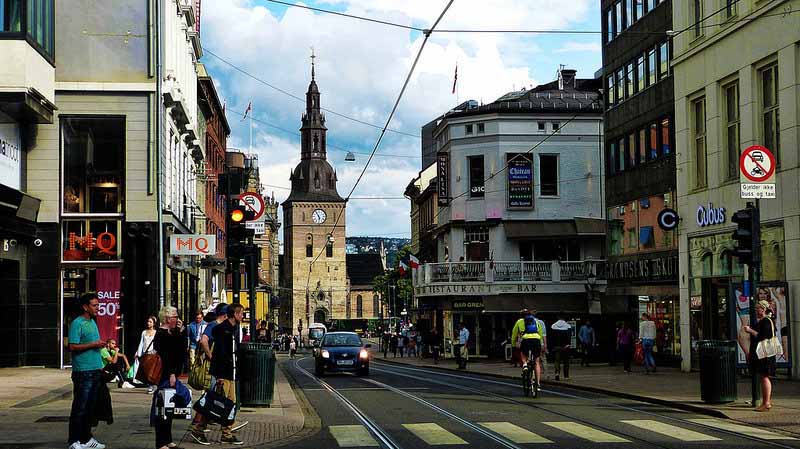 In a bold move to reduce pollution, Oslo's city council has voted to ban cars from the city center by 2019.
Many large European cities are taking measures to improve pollution and traffic congestion in their downtown areas, but Oslo's total ban is the first to take aim at getting cars off the roads completely and permanently. The Oslo city council wants to encourage a better relationship between residents and their city, and to that end they are supporting a large cycling initiative that will see over 60 kilometers of new bicycle trails built throughout the city.
Public transit improvements will lessen impact
Special allowances will be made for the disabled and elderly to use their vehicles for transportation when necessary, and commercial delivery vehicles would also continue their usual rounds. Most importantly, public transit will continue to serve the city, as buses and trams will not be affected by the ban.
In fact, the city council plans to invest heavily in additional public transportation initiatives, as many of Oslo's 600,000 inhabitants live in the suburbs and must commute into the city for work. Oslo's public transportation is already working towards a greener profile: while many of the 700 buses run by Oslo's public transit administration are traditional diesel vehicles, they've steadily been adding alternative-fueled vehicles to their fleet. They now have approximately 100 buses running on biodiesel, along with 5 hydrogen-powered buses, 14 ethanol-powered buses, and 49 buses fueled by natural gas.
Oslo's public transit system is already extremely good, with 83% of the city's residents reporting via Norway's annual travel survey that they have "very good" access to transit. That means they have access to buses with an "hourly frequency of at least four departures" and only need to travel "a distance less than one kilometre to the bus stop." Approximately a quarter of Norwegians commute to work on foot or by bicycle, so the idea of abandoning cars completely in Oslo isn't so farfetched.
Car-free days already popular worldwide
Several cities, including Brussels, Sao Paulo, Paris and Seoul have designated "car-free days" where citizens are encouraged to find alternative means of getting around, including public transit, electric vehicles, and cycling. Downtown streets are shut down and pedestrians enjoy cleaner and quieter air for the day.

Paris' Journee Sans Voiture took place on September 27th this year, but the car-free zone didn't include the entire city – the perimeter only included four of Paris' arrondissements and some tourist areas – and only lasted one day. Paris, like many of the world's larger cities, has struggled with high levels of pollution. Smog levels were so dangerously high for a several-day period last year that the mayor was forced to ban half of the city's cars for a day.
A day is good. Forever is better. If Oslo can show that a car-free city is a practical possibility, then maybe others will try harder to enact similar measures and give their residents healthier cities. Every initiative that gets cars off the road, even if short-lived, can spark a wider conversation about public transportation, city planning, and our reliance on gasoline-powered vehicles.