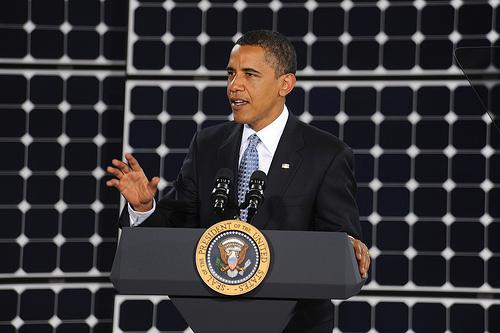 Lower income Americans pay more for energy as a percentage of their total income than more affluent residents, but they're generally in a bad position to implement renewable, long-term cost-saving solutions. This week, the Obama administration announced a new energy initiative to remove some of the barriers and increase access to solar power for low-and moderate-income Americans.
President Obama's 2013 Climate Action Plan originally called for 100 megawatts (MW) of renewable energy to be installed in federally-subsidized housing by 2020. With commitments already in place today for 185MW, the new initiative triples this goal to 300MW. Beyond that, the administration aims to improve access to renewable energy for all low- and middle-income communities.
Solar panels take up space and require a substantial capital investment up front, two things that many small businesses and lower-income neighborhoods are short on. While the cost of solar installations continues to drop, the investment is still a significant one that many families can't afford. Besides the cost, approximately 50% of American households and businesses find themselves in physical circumstances that make a move to solar power difficult: they're either renters or have residences with little to no roof real estate, like condos and row-homes.
To address these obstacles, the US Department of Energy has launched the National Community Solar Partnership as a means of expanding access to community and shared solar power for low- and middle-income communities. This partnership will improve communication between government, solar energy companies, financial institutions, and non-profit organizations, allowing them to better work together towards the common goal of bringing renewable energy to new markets. Collaborative research between these groups will improve the technology both in size and cost, expanding access for builders and homeowners. The administration also plans to make more loans available for renewable energy projects, taking away the hurdle of the up-front costs.
Commitments are piling up from both the public and private sectors to install solar and renewable energy, including community solar installations, in low-income areas. From public housing authorities to energy companies to NASCAR, many players have shown enthusiasm in contributing to the goal. Taken together, their commitments translate to 260 new projects that will benefit the communities they're planned for.
Not satisfied with simply facilitating solar projects, the Obama administration is also setting a very important goal with this initiative: they plan to make the renewable energy workforce the most inclusive and diverse workforce in the country. As solar power becomes more accessible, the number of jobs available in the field is increasing at a rate 10 times the national average. There's a need for skilled workers in the field, and the government plans to invest in job training and education. The Solar Ready Vets program is already in place to train about 200 active military personnel in installation of solar energy systems, and other recruitment and training programs will target minority and low-income communities.
Via White House.gov and Energy.gov
Photo credit: U.S. Air Force Photo/Senior Airman Brian Ybarbo via Flickr under Creative Commons License