California's cap-and-trade program brings in money when carbon allowances are auctioned.  A lot of money – about $1.49 billion in the current fiscal year alone, the state said last week. The law requires that "the state invest at least 10 percent of the auction proceeds within the most disadvantaged communities and at least 25 percent of the proceeds be invested to benefit these communities."
And that's why Roy Rivera, a disabled man who lives on a fixed income in Sacramento, now has solar on his roof – and more than 1,600 similarly low-income households will as well.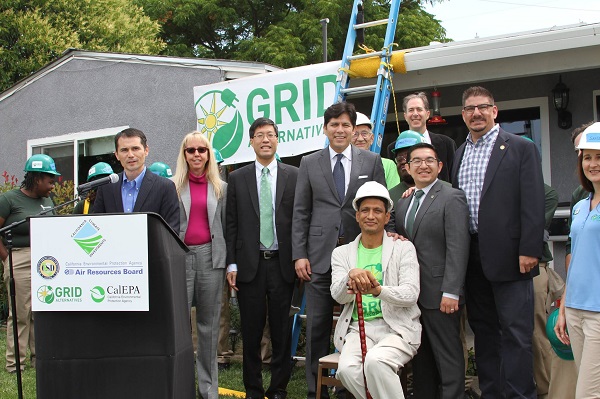 That's how many rooftop systems are expected to be installed through the state's Low-Income Weatherization Program, which is funded with money from the cap and trade program.
Rivera figures to save more than $800 in the first year the 2.5-kilowatt system is in operation.
"We hope the savings will help defray some of my medical costs," Rivera said in a news release put out to highlight the program. "When you have a budget like ours, which is stretched just about as far as you can go, it makes a big difference."
GRID Alternatives is the nonprofit that does these solar deployments. Taking advantage of corporate support, training programs and donations, they get their work done pretty cheaply: The San Francisco Chronicle reported that the low-income solar PV program will cost $14.7 million; with the state expecting 5.5 megawatts of solar from it, that's well under the typical $5/watt cost of getting a system installed.
Meanwhile, GRID Alternatives is helping overcome one of the great ironies of the solar revolution in this country: As the group's communication manager said last fall, "the people who need it most have the least access to it." Buying a system is tough for those with low incomes, not only because of the cost, but also because the chief incentive is in the form of a tax credit that favors those with big tax liabilities. Leasing can be challenging due to credit requirements, and yields lower benefits.
California, far and away the U.S. solar leader, has used other programs to try to bridge the solar divide.
For several years, legislation required the California Solar Initiative to spend at least a tenth of its funding on helping low-income folks get solar, and that got a lot of solar on roofs. The CSI rebates are winding down now, but the Single Family Affordable Solar Housing program received $108 million to continue with fully subsidized systems for the very poor and highly subsidized systems for other low-income Californians, running through 2021. Once again, GRID Alternatives is helping make that happen.
Interestingly, a study released earlier this year by Vanderbilt University and Sandia Labs researchers found that the CSI program might have done better to use more of its funds on low-income deployments. Those researchers found that the CSI's standard incentives probably weren't key to driving new installations – peer effects had a bigger impact, they said.
The researchers "explored the impact of scaling up a small existing CSI program that gives solar systems to low-income families for little or no cost," a Vanderbilt news release explained. "They determined that an optimal program of this type could result in significantly greater adoption compared to the incentive approach. In addition, they found that its relative advantage increased at higher budget levels."