The shale oil boom has made North Dakota's economy the hottest in the country. But just a couple of states away, there's another energy boom unfolding. It's not quite on the same scale, but then again, it's not resulting in massive amounts of carbon being unlocked from the earth and poured into the atmosphere. So there's that.
We're talking about wind power – and, soon to follow, the transmission lines necessary to move that power to where it's needed. It's all changing the economic landscape in northwest Iowa.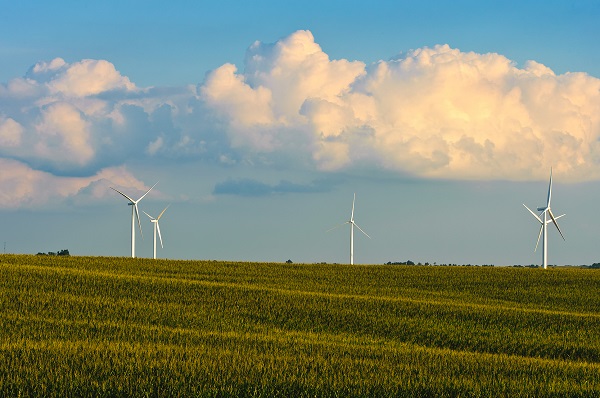 As part of MidAmerican Energy's massive Iowa wind expansion, O'Brien County is getting the 500-megawatt Highland wind farm, which will use 218 2.3-megawatt Siemens wind turbines (made in the southwestern Iowa town of Fort Madison, by the way).
New transmission infrastructure is also in the works by MidAmerican in O'Brien County, and then there's the Rock Island Clean Line, a planned high voltage direct-current powerline that would start in the county and travel across the state as well as Illinois, sending power to Chicago and beyond.
What's this mean for the county? "It's an economic boom for the county the likes of which we've never seen before," Rodd Holtkamp, a local banker and member of the county economic development board, told the Quad City Times. "It should eventually put more people in our grocery stores, more people in our churches, more people in our schools."
The wind farm is the only project that's actually begun, but the economic impact is already being felt, according to the Times. Hotels are filling up and "local residents are renting rooms in their homes to out-of-town workers." Workers, the paper said, "are expected to spend money on everything from lodging and meals to fuel and clothing, giving local merchants a healthy boost in sales."
As you might imagine, there is some opposition to the wind development, but for farmers accustomed to selling products to far-off markets, wind is just another export good they can take advantage of.
A pretty lucrative one, too, paying off beyond when the infrastructure work is completed. One farm who's getting two turbines on his land said he'll be paid $9,000 per turbine – annually. And as for the Rock Island Clean Line, "For two poles and a half-mile-long, 145-foot-wide right of way, an owner would collect a one-time payment of about $100,000."