In big swaths of the U.S. in January, there were signs that wind power delivered vital power to a stressed grid – and helped keep prices down – during two brutal cold spells. In Australia, meanwhile, the grid challenge was midsummer heat, and there are indications that solar was a significant addition there, with rooftop solar in particular playing a key role in shifting peak demand in South Australia.
It's that latter point, made by Giles Parkinson at the Aussie news site RenewEconomy, that is particular interesting, as peak demand, especially during extreme weather, is always a chief concern of grid operators.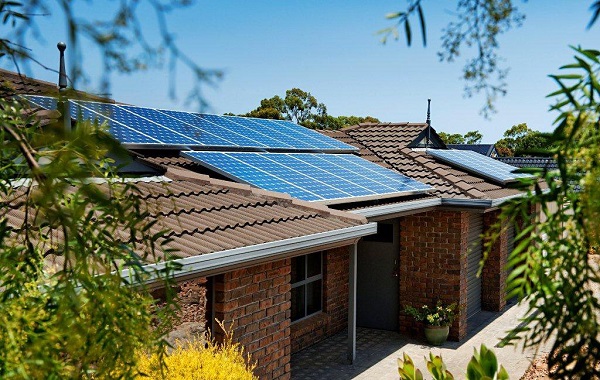 Citing data from the Australian Energy Market Operator, Parkinson said that "the large amount of rooftop solar in South Australia helped shift the peak in demand during the recent heatwaves that affected the southern states."
Australia is an interesting solar case. While utility-scale solar plants have been  a big driver of U.S. solar growth, they're only now beginning to pop up in Australia. Instead, an estimated 90 percent of some 3,000 megawatts of installed solar in the country comes on residential rooftops, in the form of thousands of typically small systems installed in the past couple of years. In South Australia, where peak summertime demand has never risen above 3,383 MW, there is 450 MW of installed solar.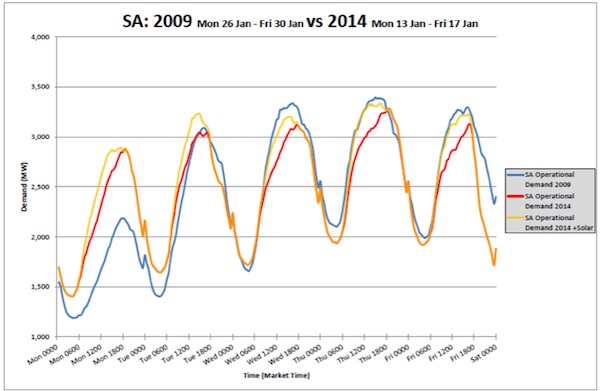 It appears that during a mid-January heat wave, this solar was really helping the grid in the late afternoon, trimming and moving peak demand later. The above graph from the AEMO shows the difference between demand during a 2009 heat wave (the blue line) and this January's heat wave (red line). The yellow line shows demand including solar this year.
"The contribution of solar is a noticeable percentage of the total demand in South Australia," the AEMO said in a report on the January 13-17 heat wave [PDF]. "The data indicates the solar could be contributing to shifting the time of the peak demand in South Australia during the high demand days."
The implications here are pretty impressive, particularly if one envisions adding storage to the system, as Parkinson does:
It doesn't take a whole lot of imagination to think what might happen if just one hour, or even a few hours of battery storage – or any other storage for that matter – were added to the local grid to support solar capacity. The red line would be virtually decapitated. It must be an extremely interesting proposition for the network operators, looking at where the value of storage on the grid might be. On the other hand, it's just an awful proposition for the generators, who rely on peak pricing to add the cream to their profits – or in some cases, enough revenue to meet their debt repayments.