Two Minnesota solar power manufacturers are facing off against a Chinese panel maker – and each other – in a fascinating little competition taking place on the roof of a government building in Duluth.
Three 10-kilowatt systems have been installed on the roof of the St. Louis County Government Services Center – one by Silicon Energy, which makes solar panels in Mt. Iron; one by Bloomington-based tenKsolar; and, according to local news reports, the third from the Chinese solar giant Trina. The county will get a lot of clean energy from the project, but what makes this especially interesting is that the Natural Resources Research Institute at the University of Minnesota-Duluth "will monitor energy output and report data regarding the three systems' operations, measuring and calculating how well each type of system performs on an urban office building site in the northland," the county said [PDF].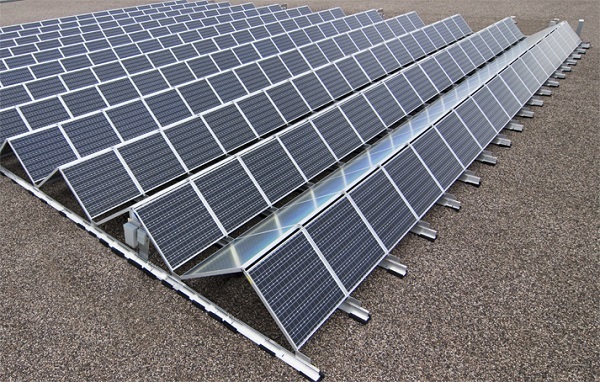 The project was heavily funded by Minnesota Power, an electric utility that serves some 144,000 customers in northeastern Minnesota – it paid $116,000 of the $170,000 combined cost for the three systems. The utility wants to find out how different solar systems perform in its service area because Minnesota law requires it to source 1.5 percent of its electricity from the sun by 2020.
For the Minnesota companies, it's a chance to demonstrate that they have something to offer potential customers over what the county correctly termed "a commodity panel currently prevalent in the marketplace."
Silicon Energy, which also manufacturers panels in Washington state, claims that its "unique and innovative double-glass, open-frame design, with a fully enclosed wiring system is ideally suited for Minnesota's challenging weather conditions and allows the Cascade to outlast and outperform standard PV modules."
TenKsolar, meanwhile, says it can get more energy output per area of roof space by filling the empty space between rows of tilted panels installed on flat roofs with reflectors on the north side. This gives there system a wave appearance.
The Duluth New Tribune reported that the researchers on the project "will look at how snow, low winter sun angles, cloud cover and humidity affect electrical output and how the units stack-up for durability against the region's bitter cold … (and) use the results as a 'road map' for future solar projects in the region and for residential solar installations."