Investors were excited this Tuesday by the announcement that Lockheed Martin had struck a deal to work with Ocean Power Technologies on a planned wave energy project in Victoria, Australia. OPT's stock, which had been trading at $2.30 at Monday's market close, immediately leaped and the ascent continued on Wednesday, when OPTT finally closed at $4.68.
It makes some sense when you think about it: Lockheed Martin is a giant, established company, so its involvement in the Victoria project could be seen as a sign that the project is moving forward and that OPT's business in the fledgling wave industry can grow. Then again, we've kind of been here before.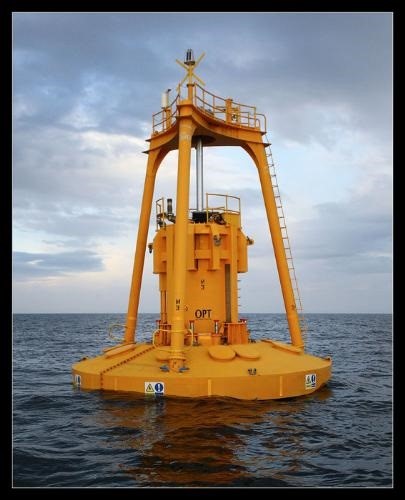 That's right: On July 11, 2012, OPT put out a press release announcing a deal with Lockheed Martin under which the aerospace company would "assist with the design of Ocean Power Technologies' (OPT) PowerBuoy technology, lead the production and system integration of the wave-energy converters and support overall program management" in Victoria. Here's what we reported the next day:
The announcement sent OPT's stock soaring. It had nearly doubled at one point during the trading day Wednesday before settling at $3.55, a 72 percent gain from its opening price of $2.08. Some 2.8 million OPT shares were traded, almost 100 times the stock's average daily volume of 29,795.
And if that doesn't have you spiraling into déjà vu, check out the quotes from Lockheed execs with each announcement.
2012: "Lockheed Martin is applying its expertise to commercialize promising, emerging alternative energy technologies," said Dan Heller, vice president of new ventures for Lockheed Martin's Mission Systems & Sensors business. "We see great potential in harnessing the vast power of the ocean. By working with OPT and Australian industry on this project, we will advance wave energy in Australia and globally."
2014: "We are applying our design and system integration expertise to commercialize promising, emerging alternative energy technologies, including ocean power," said Tim Fuhr, director of ocean energy for Lockheed Martin's Mission Systems and Training business. "This project extends our established relationship with OPT and Australian industry and enables us to demonstrate a clean, efficient energy source for Australia and the world."
By the way, in 2011, OPT and Lockheed Martin announced they would collaborate on OPT's Reedsport, Ore., project. Originally pegged to be deployed in 2009, an initial test buoy seemed on the precipice of going in the water in September 2012, but it never quite happened for a variety of reasons. In its most recent quarterly reporting, OPT said the project "has been suspended pending resolution of regulatory, financial and other matters."