On the day that New Jersey Gov. Chris Christie said he was sorry, really sorry, this didn't get a whole lot of attention. And maybe in the end it won't deserve much. But President Obama's formal establishment on Thursday of the Quadrennial Energy Review for the United States is at the very least a ray of hope that in the face of climate change – and with a vast range of clean-energy and energy-efficiency technologies aching for just a little nudge forward – the country might create a thoughtful, forward-looking energy policy.
Indeed, key advisors to the president said the goal of the review was nothing less than to arrive at "a blueprint for modernizing our energy system and increasing America's competitiveness."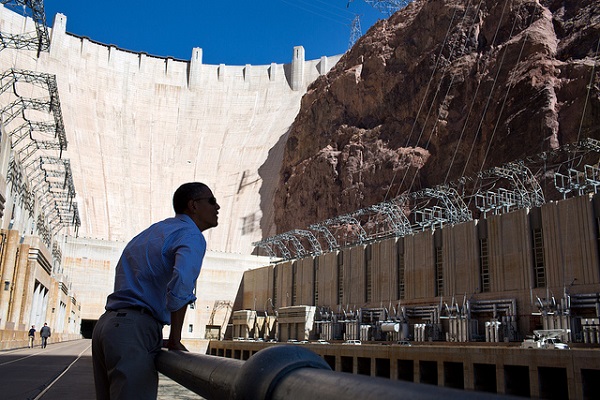 "Americans and people around the world are already experiencing the very real impacts of climate change," three key administration officials on energy – John P. Holdren, assistant to the president for science and technology and director of the White House Office of Science & Technology Policy; Cecilia Muñoz, director of the Domestic Policy Council; and Ernest Moniz, the Department of Energy secretary – said in a post on the White House blog. "The QER process launched today is designed to further address the challenge of leveraging America's domestic energy resources while strengthening our energy security and the health and resilience of our planet for future generations."
Interestingly, while the American Petroleum Institute was silent on the QER, both the wind and solar industries put out press releases praising the president for initiating the process.
The White House has boasted that its "all of the above" energy strategy has helped boost domestic oil production. But maybe Big Oil isn't happy that the U.S. is using less petrol than it used to, and isn't too fond of the president's support for higher fuel economy standards, biofuels and electric vehicles.
From Rob Gramlich, senior vice president for public policy of the American Wind Energy Association: "So much has changed in the last four years including an over 40 percent drop in the cost of wind energy that it is time to review the nation's energy strategy and find ways to make the nation's considerable clean, affordable, and homegrown energy available to all Americans."
And Rhone Resch, president and CEO of the Solar Energy Industries Association:  "As the fastest growing energy source in the U.S. today, as well as our nation's most abundant energy resource, solar – both centralized and distributed – will influence the structure of our grid, while combating climate change, enhancing emergency preparedness, creating new jobs and boosting our economy."
The QER, due with its first report in January 2015, will come from a task force assembled from across the range of federal agencies.
"The first installment of the QER review will focus on America's infrastructure for transmitting, storing, and delivering energy—much of which was built decades ago," the White House advisors said. "This includes the 200,000 miles of high-voltage transmission lines, 2.2 million miles of local distribution circuits that make up our nation's electric grid, 300,000 miles of transmission pipelines, and hundreds of processing plants and underground storage facilities that make up America's natural gas infrastructure network."