What does it take to create a special electric vehicle tire, particularly one up to the standards of BMW's new i3? Fairy dust? Scratching your head and patting your tummy at the same time? It is a question Bridgestone, the world's largest tire manufacturer, set out to answer recently when the German automaker approached it about designing a range of tires that it is the exclusive supplier of for this luxury electric car.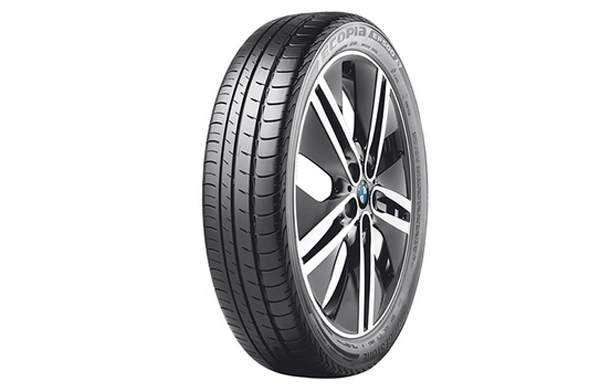 Bridgestone said its answer to the perfect electric car tire question came in the form of the
ologic technology, which capitalises on the synergies of a large diameter coupled with a narrow tread design. The result is a tyre that delivers significant improvements in aerodynamics and rolling resistance, while still offering outstanding grip in wet weather conditions.

Combining a large diameter with a narrow tread pattern has several advantages. While the tread on smaller diameter tyres is typically inclined to excessive movement or "deformation" during driving, the larger diameter and higher belt tension significantly reduce tyre deformation and therefore conserve energy that is otherwise lost through internal friction which helps to reduce rolling resistance. By the same token, the narrow tread concept improves aerodynamics. The most spectacular achievement, however is that these improvements do not involve a trade-off in terms of safety. The tyre's long contact patch (relative to its narrow width),  revolutionary tread design and compound still ensure outstanding grip in both wet and dry conditions.
What resulted in being released alongside the i3 this past November was the Ecopia EP500 ologic tire available in four sizes – 155/70 R19 84Q, 175/60 R19 86Q, 155/60 R20 80Q and 175/55 R20 85Q– and two winter varieties –the BLIZZAK LM-500 ologic a lamellen tire and the BLIZZAK NV ologic a studless tire (with Multicell compound for Nordic conditions).
"The BMW i3 is very much a car for the future," said Franco Annunziato, CEO and President of Bridgestone Europe, in a statement. "Developing a unique tyre for this unique vehicle was therefore an enormously challenging but also rewarding experience. Energy efficiency is an important development criteria for all our tyres at Bridgestone. However, it becomes an even more critical factor in an electric car. Which is why we have put all our knowhow, skill and passion into developing this unique tyre concept. One that we are confident delivers the premium performance, safety and economy towards consumers who have come to expect it from both brands."