What determines the success or failure of different products from the same niche consumer segment vying for your crowdsource fundraising dollars on Kickstarter? Yesterday we profiled Riide, an innovative electric bike that, as of this posting, had already greatly exceeded its $50,000 goal with a month left to go. By contrast, the Derringer electric cycle, with less than a week to go, is far short of its $75,000 need.
While you ponder this question, we will tell you about the Derringer, which Autoblog Green first brought to greater attention the other day. This electric bicycle is described as board track racing inspired and backed by a company in Los Angeles, California which specializes in this type of two-wheeled device. It really is a beautiful beast when you look at the pictures of it, but the price tag of $3,000 to start might be tough for some to swallow.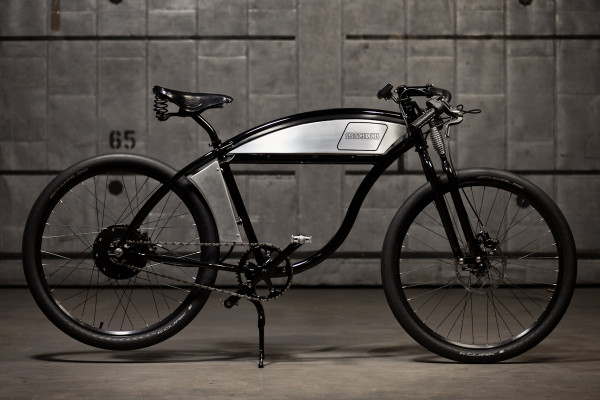 If you do have the cash to pony up for the Derringer though, you'll be getting yourself a very powerful electric bicycle that draws energy from a 37, 52 or 63-volt lithium-ion battery, depending upon the trim level you choose. These correspondingly match to a 750, 2,000 or 2,800 electric motor that together offer solid riding range (22, 30 or 38 miles) and speed (20, 28 or 40 miles per hour).
Key features of the Derringer electric models include hand assembly, a battery enclosure "inspired by the fuel tanks from vintage board track racing motorcycles," high quality body frames, a classically styled chromoly springer fork, battery recharge times of three hours or less, a twist grip throttle, leather saddle and, on the upper end models, a sophisticated computer to manually control system power output.
So, given what you now know about this electric bike, and comparing it to the Riide, why do you think there is such a discrepancy in crowdfunding support? Leave us your thoughts in the comments below.