Five hundred bucks! That's all a bunch of engineering students from the University of Sherbrooke in Quebec are seeking through Kickstarter in order to get a pretty interesting looking residential concentrating solar power project to the next step.
CSP technology is nothing new, of course, but usually it's deployed in large arrays for utility-scale electricity production, or for industrial process heat. In the former category, just last month the 280-megawatt Solana Solar Generating Station went into full operation in Arizona.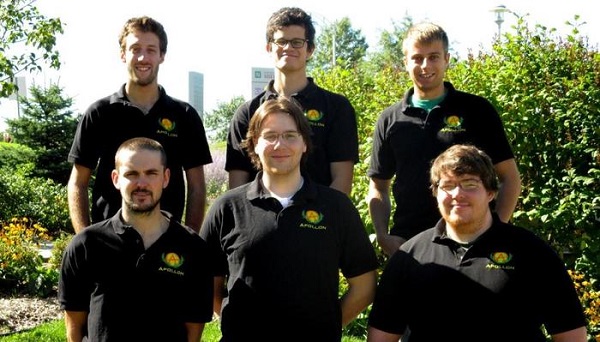 Solana is especially interesting because it comes with molten-salt energy storage, but otherwise it operates much like the system the Canadian students are working on, collecting sunlight with a parabolic trough, concentrating that sunlight onto a fluid-filled tube, and then by one means or another using that hot fluid to produce electricity.
A lot of CSP systems do the heat-to-electricity part of the process by using the heat to create steam to drive a turbine. The Canadians, who call their project Apollon, use an off-the-shelf compressor to transform high-temperature, high-pressure gas into mechanical motion.
The team sees their system having many of the benefits of solar photovoltaics – onsite energy production, grid connection, etc., but with the added advantage of operating at higher efficiency than PV (45 percent vs. 20 percent, they say).
They do confess some drawbacks: The solar collector is "pretty huge," they admit, but they add that "the required surface will decrease as Apollon efficiency increases." They suggest that the manufacturer Rackam could, if a market developed, develop solar collectors that can be installed on the roof of a house (they do rooftop collectors now, but for commercial rooftops).
In their Kickstarter video, the team says it has a budget of $12,000 and is in need of $1,000 more to get a prototype ready for a science fair in early December. They're hoping to get $500 ($477 US) through Kickstarter and as of Thursday morning are about $200 shy of the mark.