What's being dubbed one of the first all-electric school buses is set to hit the roads of the San Joaquin Valley in California, it was revealed towards the end of October, as the result of a collaboration between Trans Tech Bus and Motiv Power Systems. The SST-e, as it is called, is a Type A school bus that seems to follow on the heels of a prototype model first developed as part of a partnership Trans Tech had with noted electric vehicle manufacturer Smith Electric Vehicles back in late 2011.
The new collaboration, while not referencing at all the Smith Electric Vehicles partnership, is notable nonetheless for what it brings to the table. Making use of technology from Motiv that "allows traditional truck chassis OEMs to assemble electric trucks on their current diesel truck assembly lines," the first SST-e will go to the Kings Canyon Unified School District. It will be capable of holding up to 32 students while driving a range of between 80 and 100 miles, depending upon whether it has a four or five battery pack configuration.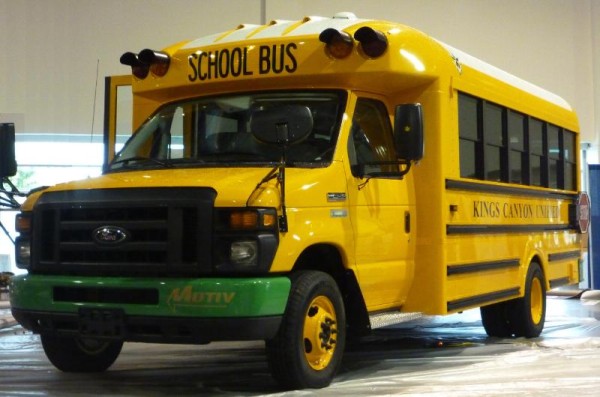 One of its electric buses, according to Trans Tech officials, can reportedly save a school district about 16 gallons of fuel a day, or around $11,000 in fuel savings over a year, on top of reduced maintenance costs. With the Motiv systems installed, these buses also can fast charge to reach 50 percent battery capacity in under an hour and a full charge in eight hours, helping as well to cut down on down time between morning and afternoon runs.
Previously, in the Smith Electric collaboration, the Newton eTrans was the resulting electric bus developed. At that time this model was heralded as being capable of holding 42 students, while having a maximum range of up to 120 miles and a recharge time of 10 hours. It was also equipped with regenerative braking technology.
While the Newton's fate seems unknown (a curious footnote on Wikipedia indicates that "in the summer of 2013, the company began to remove product literature for the eTrans from its website, so its current production status is unknown"), the SST-e looks like it will be a go, at least according to what Trans Tech and others involved are saying. This bus was funded in part by the California Air Resources Board AB 118 Air Quality Improvement Program Electric School Bus Demonstration Project. It isn't the only green bus idea out there, as we've seen examples of hybrid offerings under development.