Wind power's not going away, not by a long shot. In fact, there have been plenty of signs recently that its improving cost-competitiveness should spur a big rise in installations in the coming years.
Nevertheless, yet another report is indicating that at a global scale the industry has hit a bit of a rough patch right now, as it continues to experience a steady decline in its rate of growth.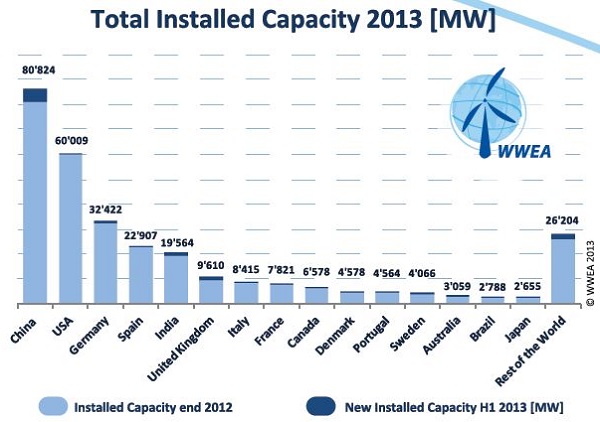 The details: In its new midyear report [PDF], the World Wind Energy Association counted 14 gigawatts of new capacity, down from the 16.5 installed during the first half of 2012, which itself was a drop from the 18.4 MW added in the first sixth months of 2011. For the year, WWEA is now projecting 35.7 GW of newly installed capacity. That would be a 13 percent increase over 2012, compared to last year's 19 percent increase over the previous year.
Acknowledging reality, He Dexin, president of the WWEA, characterized 2013 as "a difficult year for the wind industry worldwide, as the companies have to struggle with a decreasing market size."
The U.S. has to take a big part of the blame for the slowdown. It's off 1.2 GW when you compare this year's first half with last year's. But that's a situation that should turn around with the restructured production tax credit seemingly putting plenty of new capacity in the pipeline. But the wane in Spain is pretty profound, too; the world's No. 4 wind country added just 122 megawatts to begin 2013. And top-dog China hasn't picked up much of the slack, merely remaining steady with its 2012 growth.
The WWEA did find some good news to highlight. Global capacity as of June 30 was on the precipice of cracking 300 GW, with 296,255 megawatts installed, enough to meet 3.5 percent of the world's electricity demand. By the end of the year, WWEA expects wind to be at 318 GW, an increase of nearly 60 percent over the 200 GW of installed capacity at the end of 2010. That ain't nothin'.
Dexin, in a nod to that timeless relationship between supply and demand, said one effect of the slowdown was to soften up turbine prices. "As a result, we see bright prospects for this technology which will become even more cost-competitive," he said.
No doubt cost-competitiveness is trending in wind's favor – but solar is dropping in price as well, and a report just a few weeks ago noted that solar will add more capacity than wind this year for the first time.