The forthcoming McLaren P1 hybrid supercar, which debuted earlier this year at the Geneva Motor Show, is set to be a demon on the roads. With only 375 units planned for production, it will also command a high price tag of over $1 million, which demands of course amazing performance figures. Based upon what McLaren has just announced this car is capable of doing, it easily fits that bill.
McLaren said the P1, fitted with a twin powerplant powertrain generating 916 PS (903 bhp) from the 3.8-litre twin turbo V8 petrol engine mated with a lightweight electric motor, will go from 0 to 62 miles per hour in a flat 2.8 seconds. Furthermore, it is capable of hitting 186 miles per hour in just 16.5 seconds which, as a benchmark, is a full 5.5 seconds quicker than the legendary McLaren F1. Top speed is electronically limited to 217 MPH.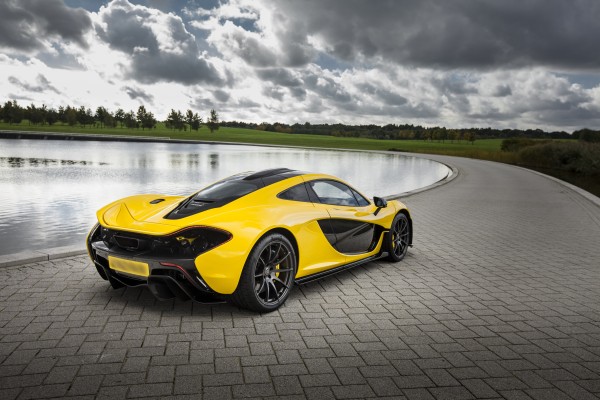 As hybrids go, the P1 also sports some decent environmental specifications. It returns, according to McLaren,
34.0 mpg (8.3 l/100km) on the EU combined cycle, with CO2 emissions of 194 g/km. The electric motor offers a range of 11 km (6.8 miles) in full electric mode on the NEDC cycle, which sees emissions drop to zero.
Given that this vehicle is extremely high performance, it makes sense it would go through a very specialized production process that will see just one car completed each day, with production due to run until mid-2015. A £40 million facility is where the build out occurs over 17 days via a team of 82 technicians working a four stage assembly process. McLaren outlined this process in its press release, and I present it to you below to give you an idea of what kind of work goes into a $1 million+ green vehicle:
Stage 1: Structural Assembly
The bespoke manufacturing process commences with the preparation of the carbon fibre MonoCage chassis. The one-piece MonoCage weighs just 90kgs, and includes the integrated roof structure, an integral roof snorkel and air intake ducts, as well as providing a fully sealed compartment for the battery.
Stage 2: Painting
In total the McLaren P1 consists of seven lightweight panels, all of which are made from carbon fibre – front and rear clamshells, bonnet, doors, front and rear bumpers. Due to the extended painting processes involved, and to minimise disruption to the facility within MPC used for the 12C and 12C Spider, each McLaren P1 is prepared and hand painted in a dedicated paintshop in the McLaren Technology Centre while the chassis structure is being prepared.
The complete set of body panels for each McLaren P1 is painted together to ensure a perfect colour match. This process takes three days, including surface preparation of the carbon fibre panels to ensure flawless paintwork on every single car.
Stage 3: Trim Assembly
The fully prepared carbon fibre MonoCage chassis and the hand-painted carbon fibre body panels are brought together on a dedicated production line within the MPC. This ten-stage process is the most recent addition to the MPC, and sees the sub-assembly of battery, front sub-frame, doors, rear clamshells and bumpers fitted as it moves along the line.
Two dedicated McLaren technicians work on each of the production stages for the McLaren P1, with each step taking a full working day to complete.
Stage 4: Final Assembly
As each car reaches the end of the McLaren P1 line, it is then subjected to the same rigorous testing regime and sophisticated quality control procedures as the 12C and 12C Spider models to ensure it meets the required quality and performance levels. This phase of production takes a total of seven days to complete.
For the McLaren P1, this includes a full day shakedown at a proving ground, testing every element of the car's performance. The McLaren test drivers and a team of technicians run through the different settings and modes to examine and verify the performance ahead of final delivery to the customer.
Each example of the McLaren P1 is then put through the Monsoon Test, in which 16,000 litres of de-ionised recycled water is released on to the car to ensure all seals are correctly finished. A complete underbody check and diagnostics review is then carried out, before the final dispatch audit confirmation.