Earlier this year, EarthTechling reported on a breakthrough in the LED lighting industry. The Cree LED burst onto the scene with a long-lasting, energy-efficient option available for just under $10, a barrier that no competitor had been able to break.
With the high-cost of LEDs a major barrier for most consumers, the Cree bulb hoped to encouraged more people to make the switch now. It even eased our emotional pain by utilizing a design that mimics the incandescent. Now, the company has announced another milestone: early this month the Cree LED achieved Energy Star certification.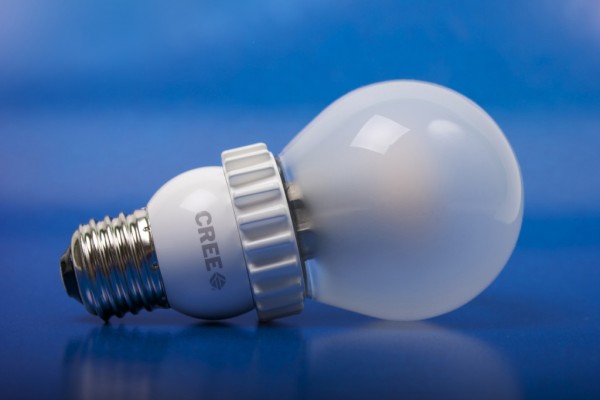 Achieving certification under the Department of Energy's Energy Star program means the Cree could ultimately cost consumers even less than $10.
"ENERGY STAR qualification can enable the Cree LED Bulbs to be purchased with an instant utility rebate delivering consumers a quality LED bulb for under $5," said Chuck Swoboda, Cree chairman and CEO, in a press release.
This means that the LED could pay for itself in less than a year, a rapid return on investment that may convince a larger segment of the population to make the switch to 100 percent LEDs much sooner.
Another barrier to LED adoption is the quality of light produced by the diodes. Here again, Cree has done what it can to make the transition painless for consumers. "The soft white Cree LED Bulb 60-watt incandescent replacement consumes just 9.5 watts, while delivering high-quality light output of 800 lumens. The Cree LED Bulb 40-watt incandescent replacement in soft white delivers 450 lumens and consumes only 6 watts," explains the same release.
According to Energy Star, if every American home replaced just one incandescent or CFL light bulb with a certified LED, it would save enough energy to light 3 million homes for a year, resulting in savings of about $600 million in annual energy costs and prevent 9 billion pounds of greenhouse gas emissions per year, equivalent to those from about 800,000 cars.