Pumped hydro – a proven method of storing renewable energy for when it is needed – is a step closer to expanding in Wales with local approval of a 50-megawatt project.
The Glyn Rhonwy project is planned for the same Gwynedd region of Wales that's already home to the 1,728-megawatt Dinorwig Power Station, also known as Electric Mountain, which was completed in 1984 as a way to store power produced at night, when demand was low, by nuclear power plants.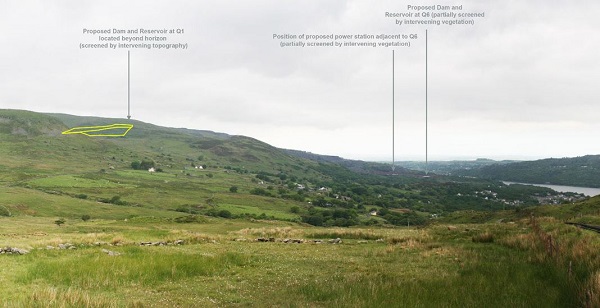 On Monday, the Gywnedd Council planning comission granted developer Quarry Battery planning permission to develop the Glyn Rhonwy site, on the on the edge of Snowdonia National Park. The company says the £100 million ($156 million) project, capable of storing up to 600 megawatt-hours of energy, could be operational by 2017.
"By putting small-scale storage near to centres of energy generation such as wind farms, and others near centers of heavy consumption such as major cities, we will cut down on distribution losses and network transmission costs, making whole regions of the U.K. increasingly self-sufficient in renewable electricity," Quarry Battery managing director Dave Holmes said, according to a BBC report.
The development as planned will cover 146 acres at the old slate quarrying site. The company says that two quarries at differing elevations are ideal for converting to reservoirs and connecting via a tunnel, and that nearvy grid connections enhance the value of the site.
There were some concerns aboutGlyn Rhonwy and its possible impact on the Snowdonia landscape, with a particular concern raised by the Snowdonia Society regarding "the power transmission options … as it would be a disaster for pylons to blight the iconic view of Snowdon from Llyn Padarn," in the group's words.
Pumped storage  accounts for nearly all of the grid-scale energy storage in the world today, with hundreds of projects providing an estimated 127 gigawatts of capacity. Still, in the U.S. — home to the world's largest pumped storage project in the world, the 3-gigawatt Bath County Pumped Storage Station in Virginia – less that 1 percent of all the power generating capacity of the nation can be stored with pumped storage. As with the big Electric Mountain project in Wales, most were built during nuclear power's heyday in the '60s, '70s and '80s to go along with nuclear power plants.
The Federal Energy Regulatory Commission considers "pumped storage projects to be capable of providing a range of ancillary services to support the integration of renewable resources and allow for more reliable and efficient functioning of the electric grid." And the Department of Energy under the Obama administration has been trying to get some projects going.