Here in Portland, Oregon, where EarthTechling is headquartered, we live amongst a very fervent bicycle culture. All matter of bikes are on the roads, be it traditional, unicycles, tall, short and everything else you can probably think of. There are even cargo bikes designed to carry large amounts of material from one place to another. This, of course, requires more leg work to move the heavier weight, which is where electric assist might come into play. That's the thinking anyhow of one California start up who unveiled this week an electric cargo bike.
NTS Works brought to the Rose City from Santa Cruz, Calif. its new 2×4 Cargo Bike to showcase at local bike shops. The founder and CEO of the company, Neal Saiki, has some background in personal forms of electric transportation, using his previous experience from founding electric motorcycle company Zero Motorcycles to produce the patent-pending technology in his creation.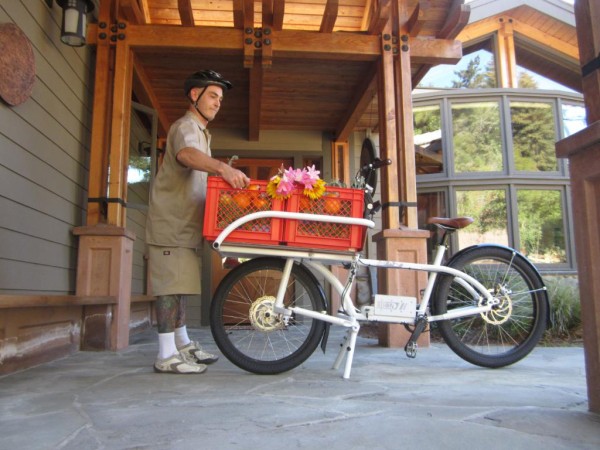 The 2×4 Cargo Bike is designed to carry up to eight bags of groceries, or around 100 pounds of cargo. It offers pedal assist electric bike handling, "sensing" the rider's energy/power needs and adding three levels of power for flats, hills and acceleration. What this reportedly gets you is "just enough juice to get up grades without the rider having to get out of the saddle, stand on the pedals and grind out a sweaty climb."
Perhaps most interesting in terms of features on this electric bike is what's described as its unique way of steering the cargo. According to NTS Works, it handles just like a regular bike under the load, as
the patent-pending steering mechanism – unlike anything currently available in the biking world – places the cargo load directly over the front wheel for the best possible balance, handling and maneuverability in tight urban environments.
It makes use of lithium-ion batteries for its power supply, offering up 500 watt hours for a "real world" range of 30 miles and a lifetime service warranty. And, in what will be a boost given Portland's wet winters, its drivetrain is waterproof.
NTS Works 2×4 Electric Bike Launch from Michael Lewis on Vimeo.
Local biking blog Bike Portland got a first look at the 2×4 when it was being shown off by Saiki, noting how it looks like a lot of innovative thinking went into its design. "It's built to operate at the height that most of the world's work actually gets done: approximately three feet in the air" was one early observation on it, along with giving kudos for "minimal maintenance, relatively few moving parts [and] maximal adaptability to terrain."
It won't price cheap though for all this coolness, coming in at $4,600. If you use it for delivering local cargo though for business, you may be able to make the costs back in a short fashion.