California is by far one of the largest markets for electric vehicle use in the nation. It is no wonder then that at an event called Drive The Dream that was held earlier this week and organized by a multi-stakeholder group known as the California Plug-In Electric Vehicle (PEV) Collaborative, governor Jerry Brown and a host of leaders from various public and private sectors gathered to announce acceleration in the adoption of this form of low carbon vehicle technology, and related workplace charging. If all of this comes into being via the commitments made, it could be a huge bump for the overall growth of battery powered electric cars.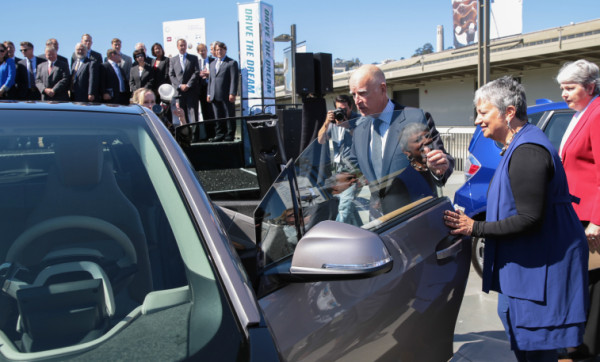 Governor Brown, speaking before the leaders in San Francisco, talked of his state's leadership in electric vehicle development. Noting that "this is mainstream America, in California, promoting electric vehicles, electric charging and changing the very nature of how we live together," he spoke of his intent to sign two key bills into law before the end of the legislative session that do the following:
AB 8 (Perea, Fresno): Extends to 2024 programs aimed at reducing auto emissions in California, including the Alternative and Renewable Fuel and Vehicle Technology Program, the Air Quality Improvement Program, the Enhanced Fleet Modernization Program and the Carl Moyer Memorial Air Quality Standards Attainment Program.
SB 359 (Corbett, Hayward): Provides $30 million to fund the Clean Vehicle Rebate Project and the Hybrid and Zero-Emission Truck and Bus Voucher Incentive Project; $10 million to fund the Heavy-Duty Vehicle Air Quality Loan Program; and appropriates $8 million for the enhanced fleet modernization program.
These new provisions help California build upon its electric vehicle support, of which there is already a lot going on there. Ongoing programs already include offering consumer rebates for pure battery electric and plug-in hybrid electric vehicles; giving electric vehicles access to HOV lanes; supporting the state's electric vehicle charging station infrastructure; amending the state building code to require that new homes and buildings are electric vehicle ready; developing permit streamlining guidelines for local governments to approve electric vehicle infrastructure; and funding vehicle-to-grid pilot programs that allow electric vehicle batteries to provide electricity to the grid when necessary.
All of this electric vehicle focus is aimed towards supporting this state's goal of having 1.5 million zero-emissions vehicles on the road by 2025. It is something various industry officials are getting behind in mass, as there were a slew of announcements and commitments made at this event, which include:
Walgreens announced that as part of their "Charged Up" program, they plan to add an additional charging stations to 13 locations throughout the state of California – this adds to their 89 current charging locations in the state and 800 across the country.
Coca-Cola announced by year-end they will begin the process of expanding their plug-in electric vehicle pilot by adding charging stations at up to three Coca-Cola facilities in California, working in partnership with the PEV Collaborative. In addition, CocaCola will deploy 16 brand-new Odwalla Electric Refrigerated Delivery Vehicles in  California. The new electric vehicles are fully refrigerated, which is a first in the  electric vehicle sector.
Intuit announced plans to expand EV chargers in San Diego, Mountain View, Menlo Park, Woodland Hills and others with the goal of reducing carbon emissions by 1400 metric-ton equivalents-400 tied to alternate commuting.
Google announced their commitment to electrify 5% of all existing and future parking spaces at their Mountain View headquarters, building even further on the over 700 charging stations they've installed at a dozen locations to date.
Bank of America announced a $3,000 incentive for US and UK employees for purchase of an eligible PEV, in addition to a workplace-charging program.
AT&T announced they will replace by September 2014, 10% (55) of their fleet passenger vehicles with PEVs.
There were many other entities represented as well, showing a form of unity you don't always see in the public/private sector. It definitely sets a model and standard for other states, and perhaps the country as a whole, that will be difficult to follow.