Efficient is better than not efficient. More efficiency is better than less. In case you're wondering, there is a light at the end of this tunnel, and I'm pretty sure it looks like the Zero Home. This single-family smart home is the very first to be certified as net-zero energy-efficient in Climate Zone 5, which means every single drop of energy consumed by the home is generated onsite via renewable source, despite the fact that it's located in one of the coldest parts of the U.S.
For those who long for a carbon-neutral life, the Zero Home is a dream come true. Designed through a collaboration of several Utah companies, the 4,300 sq. foot home proves that you can indeed have a modern, spacious home without any net consumption of fossil fuel-based energy.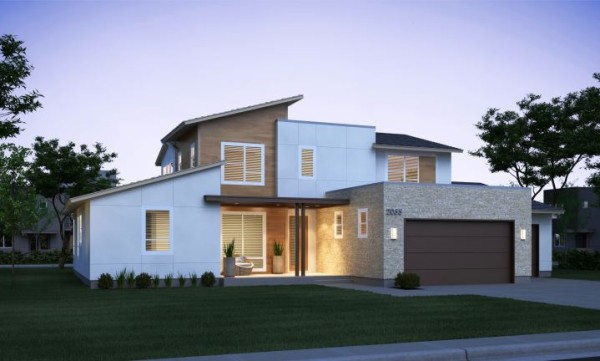 The Zero Home is a joint project of Vivint (best known for home-security and home-control systems) and Garbett Homes (a residential development company known for its energy efficient dwellings). KTGY Group, Inc., Architecture + Planning, served as the architect. They embarked on the project in an attempt to demonstrate that futuristic, self-sufficient homes can be both affordable and practical, even on a larger scale.
Unsurprisingly, solar was a big part of the reason the Zero Home was able to achieve a net-zero rating AND a zero on the Home Efficiency Rating System (HERS).
"Vivint Solar provides a 10.29 kilowatt solar photovoltaic energy system, which decreases the Zero Home's HERS rating from approximately a 28 to a 5," explain the designers on the Zero Home website. "It also uses the newest microinverter technology to provide maximum production for the home—even in less than optimal weather conditions."
"Advanced framing techniques, sophisticated insulation, air sealing, tight ducts, and air barriers all work together to control air and moisture flow and keep the Zero Home's utility bills as low as possible," they continued. "By retaining its own heat, the house uses less and wastes less energy. "
Not surprisingly, the entire Zero Home is linked to an energy monitoring application that tracks energy flow into and out of the home with real-time analytics.
The Zero Home is open for public tours until the 17th of this month. If you're near Herriman, Utah this month, be sure to stop by!