Wind power manufacturing workers in Colorado, battered in 2012 during the production tax credit near-death experience, got some good news this week – a big batch of business.
Vestas said on Thursday that factories in Colorado will manufacture the blades, towers and nacelles for the company's new V110-2.0 MW turbine to be used by EDP Renewables in wind farms in the United States.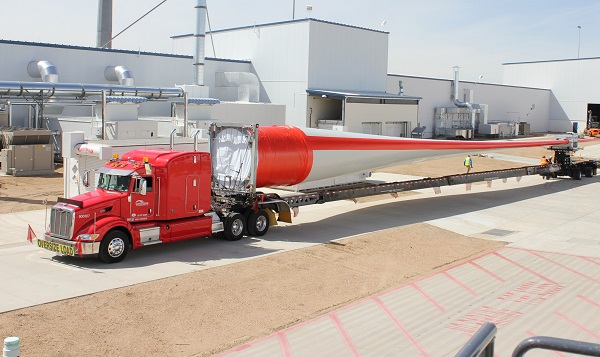 The V110-2.0 MW is characterized by Vestas as a "variant" of its V100-1.8 MW model, with its 10-meter-longer rotor diameter giving its blades a swept area of 9,503 square meters vs. 7,854 for the older model. That means more power and a 13 percent boost in energy production over the course of a year, Vestas said.
Vestas said it would supply EDP Rewnewables with 400 MW's of turbines – sounds like 200 turbines at 2 MW apiece – but couldn't reveal the names or locations of the EDP Renewables projects.
Wherever they are, they're a godsend to Vestas employees in the state. You might remember that last year during the presidential campaign, Vestas job cuts in Colroado became an issue, as the League of Conservation Voters aired ads  featuring workers who said they were laid off from their wind-industry jobs "because Mitt Romney and his friends in Congress want to eliminate tax credits for the wind industry."
But Vestas didn't disappear from the state, and with the PTC eventually extended for a year, the company's operations in Colorado appear to be clawing their way back. In June, Vestas rolled out another new made-in-Colorado product – a 188-foot-long turbine blade for the V117-3.3 MW – manufactured in Brighton.
A Vestas spokesperson told the Greeley Tribune: "Due to customer demand, we are gradually growing our employee base at our Brighton and Windsor blade factories, and we expect our tower factory in Pueblo to be fully utilized in 2014. We expect our two blade factories and nacelle factory in Brighton will grow with the market as new orders are secured."
Still, Vestas remains in a world of hurt; its problems extend far beyond the U.S., as competition from China and less aggressive subsidies in Europe have made life difficult. The company this week bounced Ditlev Engel from his position as CEO, which he had held since 2005. The big issue: Unlike competitors GE and Siemens, the New York Times wrote, Vestas "failed to anticipate a downturn in the global market for wind-powered energy and continued to expand after the boom of the mid-200s."