Only in the past few years has 3D printing become the talk of designers and geeks the world over. It's thought that this amazing technology could be a big green step in the right direction for the manufacturing industry, not to mention that many of the most ground breaking 3D-printed objects have been prostheses and artificial organs–items that could literally change lives.
Those currently excited about the possibilities of 3D printing probably don't realize that it's been around for nearly 10 years, though in a slightly different form. The first 3D printed chair, made by Patrick Jouin in 2004, was recently acquired by the Stedelijk Museum in Amsterdam in an effort to chronicle the rapid development of the 3D printing genre.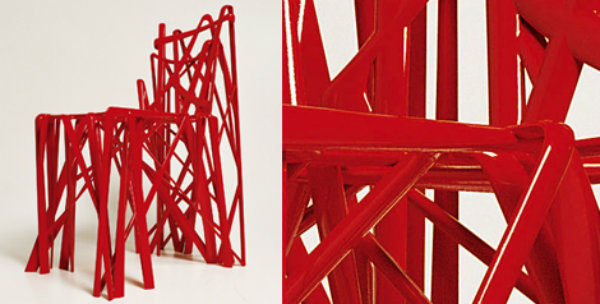 I love thinking about how much the world changes in people's lifetimes. Like how I can talk to my grandparents on Skype, even though when they were kids, electricity was just becoming a common thing.
The same thing is true with artist and designer Patrick Jouin: he was born in France in 1967, the same year Ralph Baer played the very first two-player video game. Little did he know in 2004, he'd be the first one to 3D print a piece of furniture.
Admittedly, Jouin's process for creating the chair, named the Solid C2, was different that what designers are using today.
"The chair was manufactured by a process called stereolithography, a kind of 3-D printing in which a computer-controlled laser heats and solidifies a photosensitive epoxy resin upon contact," reports The National Design Museum at the Smithsonian (the first museum to house the chair). "This process builds up a form, layer by minuscule layer, to create a single complete object."
Before Jouin's chair, this early form of 3D printing had only been used to create small objects. The Solid C2, with its wide study ribbons of material, showed that it was possibly to use this process for the creation of larger, more practical things.
"Together with .MGX, Jouin took the entire process to a previously unheard of level, creating forms that were once thought impossible to produce. The Solid C2 chair was among these first designs and is reminiscent of blades of grass waving in the wind and weaving together," .MGX told Dezeen.
Jouin's red Solid C2 chair has been selected to join the permanent collection of the Stedelijk Museum, where it will be displayed beside the likes of Andy Warhol, Jackson Pollack, and Vincent van Gogh.