Oregon Tech thinks it's back on track with its ambitious goal of becoming the first university in North America to generate all of the electrical power it requires – from renewable sources, no less.
The university, in Klamath Falls on the eastern slope of the Cascade Mountains in southern Oregon, is in a great spot for renewable energy. Klamath Falls boasts that it gets nearly 300 days of sunshine a year, and the Klamath Basin sits atop a geothermal reservoir. Geothermal already serves campus heating needs and there's a 280-kilowatt geothermal combined heat and power plant on campus. Geothermal also provides process heat to the local wastewater treatment plant and keeps dozens of city buildings, schools, swimming pools and more warm.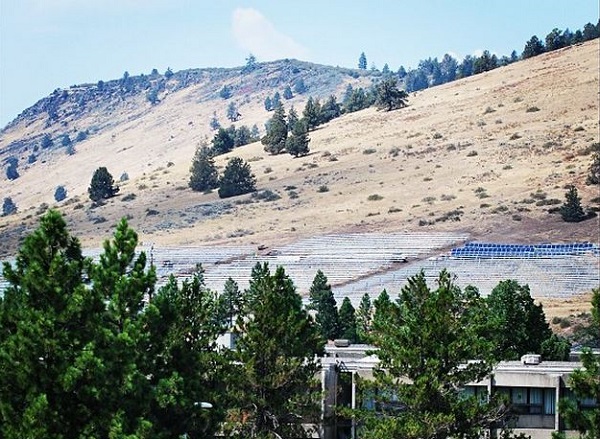 What the 3,900-student university has been aiming to do for some years now is add a 1.75 megawatt geothermal power plant [PDF] and a 2-MW solar power array. With a couple of announcements this summer, it looks like those projects are now on course .
First, in June the school said it had entered into "a final contract" with Batzer Construction to complete the infrastructure and installation of the geothermal power plant. In an request for proposals last year [PDF], the university had outlined that it had lined up 1 MW and 0.75 MW electrical generators, cooling towers and associated piping from Johnson Controls. With Batzer on board for the infrastructure and installation to go along with that, the university expects the project to be completed by the end of this year.
While solar projects are commonplace, it has oddly been the more frustrating aspect of the Oregon Tech plan. The 2-MW system was expected to be installed way back in 2011 through a program called Solar By Degrees that was going to provide solar through the Oregon University System. But the contractor Redco went bankrupt  before the Oregon Tech project was built.
But on July 3, the university announced that SolarCity "began installing 1,207 galvanized posts, 5 feet into the ground, to support over 7,800 solar panels" on nine acres of land adjacent to the track and field stadium.
That project is expected to be completed in October.
In making these announcements, Oregon Tech did hedge every-so-slightly in the all-renewables goal, saying it hoped to generate "most – if not all – electrical power needed for the campus" with its renewable resources.
"Our goal is to be the first," Mary Ann Zemke, vice president for finance and administration, said in a statement. "To get here, we have overcome many challenges through perseverance and accessing the unique technological knowledge of our faculty and staff."