The evolution of the electric vehicle industry in Europe, particularly in the United Kingdom where we've seen strong examples of its progress, is something producing some very interesting innovation. One of the most recent of these examples is a project centered around the development of a novel prototype electric car with a range of up to 20 km (12.4 miles) powered by solar power alone.
The project goes by the moniker "integrated enabling technologies for efficient electrical personal mobility," or P-MOB. Developed by Dr. Pietro Perlo, the CEO of Interactive Fully Electrical Vehicles, an Italian SME dedicated to e-vehicle development, it was supported by almost EUR 2.8 million in funding from the European Commission. It also involved researchers from six companies (Siemens from Germany; Mazel from Spain; IFEVS, Polimodel and Fiat from Italy; and Magnomatics from the United Kingdom), as well as the University of Sheffield in the UK.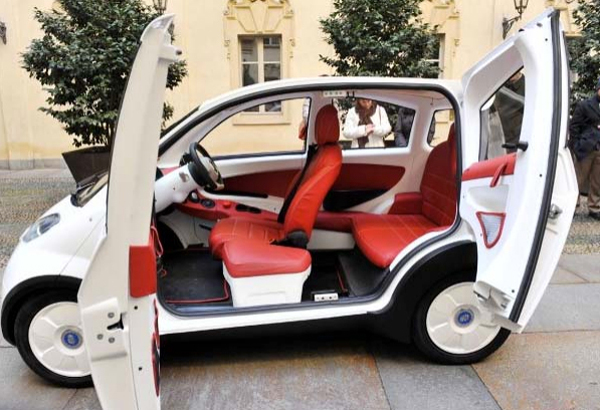 The P-MOB team, in undertaking development of the prototype, sought to
break the link between increasing transport capacity and rising road deaths, congestion and pollution by developing an e-vehicle prototype that is not only clean, but extremely safe and compact. To do so, the researchers took a novel approach to advanced systems integration focusing, among other things, on solar cells, e-motor and magnetic torque control, power-energy management, distributed accumulators and technologies to enable e-vehicles to put power back into the grid when not in use.
In the push to do this the resulting vehicle which was created weighs less than 600 kg (1322.7 lbs) and has a top speed of over 100 km/h (62 MPH). It meets regulations for both "micro" electric vehicles as well as more classical regulations for vehicle categories such as M1 (a car with eight passenger seats or fewer).
Integrated ICT-based control systems, noted the researchers, allow for the operation of two motors and two differentials – so the vehicle's front and rear axles are independent, providing effective four-wheel drive – as well as variation of the torque ratio, depending on driving conditions.  In addition, the use of two motors combined with ICT-based smart energy management is said to enable higher efficiency, "because the two motors can individually be operated at peak performance in all driving conditions, while maximizing energy recovery during braking through distributed braking on two axles combined with virtual 'anti-lock braking system' (ABS) control. "
As for the integrated solar panels, they work with smart diodes and self-adapting electronics to minimize loss of energy generation due to shadows or a single malfunctioning cell. The electric vehicle can also be charged directly from the power grid if so desired, or a solar car battery charger. The solar is what researchers were really interested in though, noting the 12.4 miles this car traveled under solar power alone is "more than enough for the average European daily commuter, especially in sunnier southern Europe."