BMW, hot on the heels of the formal unveiling of its i3 electric car, is now focusing on the other major green vehicle in its "i" stable of low carbon personal transportation. The plug-in hybrid i8, which has been teased out there in the public eye for about the same amount of time as the i3, is set to come to BMW showrooms in 2014 after it makes its world debut at the Frankfurt Motor Show next month.
The BMW i8 was designed from the outset as a plug-in hybrid sports car, according to the German automaker, and its plug-in hybrid system is specific to this model. BMW notes the system includes
a compact three-cylinder petrol engine with BMW TwinPower Turbo technology [that] is combined with an electric drive system and a lithium-ion battery which can be recharged at a standard household power socket. The 231 hp (170 kW) gasoline engine sends its power to the rear wheels, while the 131 hp (96 kW) electric motor powers the front wheels. This configuration offers all-electric driving capability with a range of up to approx. 22 miles (35 kilometers) and a top speed of approximately 75 mph (120 km/h).
The system, when calculated using the EU test cycle for plug-in hybrid vehicles, showcases that "the average fuel efficiency of the BMW i8 at model launch will be less than 2.5 liters/100 km, which equates to approximately 95 miles per US gallon, with CO2 emissions of less than 59 grams per kilometer."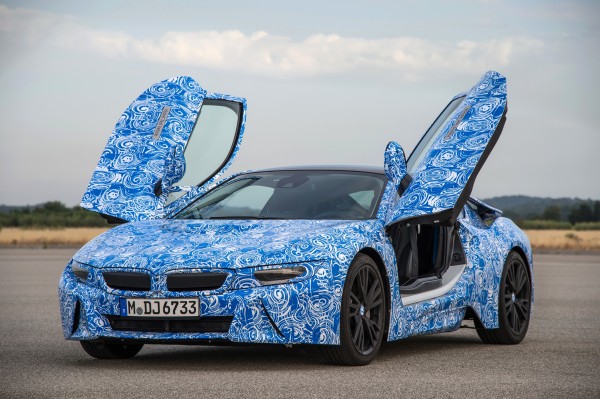 BMW has rated the i8's 0 to 60 MPH time at less than 4.5 seconds, and electronically controlled the top speed at 155 mph (250 km/h). The maximum driving range of the car on a full fuel tank and with a fully charged battery is over 310 miles (500 km), but this can be extended by up to 20 percent via a selectable eco-driving mode .
Among the many features of this hybrid-specific all-wheel drive vehicle is a special gear selector that allows for automated or manual shifting. If used in the latter, the engine and electric motor reportedly deliver on things like "extra-sharp performance, [an] accelerator response [that] is faster and the [fact that the] power boost from the electric motor is maximized." This mode also allows for better energy recuperation during braking to return to the car's battery for recharging.