Volkswagen could easily end up making one of the biggest green car splashes at the upcoming Frankfurt Auto Show with word of two planned electric vehicle debuts. What's more important here as well is the fact both models – the e-up! and e-Golf – are being showcased with mass production in mind.
The German automaker move into electric vehicles follows a long road we've been chronicling since the e-up! first appeared as a concept at the 2009 Frankfurt event. It has since then been priced out at around €26,900. The e-Golf, meanwhile, first surfaced on our radar in late 2010 as the Golf blue-e-motion. In the case of both electric cars VW had projected a 2013 launch date and, lo and behold, it kept to its projection debut targets.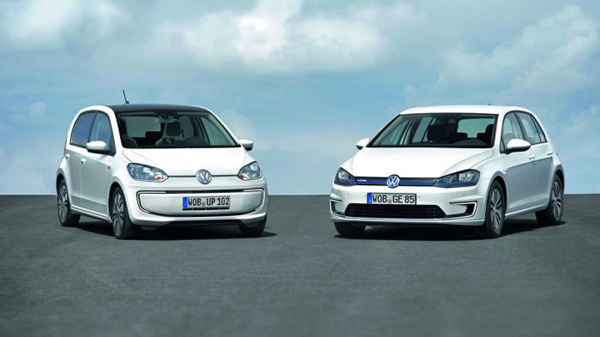 For those looking to save money at the electric car fuel pump, i.e. electric vehicle charger, VW is saying both vehicles are "leaders in energy efficiency, meaning that
the e-up! consumes just 11.7 kWh of electricity per 100 km – this makes it the new world champion in efficiency. The e-Golf, positioned two classes higher, attains an excellent value of 12.7 kWh. Given an electricity price of €0.258 per kWh (Germany, as of 31st July 2013), driving 100 km with the e-up! costs just €3.02, and with the e-Golf it is around €3.30.
As far as European performance specifications and drivetrains go, here's what Volkswagen puts the vehicles at
e-Golf: driven by a 85 kW / 115 PS electric motor. The motor produces its maximum drive torque of 270 Nm as soon as it starts off. The results: the front-wheel drive e-Golf reaches 100 km/h in 10.4 seconds. On a motorway, the speed of the five-seat front-wheel drive car is electronically limited to 140 km/h. Its battery (24.2 kWh) has a range of 190 km, and with fast battery charging can get up to 80 percent capacity in around half an hour.
e-up!: its electric motor produces 60 kW / 82 PS. This motor transmits 210 Nm of torque to the driven front axle from a standstill. It completes the sprint to 100 km/h in 12.4 seconds. Top speed: 130 km/h. It can drive 160 km on one battery charge (18.7 kWh), and with fast battery charging can get up to 80 percent capacity in around half an hour.
Both electric cars have what are described as two "efficient driving" modes ("Eco", "Eco+") and four regenerative braking modes ("D1", "D2", "D3" and "B") that help to extend maximum driving ranges. In Germany, it was found that around 80 percent of all car drivers there go fewer than 50 km daily, so most should easily be able to get around on one battery charge.
"Sustainable mobility is having an increasing impact on people's actions," said VW in a statement. "Yet the products for implementing this environmental awareness must be practical and fun as well – such as the e-up! and e-Golf which accelerate to big city pace in just a few seconds. The new zero-emission Volkswagen cars therefore have the potential for irreversibly charging up the electric car segment with innovative technology, a high level of everyday practicality and a dynamic driving feeling."