The lowly golf cart, while often a workhorse in the field of electric vehicles, goes unnoticed by most because of limited range and functionality. Often, they are just ugly too. Now German automaker Mercedes-Benz has decided to apply its design chops to making a fancier version, and of course you can expect it will be very luxurious as a result.
The Mercedes-Benz Vision Golf Cart, as it is dubbed, was unveiled at this year's British Open. What was showcased was the result of a competition held earlier this year in which golf and automobile fans from around the world submitted ideas on what a golf cart of tomorrow should be like. A jury from there selected the best entries, and then, "building on the basis provided by these ideas and concepts," the final cart design study was put together.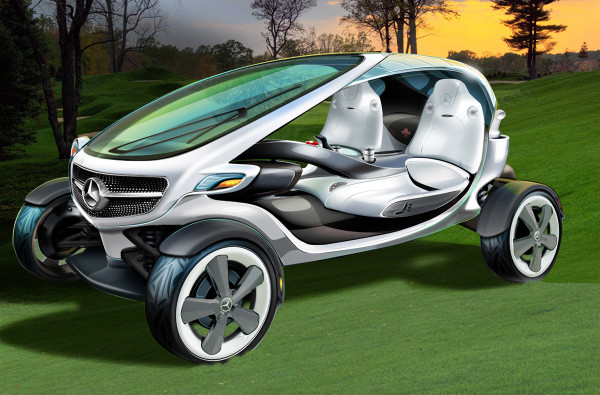 Like most other golf carts found on the courses and in retirement communities, the Mercedes-Benz version is electric driven and powered by a battery. It is taken one step from there however, with a potential unending power supply via a solar module integrated into the roof. Manual charging, as for a conventional golf cart, is also possible.
Beyond the solar charging, this cart quickly ramps up on the technology and convenience features, including
A joystick mounted on the centre console, making it possible for either passenger to drive the golf cart.

The center console incorporates a multimedia panel that includes a rotatable docking station for an iPad or iPhone and a USB interface. Various functions that are available in the golf cart can be controlled from here.
A head-up display integrated into the windscreen that can be used, when the golf cart is stationary, to show the course layout, the current status of the game or weather information. A digital speedometer is placed beneath the windscreen.
Bluetooth integration, allowing telephone calls to be made via the loudspeaker system while on the move.
Connectivity through the iPhone/iPad to do things like order drinks or food from the clubhouse or share digital score card or even photos from the golf game directly on social media channels.
A button for alerting others of a misplaced shot. It "sends a warning to all other golf carts within the danger zone so that they, too, can issue a warning signal."
Interior touches, such as ergonomically shaped seats that are heated as well as ventilated and that can be adjusted electronically; an integrated air-conditioning system and tons of storage. This storage includes, of course, a "small fridge fitted beneath the centre console, while cup holders between the seats will keep drinks hot or cold."
The Vision Golf Cart can also, to an extent, be taken to the roads near the golf course as it is outfitted with necessary indicators, headlamps and tail lights.
"The Mercedes-Benz Vision Golf Cart has a refined, simplified yet functional shape that fits well into our 'Sensual-Purity' design philosophy," said Gorden Wagener, Vice President Design Daimler AG, in a statement. "The flow shapes create a 'sculpture on wheels' impression. I was very inspired by the idea of designing a golf cart, giving it a new shape and new sorts of meaning. Why not treating a golf cart like a car, and making it a 'Golf Car'."