Ford and GM continue to rock the house when it comes to green vehicle development in the United States. Chrysler, meanwhile, not so much. A casual search on EarthTechling shows we have over 2,100 instances of Ford and over 850 of GM, compared to a measly 140 or so for the other member of the Detroit 3. A partner story we ran last August sums up Chrysler's viewpoint on this in a nutshell – "a company executive said…that it would indeed build electric and hybrid vehicles, though 'sparingly' and for the 'right kinds of targeted applications."
Take from that statement what you will, but perhaps some progress is better than none at all? A possible case in point – a recent announcement that company engineers are "helping to determine if electric-vehicle batteries can generate revenue as well as power."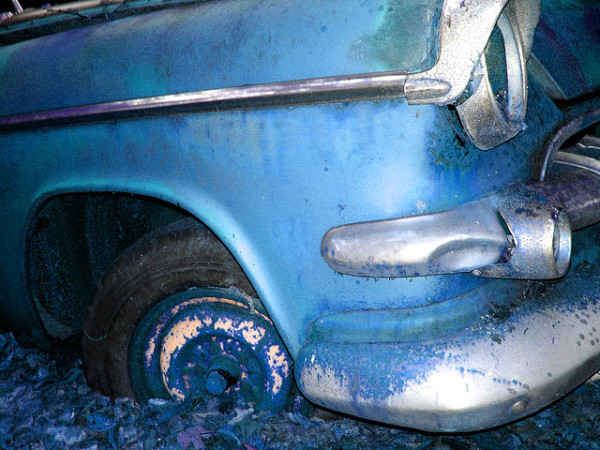 Ok, so maybe yawn. But let's at least explore what they intend before passing total judgement. What Chrysler is doing is partnering with NextEnergy "to evaluate vehicle-to-grid (V2G) technology using four all-electric minivans." NextEnergy, a Detroit-based non-profit energy-technology and business accelerator, has been in this relationship with the automaker for two years, studying together the notion that if "EVs prove to be viable storehouses of electricity, they could provide energy savings by sending surplus power to the grid."
Four Chrysler Town & Country minivans equipped with all-electric powertrains and powered by 24 kwH batteries modified to accommodate bidirectional charging have been at the center of this project. Tied to a charging module that makes use of "unique NextEnergy technology" to simulate any electrical grid in the world, it provides a platform under which multiple scenarios can be studied to examine the ideas of vehicle to grid efficiencies.
So what are these scenarios you ask? Here's what Chrysler spells out on what's been happening in its lab experiment –
Among the scenarios under study is reduced reliance on "spinning reserves" – the expensive practice of having huge generators at the ready to balance spikes in energy demand.

If EVs were linked together in sufficient numbers and their combined surplus power was sold to utility companies, they could conceivably offset demand surges. The expectation is that tapping such a reservoir would cut costs for utility companies, while also putting money into the pockets of EV owners.

Similarly, a mini-grid composed of EVs would enable "peak-shaving," which would see EV owners draw from their own power reserves during those hours when demand for electricity – along with its price – is highest.

The V2G project also considers the impact of cloudy days on solar-panel function. EVs could provide a ray of sunshine in the form of supplemental power, a process known as "generation-firming."
There's more as well, but you get the idea, right? For what it is worth for the curious, this project is funded with $1 million from the Michigan Economic Development Corporation (MEDC) and $400,000 from NextEnergy. Chrysler supplied the vehicles and in-kind engineering support.
For all the wiz-bang Chrysler spins in its news about this project, you in some ways can't help but continue to be under whelmed by their viewpoint on environmental technology in vehicles. Sure – they've pumped a ton of money into "concerted efforts to develop clean-running, capable powertrains for today's motorists" – but what you've ended up with mostly are compliance cars like the Fiat 500e and lovely statements like this from Chrysler officials:
"Advanced internal-combustion technology remains at the core of our efforts, but the present regulatory climate we live in compels all auto makers to explore alternatives such as electrification." – Bob Lee, Chrysler Group Vice President and Head of Engine and Electrified Propulsion Engineering.
Leave you feeling warm and fuzzy about their approach to hybrids and electric vehicles? I didn't think so. There's some rumblings of more electric vehicles in the works, but until there's actual Detroit steel and green technology together under the Chrysler moniker the company remains a non-starter in the space.