Nissan Leaf and Chevy Volt owners – are you ready for wireless charging of your electric vehicles? If so, Bosch and Evantran are ready for you. The two have inked an agreement to bring the Plugless Level 2 Electric Vehicle Charging System to consumers and make you one of the first to have what's called the first commercially available wireless system in the United States.
Evatran developed the wireless charging technology and Bosch will be the one installing it for you. It won't be a cheap offering though when it becomes available next month, as it prices around $3,000 starting (this does not include applicable taxes, shipping, or installation of the parking pad and control panel, but does include vehicle adapter basic installation).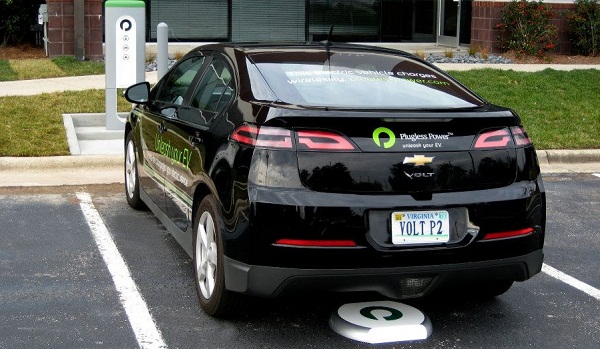 For the convenience of not needing to physically plug in every night though it might be worth it for some. Bosch said it is offering up some financing options to help those who don't have that money sitting around all at once, including a $0 down, 5 year 2.99% loan on charging stations with installations of $3,500 and above.
With regards to the specific installation process, it is a two part deal. A Bosch-certified electrician will install the home infrastructure portion of the system, and Bosch Car Service centers will install the on-vehicle components. The company will coordinate the entire process and provide post-installation support as needed.
Bosch will also offer guidance for those thinking about wanting to put in a system, as well as offering help for those wanting to find and file qualifying rebates from utility companies, government or vehicle manufacturers in order to help take some of the sting out of the high price tag.
Components of the Plugless Level 2 Electric Vehicle Charging System include a vehicle adapter which goes on the undercarriage of the user's EV; a control panel like wall-mounted enclosure that provides alignment guidance and diagnostic information, in addition to traditional charging station functions; and a floor-mounted wireless charging transmitter.
As for charging times, it is said these devices charge as fast as a conventional plug-in charger. This means you can roughly expect to charge your Leaf or Volt in half the time it would take to charge otherwise if you were plugged into a normal 120V outlet (the wireless charger works on 240V, and you need to drive over the system's floor-mounted parking pad to begin the charging).
As for support of other electric vehicles besides offerings from Nissan or Ford, Bosch told PlugInCars that they are "in development," but it couldn't offer specific availability dates as of yet.