While a good chunk of the green technology innovations and breakthroughs we cover here are done by major corporations with lots of money to throw around, a lot of other ideas come from small businesses around the nation and beyond. The Environmental Protection Agency (EPA) is looking to help these small businesses succeed, recently announcing $2 million in funding to bring a little bit of extra cash to those in need.
The EPA's Small Business Innovation Research (SBIR) program funds, according to the governmental agency, what's described as "innovative research resulting in new commercial products, processes and services that protect the environment, benefit the public, and promote the growth of small businesses." The projects being supported across the nation are diverse, focusing upon "drinking water, wastewater, manufacturing, green building, waste monitoring and management, air quality, sustainable use of biomass and homeland security."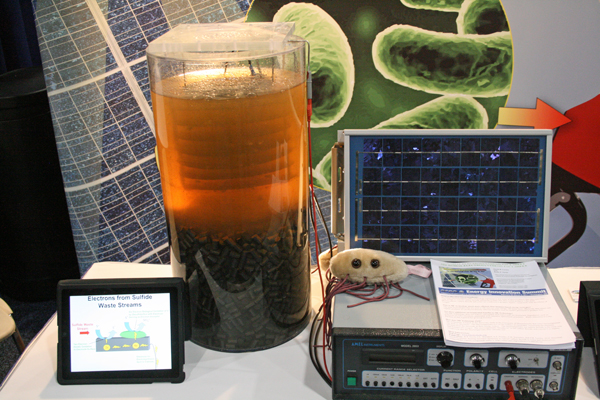 Each of the companies getting funding support from the EPA will participate in two phases of this program. Phase I offers contracts of up to $80,000 to develop the technology over the next six months. The larger Phase II award of up to $300,000 will be made eligible to those who are able to demonstrate their technology to be commercially viable.
Among those getting the funding, six California companies were included in the mix. These are:
HJ Science & Technology, Inc. (Berkeley) — Demonstrate the feasibility of an integrated "lab-on-a-chip" technology capable of rapid and real-time detection and identification of a variety of toxins in drinking water
Instrumental Polymer Technologies, Inc. (Westlake Village) – Develop tough, sustainable water-based wood coatings using nanotechnology, soy-based biodiesel, and amino acids
RegeneMed, Inc. (San Diego) – Develop three-dimensional human breast tissue model for screening human mammary carcinogens
ACEA Biosciences, Inc. (San Diego) – Research and develop cell lines, protocols and data analysis methods to assess the toxic effects of environmental pollutants
KWJ Engineering, Inc. (Newark) – Develop an ultra-low power and low-cost CO2 sensor for intelligent building ventilation system controls
Verrix (Los Angeles) – Develop an automated, rapid method for evaluating the efficiency of wastewater treatment systems
Another example heralds from Greenville, South Carolina in the form of Liquid Lignin, a startup focused upon developing what's called "environmentally friendly borate-based wood." What is this exactly? Here's how the EPA describes it
This natural organic retention project proposes using lignin from emerging biorefineries to allow borates to be used as wood preservatives for exterior applications exposed to rain. Enhancing the retention of environmentally friendly borates has been the "holy grail" of the industry for decades. This Phase I project will assess those new lignin sources for their efficacy, while simultaneously defining the characteristics of lignin (molecular weight, functional group distributions) that perform best in the screening tests. This will determine the strongest control variables, and then generate response curves dependent on the stronger variables.
"Over the past 30 years, EPA's SBIR program has funded over 900 small businesses that develop unique environmental technologies," said Lek Kadeli, principal deputy assistant administrator for EPA's Office of Research and Development, in a statement. "This funding opportunity allows these companies to help protect public health and the environment through innovative technology and more sustainable solutions while creating jobs and increasing economic competitiveness."