As the saying goes, "When in Shanghai, do as the Shanghaiers do." Okay, no one really says that, but that's what happened recently when an Italian firm 3Gatti Architecture Studio was looking for a new sun-shading mechanism and found inspiration from the citizens of Shanghai, China.
When the horizontal bamboo shades on the city's Madrid Pavilion, built for the 2010 Shanghai Expo, began to disintegrate, 3Gatti was asked to design a replacement system that would control the amount of solar gain at the pavilion but also be able to withstand the elements. 3Gatti noted that much of the populace uses parasols to provide shade during the many sunny days, so they decided to incorporate umbrella-like mechanisms into the new façade.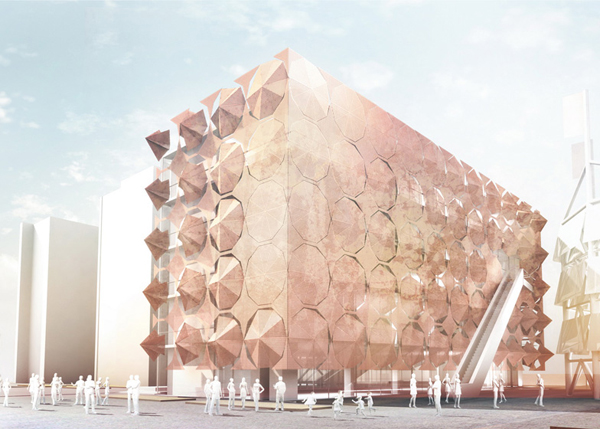 Originally designed by London's Foreign Office Architects, the Madrid Pavilion was created to showcase the latest low-cost housing designs for the 2010 Expo and has since been converted into a mixed-use retail and office building. After three years in the Shanghai climate, however, the moveable bamboo louvers used to control the amount of sunlight entering the extensively glazed walls began to show signs of rot. The mechanisms used to move the louvers also began to rust and impede their function.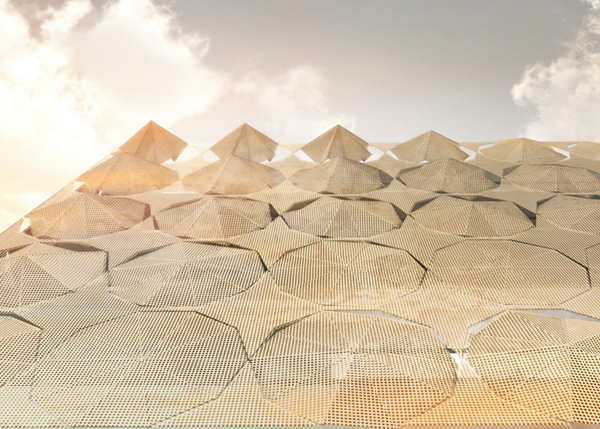 As a solution, 3Gatti designed a façade made of perforated Corten steel to surround all four walls of the structure. At regular intervals on the steels skin, the façade is cut into circular disks that can be individually furled and unfurled, like an umbrella, depending on the amount of sunlight available. Each parasol will be moved independently by tenants, using a pulling system that is connected to the exterior aluminum and stainless steel furling mechanism.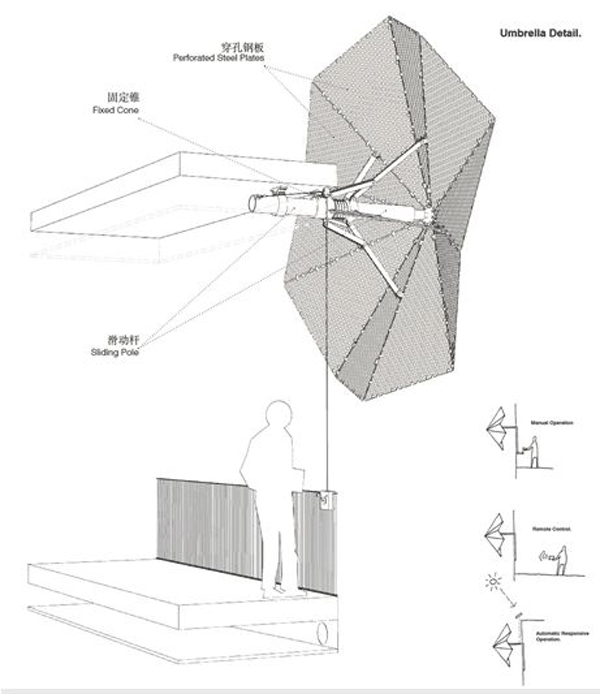 "The previous design of the Madrid Pavilion was a system controlled by the users moving the folding shades horizontally," said chief architect Francesco Gatti in a recent Dezeen article. "We just changed the shades into a more familiar object."
When furled, the umbrellas extend outward from the building, forming a five-pointed-star-shaped column that adds a striking aesthetic detail to the façade, which will constantly change with the weather and tenants' needs. According to 3Gatti, the moveable metallic elements will be strengthened to ensure they will perform better than the previous bamboo cladding during the typhoons that are common to the area.
Construction of the new façade is expected to begin in the fall of 2014, 3Gatti said.