The landscape of sand dunes can be seen as a metaphor for something that is ever-shifting and flexible yet also protective against opposing forces. For this reason, the International Criminal Court (ICC), an independent organization of 122 countries, decided to build its new headquarters on a sandy patch of land between the North Sea and the city of The Hague in the Netherlands.
Construction on the new ICC structure, designed by Schmidt Hammer Lassen Architects, winners of a 2010 competition, broke ground last month and is expected to be completed by 2015. To convey a sense of "openness and transparency" in the international court system, Schmidt Hammer Lassen included several sustainable elements, include green walls that climb the central tower and a generous use of glazing and open spaces.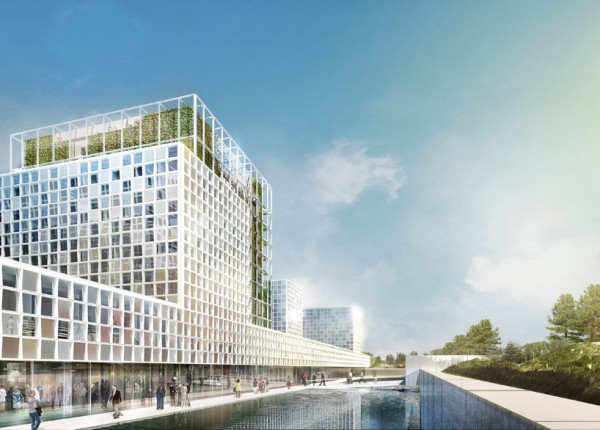 The complex will consist of six buildings covering more than 586,000 square feet and containing up to 1,200 centralized workstations that are currently scattered in various temporary offices. The tallest of the new buildings will be clad in a vertical garden and surrounded in a metal grid to provide open-air vistas and natural ventilation.
The other five buildings will use composite materials developed by the aviation and wind-turbine industries as the main exterior. These envelopes will be perforated in a latticework of windows and angled cutouts to draw in natural daylight into the interiors and reduce energy needs during office hours.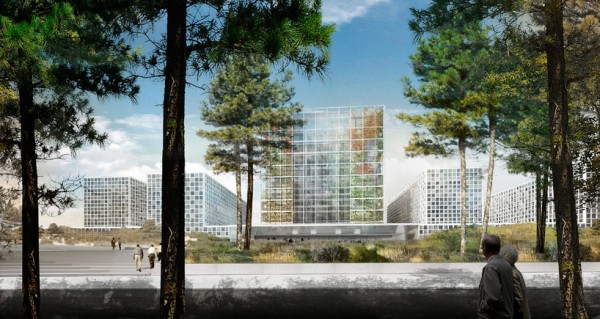 "The architectural idea is to continue the cultivated parterre gardens from the ground floor level as a cladding on the Court Tower," the architects explained on their website. "The office façade grid is designed with angle and cut-outs, which allows the light to reflect differently in an almost playful way."
The cluster of buildings, the designers said, will use a relatively small footprint to connect the seaside dune landscape with the urban edges of The Hague, making open spaces and the natural world "an integrated part of the architectural composition." The designers also said they are hoping to achieve a BREEAM Excellent rating for the sustainable features of the complex.
The lightness of Schmidt Hammer Lassen's airy design will contrast with the weighty nature of the ICC's mission, which will be to hold international tribunals and prosecute crimes against humanity, such as genocide, war and other forms of aggression under the Roman Statute. One of the buildings will be used as a detention center overseen by the international zone of The Hague, which is also the site of the Peace Palace, Europol, the Organization for the Prohibition of Chemical Weapons, The Hague World Forum and many other diplomatic organizations.