Adding a new twist to the current American adaptive reuse trend of converting abandoned rail lines into urban parks, such as the Bloomingdale line in Chicago and The High Line in Manhattan, a group of urban planners in Italy don't want to wait that long. They've proposed adding a park to a rail line that's still very much in operation.
Architects Massimiliano and Doriana Fuksas have collaborated with architect Jordi Henrich I Monràs to win a recent international competition to cover the central railway area in the southern Italian city of Bari with a nearly two-mile-long elevated park over the tracks.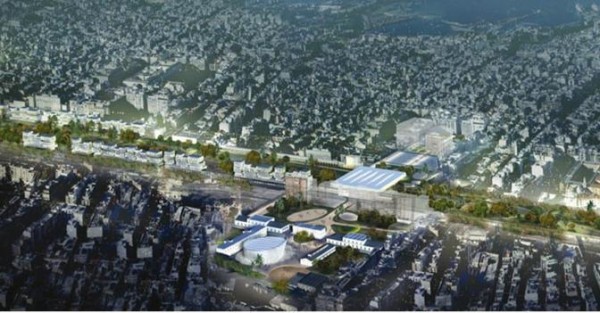 Covering nearly 8.4 million square feet, the Baricentrale park proposal would include abundant trees and open park land in the form of an enormous green roof over the tracks in front of the rail station, plus a redevelopment of the former Rossani Barracks area.
One of the key elements in the design is a new cultural center in place of the Rossani Barracks that would include an exhibition space, municipal offices, ground floor cafes, and workshops for artists and various academia. Several of the historic buildings in the area would be preserved, one of which is expected to be converted into a library, according to the architect teams.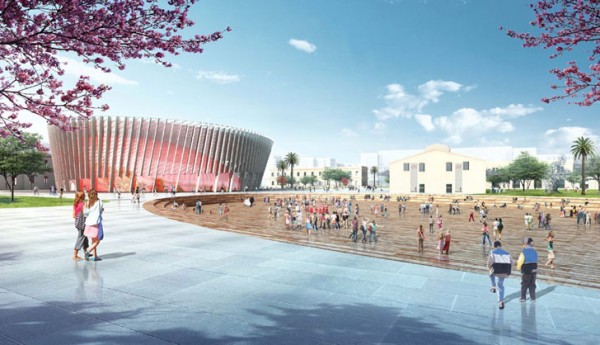 The exhibition center, with seating for up to 1,000 people for live performances, film screenings and conventions, would be in the shape of an ellipsis and clad with a wooden façade to match the natural setting of the surrounding park. The plan also calls for the expansion of Bari's existing Niccolò Piccinni music conservatory and to enlarge the Auditorium Nino Rota to include classrooms and a 400-seat outdoor plaza for concert performances.

In Bari, the railway had long acted as a psychological barrier that cut straight through the city and divided the citizens, said the designers at Fuksas. The winning redevelopment plan, they said, would bring the two halves of the city together and provide a central meeting place for all residents. The plan would also help increase Bari's urban density, provide attractive views of the Adriatic Sea from the promenade, add a new bike path through the city and double the amount of overall urban green space.