Over the last 10 years, following the unimaginable destruction caused by tsunamis in 2004 and 2011, the world's architects have focused their attention on building stronger, more sustainable housing in the areas that were wiped out by these titanic events. Perhaps none have been more active than the Japanese firm Shigeru Ban Architects, which was recently shortlisted for the Aga Khan Award for Architecture that will be announced later this year.
Specifically, the project for which the firm is being lauded is a group of about 100 houses in the fishing village of Kirinda in Sri Lanka, which was leveled during the Boxing Day Indian Ocean tsunami of 2004. Using local labor and sourcing materials within a few miles of the village, Shigeru Ban designed a series of simple, sturdy housing units provide much-needed low-cost shelter while also helping to the local economy.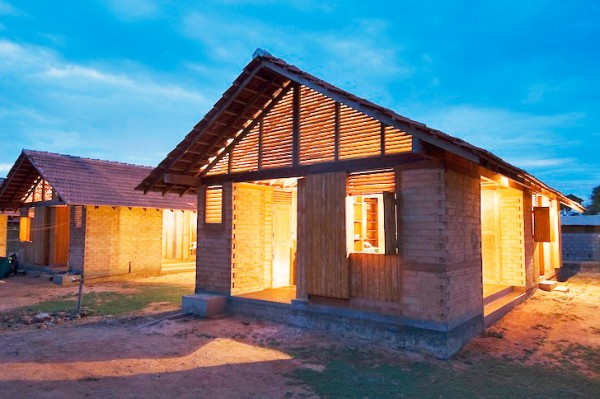 The prototype two-bedroom house designed by Shigeru Ban has a footprint of about 765 square feet and includes a sheltered courtyard, which is often used for meals and other family gatherings. The one-story structures use walls made of compressed earthen bricks sheathed in wood from locally harvested rubber trees. The pitched roof uses teak and coconut wood that is also sourced nearby.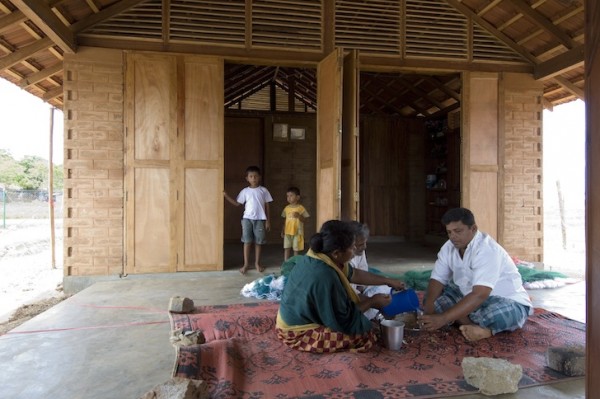 In fitting with the Muslim strictures of the region, the house design separates the kitchen and bathroom areas and the living quarters with a covered courtyard area, where the whole family can gather. The courtyard, with its open walls, provide shade and cooling ventilation while also serving as way to divide men from women, as is the local religious and social custom. Portable wooden screens can also be used to provide greater privacy.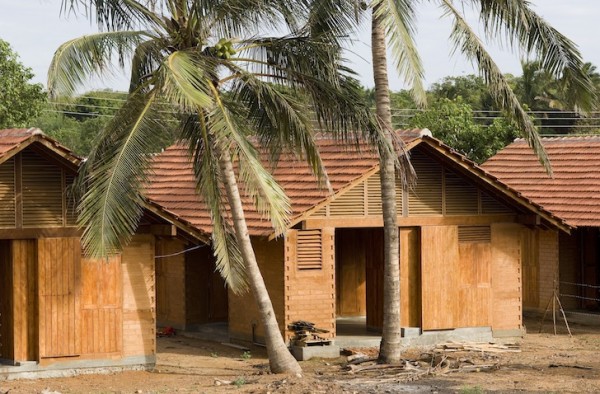 The first prototype houses were designed in 2005 and completed in 2007. Local developer Phillip Bay recently told Dezeen magazine that the houses would be a template for the construction of 100 replacement homes in Kirinda. "This was not going to be a traditional disaster relief effort where we go in and make homes really fast and leave," Bay said in the article. "I wanted to treat this like a development project."
"This is the first time I've worked for the Muslim societies," said Ban, "so before I built the houses I had a community meeting to find out what has to be carefully done depending on the generation, for example, we had to separate the man's space and woman's space."
Currently, Shigeru Ban is one of 20 firms being considered for the Aga Khan prize. Later this year, five to six finalists will be chosen to compete for the $1 million grand prize.