Wires are so 20th century. After 40 years of wireless phones, and almost as long with laptops, GPS, and wireless internet, it was only a matter of time before the wireless phenomenon spilled over into other markets.
At last week's LIGHTFAIR International 2013, Rhode Island-based Thermal Solution Resources, LLC introduced a smart LED called the intelliSSL MR16. Billed as the world's smallest wireless LED lamp, the MR16 delivers quality light, energy savings, and eliminates the need for a light switch.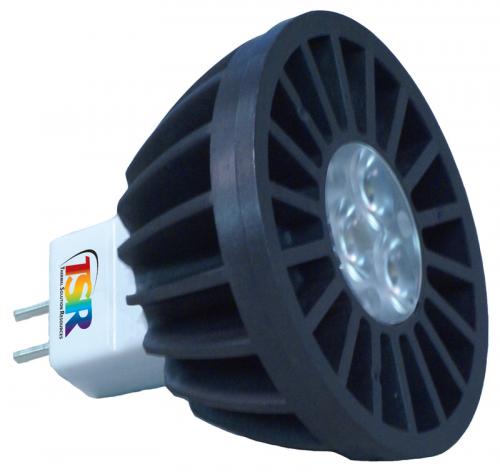 The intelliSSL lamp incorporates an ultra-compact driver architecture with a powerful antenna system, designed to maximize reception strength, and uses the ultra-low-power JN5168 wireless microcontroller from NXP Semiconductors N.V.
The patent-pending intelliSSL design provides strong wireless reception, eliminating signal interference even under high temperatures, while conforming to a standard ANSI format. It's all packed into a tiny package only 1.98 inches in diameter and 1.98 inches in length with a GU 5.3 base. The lamp can be controlled remotely from iOS, Android or Windows smartphones, tablets or PCs.
The lamp is made with TSR's moduLED design, which eliminates thermal bottlenecks and inefficient assembly steps, while strengthening wireless range and data accuracy.
"Wireless smart lighting has been embraced enthusiastically by tech-savvy consumers. Now with the first wirelessly-enabled MR16 from TSR, we expect to see broader adoption, also by businesses, for commercial and architectural lighting installations," said Marcel Walgering, general manager, smart home and energy product line, NXP Semiconductors. "As part of a connected home, smart building or intelligent city network, smart LEDs have the potential to significantly change the way we manage lighting, security and energy consumption on a grand scale."