I've read stories recently about some off-grid luxury homes in the U.S. They're all about amazing hardware and software for making sure that your vast solar array is keeping your vast battery pack charged and ready to run your vast home theater at all times. And the indoor temperature cucumber-like, of course.
Architizer recently featured a new home in Extremadura, western Spain, that does off-grid luxury the Old World way. It won one of Architizer's five Best of 2012 awards in the Sustainability category.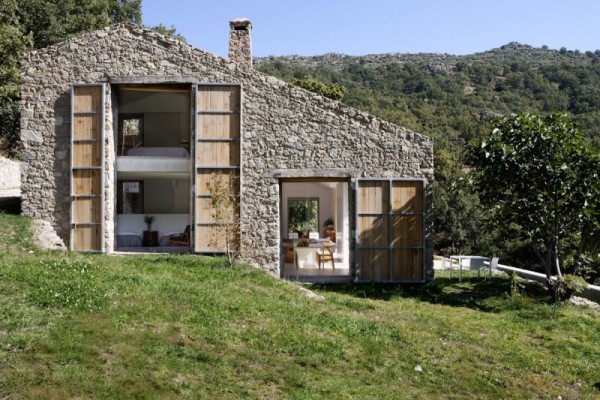 The remote hilly site has no power lines or piped water, but it has plenty of sun, two year-round streams, and I guess a good enough road to commute on. A brother and sister who are principals at Ábaton Architecture Studio in Madrid found an old crumbling cattle barn here and decided to remodel it into a residence.
Once work started, the stone walls turned out to be so weak they had to be torn down. But they were attached to their vision of their house with these stone walls, this roof pitch, and this hay loft converted into a bedroom loft. So they held fast and rebuilt, reusing many of the same stones, on the exact floor plan they had already drawn.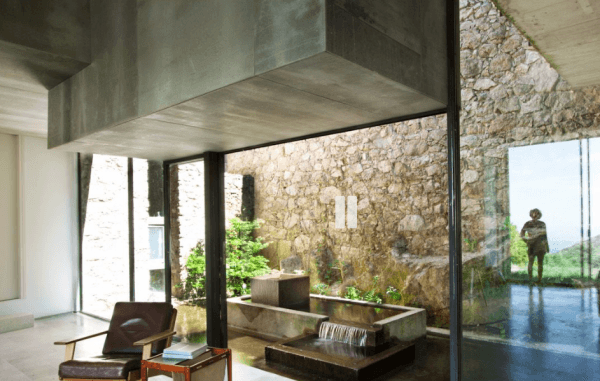 The interior style is entirely minimalist modern, but it doesn't seem at all out of place because everywhere you're given glimpses of ancient stonemasonry, pools of water, weathered wood, wizened trees, grazing cattle.
"It's all water, it's all about the water, this house." So says Carlos Alonso in a remarkable video. A stream was diverted to well up at the bottom of a deep courtyard on the north side of the house; from there it flows under the house to a pool the full length of the house on the south. Sunlight reflects off of the long pool and shimmers on the north wall inside the great room.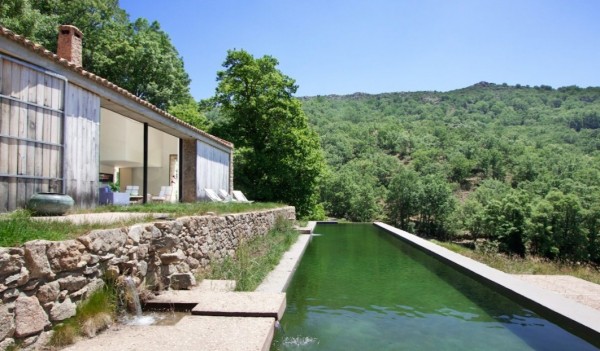 Stream water flows into long hand-washing troughs in both the kids' bathroom and the master bedroom—that's right, not the master bathroom. It pours out the ends of the troughs and falls to drains in the floors. They can leave it flowing all night for the sound, if they like—no waste! It's just their stream finding its way down their hillside to the sea, unconcerned with whether it flows around their house or through it.
For electricity, the house gets by on a modest photovoltaic array augmented by a small hydroelectric turbine harnessing a stream. Streamflow is strongest in winter, when sunlight is weakest. But it looks like the power demand is small.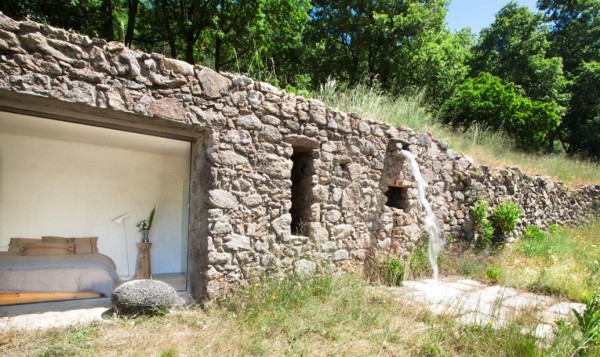 A wall of sliding glass doors takes up much of the south facade, admitting plenty of solar gain. The glass can entirely disappear into pockets when desired. For cold nights, the owners close everything up with massive shutters faced with weathered planks. The stone walls are actually thick concrete walls with masonry facades, and the floors are concrete. So it's very much a passive solar house.
In the video, Sra. Alonso points to their heat source, an open fireplace that is not exactly blazing. I notice she's wearing winter layers. Hey, in the greater scheme of things our insistence on going around in shirt sleeves in midwinter is a peculiar novelty.
The house appears to sleep around 16, with a large number of kids sharing a bunkroom that she describes as a "kids house."  I think these two have a lot of relatives who like to stay for a while. Can't say I blame them.