The idea that electric bikes have to look, well, like regular modern bikes mostly goes out the window with its unveiling during the ongoing Milan design week in Italy. Sporting a vintage style design combined with high tech, the new Cykno certainly looks to turn heads if people catch you riding it down the streets.
The Cykno is the brainchild of Italian engineer Bruno Greppi and designer Luca Scopel. It is designed around a monocoque frame, radial spoke wheels and a front fork made from carbon fiber and stainless steel pipes. The rather unusual seat, according to the bike's makers, sits atop a stainless steel blade and is done out in fancy leathers. These same leathers are used to cover the handlebars and other parts of the bike frame. This bike, as Inhabitat points out, certainly isn't something bikers who are vegan will enjoy riding.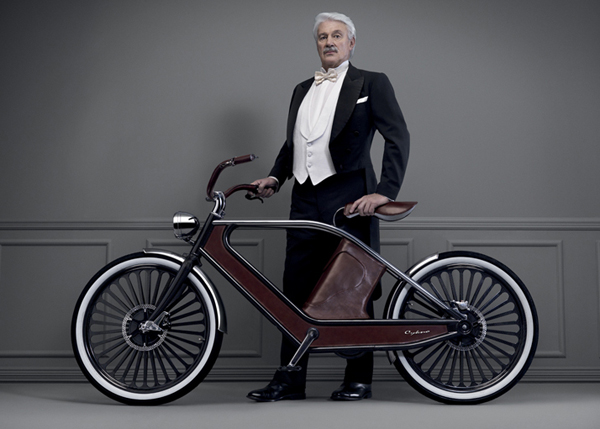 A Swedish electric motor mounted on a carbon fiber cradle is coupled to the frame. It is powered by a lithium polymer battery with a capacity of 360 watt hours, offering a range of around 37 miles and a recharge time of around four hours. The system is based upon a pedelec design, offering power assist as needed, and includes torque control.
Overall the Cykno is fairly lightweight, coming in at 57 pounds. The bike is envisioned as aiming to meet the "needs for mobility although maintaining a low environmental impact." It seems like in general it accomplishes this, though we call into question the use of leather on a design aimed at being considered green.
As of now there's no word on pricing or availability. When it does become ready for purchase, however, expect you'll be able to get it online, complete with customization for the leather of coatings, quality of materials and accessories.