In announcing its three new solar installations in Hawaii, bringing its total in the state to six, Walmart emphasized the environmental benefits, including eliminating 9,600 metric tons of carbon dioxide emissions in the next 10 years.
The company also alluded to expected savings of the monetary variety, and while no specifics were offered, you can bet the investment is worth the while.
Solar increasingly makes sense everywhere, but particularly so in Hawaii. A recent report [PDF] by the Economic Research Organization at the University of Hawaii raised a ruckus with solar advocates because it recommended the state do away with a 35 percent tax credit for solar systems. But lost in the shouting about the tax credit's fate was the report's unambiguous conclusion that installing PV in Hawaii is pretty much a no-brainer.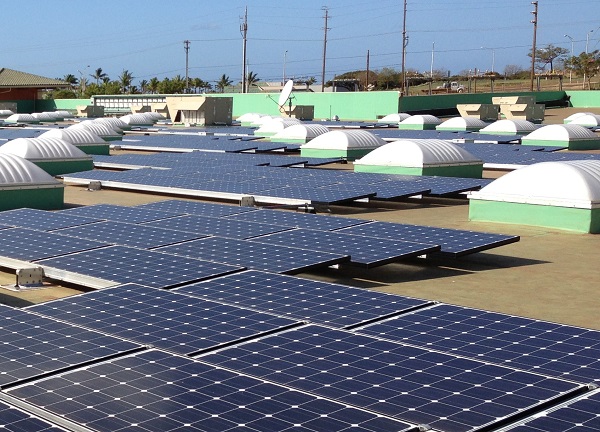 "In purely economic terms … the rational household decision is to make the PV investment, regardless of tax credit policy," the study says. It goes on to call PV systems "a lucrative investment," yielding an internal rate of return of over 9 percent with no state tax credit, and 14 percent under recently adopted rules.
You think the Walmart number crunchers back in Bentonville aren't aware of that?
Hawaii is particularly solar-friendly because standard electricity rates are so high, the highest in the nation [Feb 2013 EIA Electric Power Monthly, page 122], a result of the state getting about three-quarters of its electricity from imported petroleum.
Walmart said that each of the three new installations – on stores in Kahului, Kailua-Kona and Kapolei – has 311-kilowatts of generating capacity and is expected to produce more than 400,000 kilowatt-hours of electricity per year.
"We are committed to making decisions that are not only good for business and the environment, but also allow us to pass on savings to our customers," said Rey Armijo, Hawaii market manager for Walmart.
Walmart isn't solarizing only in Hawaii, however. A report last September from Vote Solar and the Solar Energy Industries Association put Walmart atop the list of U.S. corporate solar adopters, with 65 megawatts of capacity.
As that report noted, "The economics of PV have become so attractive that many of the best managed companies … are adopting solar energy on a massive scale in the U.S."