Computer and iDevice manufacturer Apple, often criticized for not being green enough despite it being one of the more environmentally focused in its space, has issued its updated 2012 environmental report. There's a lot to digest from it, but one of the key take aways is how much renewable energy is powering its facilities on a worldwide basis – 100 percent at all of its data centers, and at all locations combined 75 percent. It aims for 100 percent renewables at all of its operations and is well on its way to that, achieving a reported 114 percent increase between 2010 and last year.
Apple, as part of its updated report, highlights these key items among its achievements to date:
Apple launches the redesigned iMac, which uses 68 percent less material and generates 67 percent fewer carbon emissions than earlier generations. In addition, the aluminum stand on the iMac is made using 30 percent recycled content.
Apple rolls out a biogas-powered fuel cell and builds rooftop solar photovoltaic systems at our headquarters in Cupertino. At the same location, energy use is cut by over 30 percent at a time when occupancy increased by more than 12 percent.
Apple introduces its redesigned AirPort Express with an enclosure containing bio-based polymers derived from industrial-grade rapeseed and post-consumer recycled PC-ABS plastic.
Apple achieves 100 percent renewable energy use in corporate facilities in Austin, Elk Grove, Cork, and Munich; at many sites in Australia; at the Infinite Loop campus in Cupertino; as well as at data centers in Newark, Maiden, and Prineville. Among all Apple corporate facilities worldwide, 75 percent of the total energy used comes from renewable sources — a 114 percent increase since 2010.
At the data center in Maiden, North Carolina, Apple completes construction and begins operation of the largest end user-owned solar array and the largest non-utility fuel cell in the United States.
These are some big items to be sure, and touch upon key areas of clean energy usage in facilities and development of more environmentally friendly consumer products.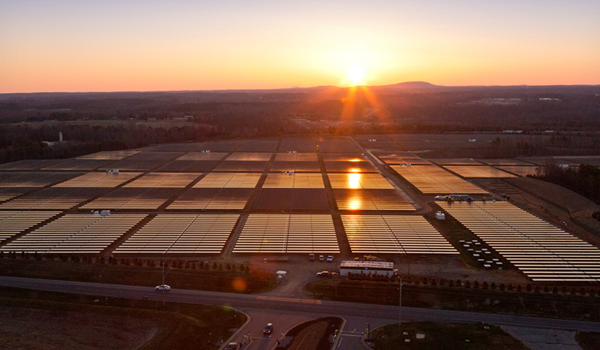 Apple's use of clean energy at is various locations varies by type, but is said to include solar power, wind energy, hydro and geothermal. The company said it continues to invest in its own onsite energy production such as at its Maiden, North Carolina data center where it sports "the nation's largest end user–owned, onsite solar photovoltaic array" on 100 acres of land surrounding the complex.
A second solar facility nearby is expected to be ready sometime this year, and the Maiden location as well has a fuel cell installation that uses directed biogas. All total, it is estimated this one data center alone produces enough clean energy to power the equivalent of 17,600 homes for one year.
Apple's chief critic of it not being green enough, Greenpeace, begrudgingly gave the Cupertino, California company its nod of approving, saying in a statement issued to media that "Apple's announcement shows that it has made real progress in its commitment to lead the way to a clean energy future."