Lancaster, a city of about 150,000 in the high desert of northeast Los Angeles County, this week approved a requirement that beginning on Jan. 1, 2014, new residential developments in the city must come with an average of at least 1 kilowatt of solar generating capacity per home.
For years, Mayor R. Rex Parris has been promoting Lancaster as the "alternative energy capital of the world" – back in 2011, he announced a goal of making it net-zero – and the ordinance looks to be his crowning achievement.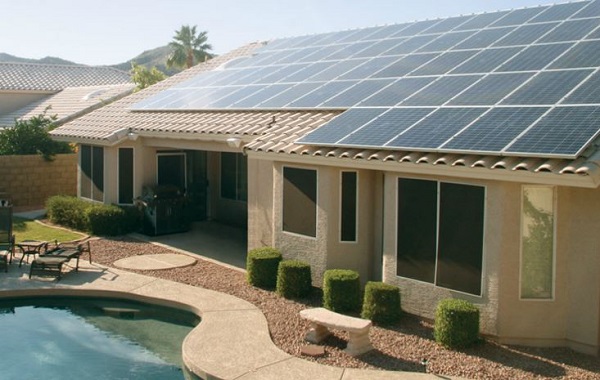 Ordinance 989 is especially notable because the solar mandate it contains is reported to be the first of its sort in the nation and because Parris is of a tribe – the Republican Party – that is often skeptical of solar power and almost always hostile to the idea of government dictating its deployment.
Passage of the measure came without any of the fierce contention that typically attends such groundbreaking legislation; the vote was an unsuspenseful  5-0 and within minutes of its passage, Parris was back to the more prosaic mayoral duty of handing out an athlete of the month award to a high school girl. (Video of the city council meeting is online, but it probably won't knock your socks off.)
In testimony before the city council there were a few citizen objections raised. A building industry representative expressed fear the requirement would make Lancaster a tougher place to do business, and a fellow wondered why solar couldn't flourish without being required by law, as the internal combustion engine, the telephone and the home computer had.
But in a statement issued before the vote, Parris suggested the mandate was simply the necessary next step in fulfilling the city's vision.
"Lancaster is already strongly committed to furthering green energy and reducing our carbon footprint," Parris said. "In fact, we've been nationally and internationally recognized for our solar achievements. However, to truly establish ourselves as the Alternative Energy Capital of the World, we must continue to take a progressive approach. I would like to commend our Planning Commission for this innovative revision of the Residential Zones, which will rapidly advance us towards becoming a net-zero city in record time."
The solar mandate has been headlined as requiring solar "on every new home" but as the city pointed out, that's not quite the case. "Installation of solar energy systems is not required for all homes within a production subdivision; however, the builder will still be required to meet the aggregate energy generation requirement within the subdivision," the city said. Considering that the average home system is around 4 kW or so, that seems to mean developers could get away with putting solar on a quarter or fewer homes in a subdivision.