A 13-home micro-community located in the Columbia City section of Seattle has always aimed for sustainability since it began a few years ago by local builder Dwell Development. Today, Phase 4 of the project, known as Columbia Station, can officially be called a "Passivehaus" after passing a rigorous test to prove its hyper-efficient thermal characteristics.
As reported in a recent Jetson Green article, Dwell performed a February blower-door test results on Unit 13 in the Phase 4 development and showed 0.58 air changes per hour under 50 pascals of pressure, which is just under the 0.6 air changes per hour threshold mandated under Passivhaus rules. By comparison, Dwell said, regular code homes change air at a rate of around seven times per hour under 50 pascals of pressure, while Energy Star standards permit up to six air changes per hour.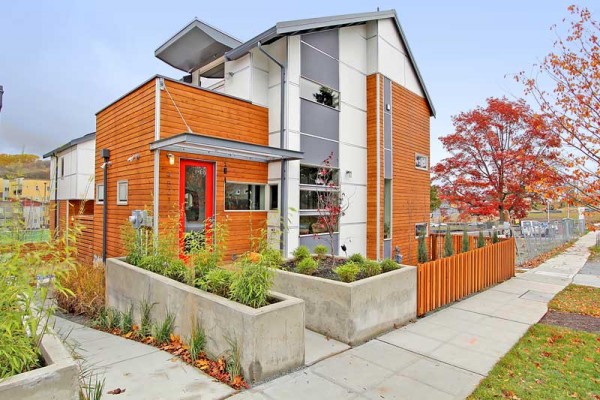 Dwell is now calling the Unit 13 house the first on-spec home in the Pacific Northwest to meet Passivhaus standards. "We made the commitment to building a Passivhaus on spec because we believe so strongly in creating energy efficient homes and keeping them affordable," said Dwell Development principal Anthony Maschmedt, in a press release. "It's paying off now. The home pre-sold in November 2012, in the early framing stage of the project."
The three-bedroom, 2.5 bath home in Phase 4 features a super-insulated building envelope, heat recovery ventilation, airtight construction, elimination of thermal bridging between building materials, high-performance windows, and the use of passive heat sources. The aim of Passivehaus is to achieve 90 percent energy efficiency.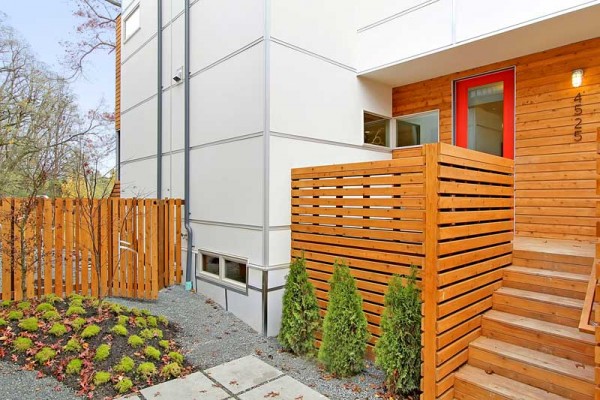 In a previous blower-door test in January, the same house scored 1.62 air changes  per hour, according to a Mother Nature News article. To help improve scores for the next test, the Dwell crews re-installed windows, reapplied the exterior waterproof sealant, and taped or sealed tiny holes where joints meet.
Passivhaus, an energy standard developed in Europe that is considered stricter than the U.S. Green Building Council's LEED program requirements, is based mostly on energy efficiency. To meet the Passivhaus standard, buildings must dramatically reduce the requirement for space heating and cooling, while also improving indoor air quality.
Another green feature of the Columbia Station development includes a close connection with bus and light-rail public transit systems in the region's Rainier Valley.