"How-small-can-you-go?" has dominated the buzz on the new SmartSpace apartments at 38 Harriet Street in San Francisco. They're each 295 square feet. Hey, that's downright spacious compared to recent microhousing in Vancouver, to say nothing of Tokyo.
Two key features have tended to get lost in the buzz: the building is LEED Platinum (applied for), and it consists of 16 truck-sized modules that were built elsewhere and assembled here in the space of four days. They were built by Zeta Communities, an industry leader in green modular construction. You can watch the four days zoom by in stop action on Zeta's website.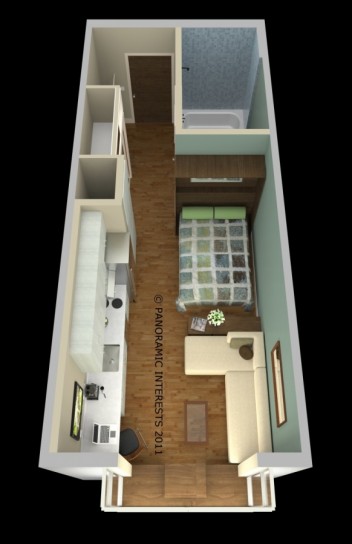 Modular construction is green because it cuts back on wasted material, and factory precision can help with airtightness. It also goes a lot faster, and in theory there should be cost savings. While low cost has been achieved for decades within the modular housing sector known as "mobile homes," so far it has seemed elusive in the innovative or green sectors; and 38 Harriet is no breakthrough in cost terms. Still, the units rent for $1600, well below average for a studio apartment in San Francisco.
If you were moving into one of them, the resemblance to a hotel room would be inescapable. (I envision artistic tenants quickly camouflaging the hotel look.) Unlike hotel rooms, they have full-size fridges and maximal storage all the way up to the nine-foot ceilings. In one model, a dining table sprouts from under the queen-size Murphy bed (Inova TableBed) when it's put away. The other model has two twins, and both models have a long window seat that converts to a guest bed and to a sunny banquette table for three.
Clearly this place is designed to be marketed as "cool" rather than just "adequate."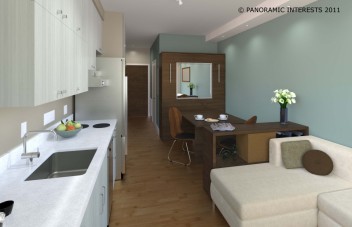 The developer, Panoramic Interests, grew a huge business in student apartments in Berkeley, then sold off those buildings and shifted to a slightly more mature demographic, the twenty-somethings who are scouring central San Francisco for homes from which to either walk or shuttle-bus to their tech jobs. Betraying its background in student housing, Panoramic's next SmartSpace building includes some double modules with five twin beds in three bedrooms. That project, with 160 units, will open next year a few blocks away.
Panoramic owner Patrick Kennedy has vacationed with his wife and child for weekends in a 78-square-foot Airstream trailer, and says that went just fine. For inspiration he credits Airstream as well as Jane Jacobs, Leonardo da Vinci ("Small rooms or dwellings set the mind on the right path.") and Aristotle Onassis ("Always have an address in the best part of town even if it's a broom closet.")
He started out by designing a unit close to California's legal minimum size of 160 square feet. He built this experiment, SmartSpace 1.0, in a Berkeley warehouse, gave its picture window an illuminated faux view of the bay and bridge, and hired an MIT student to test-live it. Her feedback informed the design of the 295-square-foot units in San Francisco.