For many people contemplating a new "green" home, a looming fear is that they may not find contentment in a house that is conspicuously very white and very contemporary. Where will Aunt Mabel's heirloom china cabinet go? Some architects have little patience for such sentiments.
One Olympia, Washington, builder has found the sweet spot that combines high energy efficiency with a Craftsman cottage look, without driving prices into the stratosphere. A 2012 spec house called "Inspiration" serves as a good example. Check out the framed, mullioned windows, coffered ceilings, and vaulted doorways.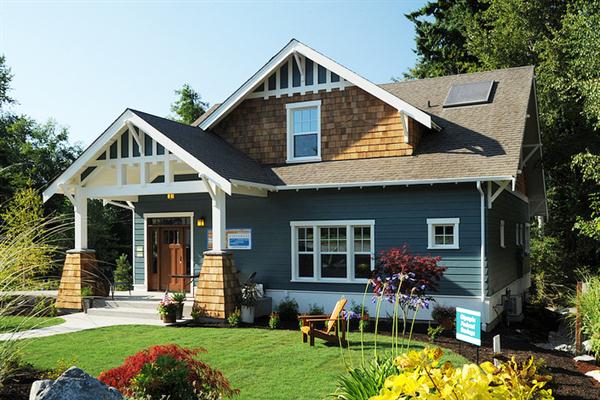 Of course, the original Craftsman movement was all about hand-crafted, so most of these details are faux-Craftsman; factory production is a major key to the savings in both dollar and BTU terms. The walls and roofs of Scott Homes are structural insulating panels (SIPs) produced in nearby Tacoma.
SIPs are huge but lightweight panels consisting of a thick foam core, usually expanded polystyrene (EPS), sandwiched between two oriented strand board (OSB) skins. Window and door holes as well as chases for wiring and plumbing are carved to specification in the factory; entire walls and roof sections are trucked to the site and typically erected within the space of two or three days. The parts go together on pre-formed joints, and are then taped air-tight. In the Inspiration Home, walls are 10" thick (R40) and the roof is 12" (R50)
With panels like that together with the triple-glazed windows and the heat recovery ventilation, ScottHomes could undoubtedly achieve Passive House standards if a client asked them to. In the Inspiration Home they chose instead to trim costs in a few areas, and in others to go for thermal luxuries like the big fireplace.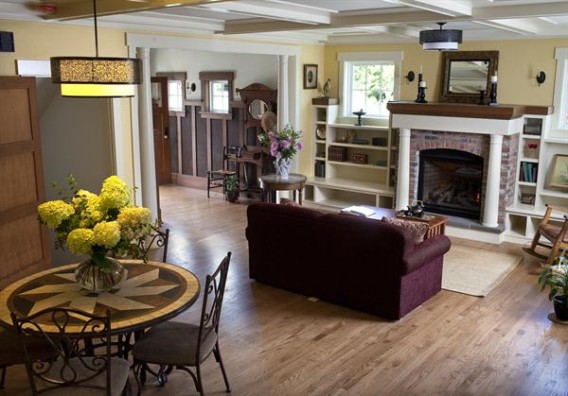 SIPs are an intriguing technology which we follow at EarthTechling. Questions sometimes raised include:
1. Moisture in the walls? A serious concern, but probably no more insurmountable in SIPs than in any air-tight R40 wall in a rainy climate.
2. Longevity? Only time will tell, but SIP houses have been built for more than 30 years now, and the record doesn't look too bad. See #1.
3. Gases emitted during production of EPS? The blowing agents are bad, but so far I haven't found hard data showing that they outweigh the benefits of SIPs. See #2 (i.e., if you just emit the gases once and the material lasts 80 years  . . . )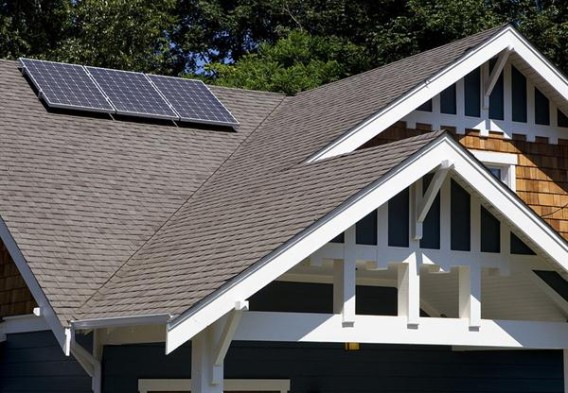 The Inspiration home overflows with nifty high-efficiency technologies that don't break the bank: Solatube lighting, an induction cooktop, and a bathroom sink whose drain fills the toilet tank. And it's full of classic craftsman details including generous shelving, wainscoting, and bead board.
As for price point, Scott Homes has a 2BR/2Ba plan that they'll put on your Olympia-area lot for $152,000 (excluding land, permits, utility hookups). That one's SIPs are two inches thinner, but it still has the builder's trademark features such as triple glazing and the bungalow look.