With New England tensing up for a classically brutal February nor'easter, this might be a good time to address the effects of wind and the elements on architecture. Along the coastline of Rhode Island, for instance, the wind practically never stops, with or without a monster storm, so any green building effort must be sited and built with the weather in mind.
In designing a new collection of buildings that make up Ocean House, on coastal Rhode Island, Roger Ferris + Partners borrowed liberally from time-honored, sturdy designs of from the past. Using the basic form of 19th century maritime barns and boat sheds, the architects have created a group of buildings that create their own windbreak and protect inhabitants from the harshness of the sun, all while operating in a more sustainable environment.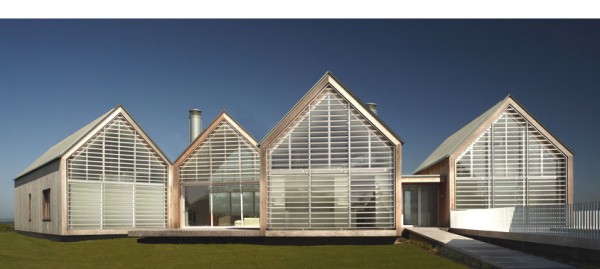 Ocean House is a series of five gabled forms in the classic New England style, but with a modern twist. Three of the main housing units are parallel to each other, facing the shore, while a fourth is pivoted at a roughly 45-degree angle bending away from the waterfront. Meanwhile, the fifth unit, separate from the other four, containing the garage, is set back several feet inland, framing a narrow swimming pool.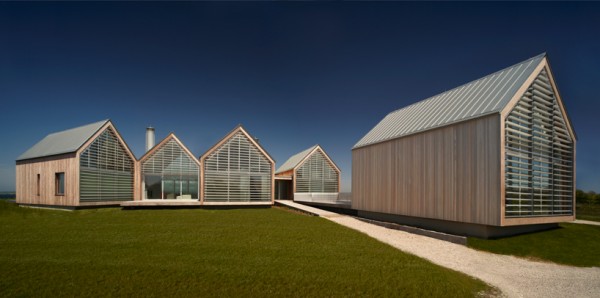 The arrangement, which was made partially to avoid damaging nearby wetlands, creates a natural sheltered cove in between the houses. With ground-level passages that connect the four main structures, the Ocean House becomes a giant windbreak, protecting a central deck from the ceaseless onshore breezes (and gales).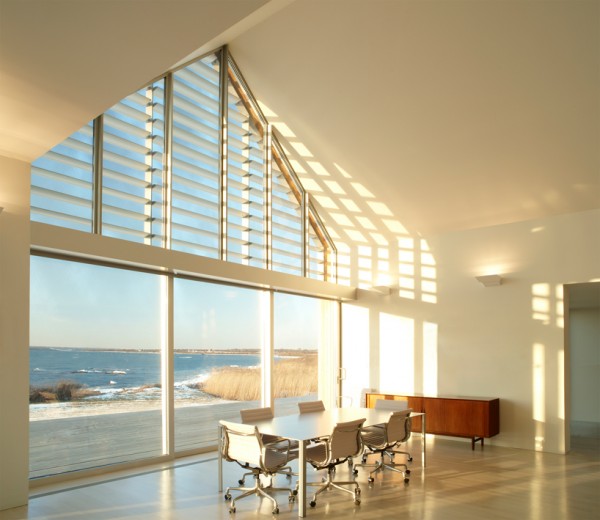 On the ocean side, the full height of the wall in each unit is glazed to provide stunning views of the shoreline from the bedrooms and living room, and to flood the entire house with natural daylight. All four units are connected by a raised wooden deck, offering direct access to the beach. When afternoon sun becomes too strong, a set of wide, horizontal aluminum louvers, along with motorized retractable window shades, can be adjusted to filter the light and reduce solar gain.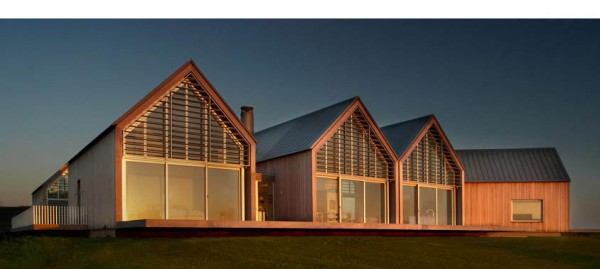 To further protect from the salt spray of the marine environment, the house's exterior is clad in weathered ipe, a durable hardwood from South America, commonly used in decking material and hailed for its strength and rot resistance. The walls of each house are also well insulated against the winter chill to help maintain a constant temperature inside.
On the roof, the main surfaces and chimneys are covered in weatherproof zinc panels. A rainwater collection system also directs runoff from the sloping canopies for recycling within the house and as landscaping irrigation.