Environmentalism isn't a religion; as Sheryl Eisenberg writes on her "This Green Life" blog, that's a claim critics make to demonize the movement as a false religion, or to belittle it as not being based on science or fact. But environmentalism does have its schisms, and there's a small one developing now that could impact the movement for the next several decades. It's over the question of developing utility-scale renewable energy plants in the desert Southwest.
This week, a coalition of three smaller environmental groups, led by the Western Lands Project, brought a lawsuit against an Obama administration's plan, put in place late last year, that opens up 285,000 acres in 17 zones in six Western states for streamlined utility-scale solar power development.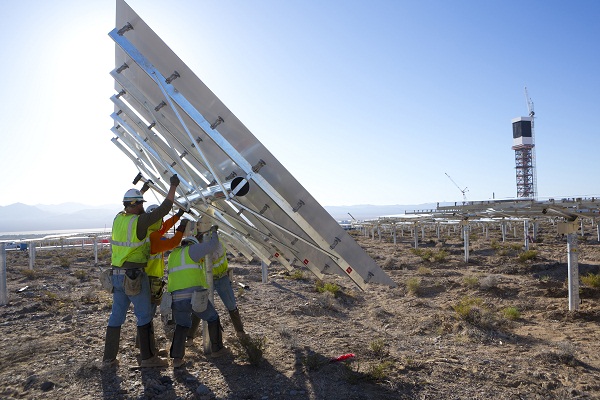 The groups say solar power doesn't belong on the public lands, and doesn't need to go there.
"The Administration is opting to needlessly turn multiple-use public lands into permanent industrial zones." Janine Blaeloch of the Seattle-based Western Lands Project said in a statement. "Solar development belongs on rooftops, parking lots, already-developed areas, and on degraded sites, not our public lands. "
The Final Programmatic Impact Statement (PEIS) for Solar Energy Development, as it is officially known, doesn't limit big solar plants to these zones, but the Bureau of Land Management has committed to "facilitating faster and easier permitting in the SEZs, improving and facilitating mitigation, facilitating permitting of needed transmission to the SEZs, encouraging solar development on suitable adjacent nonfederal lands, and providing economic incentives for development in SEZs."
The U.S. Department of the Interior said it selected these lands because they offer "excellent solar resources, access to existing or planned transmission and relatively low conflict with biological, cultural and historic resources."
In their press release announcing the suit, the conservation groups didn't talk about specific sites that they objected to, but instead said the administration violated the National Environmental Policy Act by failing to look beyond the possibility of developing solar power on public lands, and failing to study "a distributed generation (DG) alternative, and an alternative in which solar energy facilities would be sited on previously degraded or damaged lands."
In the lawsuit – filed in U.S. District Court for the Southern District of California and available here – the groups asked the court to vacate the Final PEIS for Solar Energy Development.
Larger, mainstream environmental organizations – including the Nature Conservancy and the Natural Resources Defense Council – have mostly backed the administration's direction on utility-scale solar. In a statement released when Interior Secretary Ken Salazar finalized the solar zones plan, the Nature Conservancy said it had "worked closely with the BLM, the Department of Interior, and other stakeholders to ensure that the plan contained steps to prevent solar energy development from damaging sensitive natural areas."
There are zones in six states, but that's a little bit misleading: Of the 285,000 acres, more than half – 147,910 – are in California's Riverside County, which borders Orange County on its western flank and then stretches all the way east across the Mojave and Colorado deserts to Arizona.
Pre-Obama, no big solar energy projects had been permitted on public lands. But according to the Interior Department, under Obama dozens of renewable energy projects have been approved for construction on or involving public lands, including 18 solar plants, seven wind farms and eight geothermal plants. Last May, the first of those big projects – Enbridge Silver State North, a 50-megawatt solar PV array 40 miles south of Las Vegas – went online.
While it's true the administration has supported utility-scale solar development, it should be noted that it has hardly ignored rooftop and other smaller-scale efforts, particularly through its Sunshot Initiative, backing a competition to bring down "soft costs," as well as efforts to develop plug-and-play solar systems and find ways to eliminate administrative barriers to solar PV installations, among a long list of programs.