In Buddhist teachings, all living things are considered to be part of one interconnected web of life, and nature is merely the order of the world that has not been warped by human desires. It is only fitting, then, that a school that teaches children the way of the Buddha would be built from natural materials and would tread lightly upon the local environment.
The embodiment of this philosophy can be found at the Panyaden School, a sustainable Buddhist institution located near the city of Chiang Mai in northern Thailand. The cluster of buildings at the nearly 54,000-square-foot primary education institution, designed by the Dutch firm 24H Architecture, are made almost entirely of natural or recycled materials and built to resemble the lush, mountainous landscape of the region.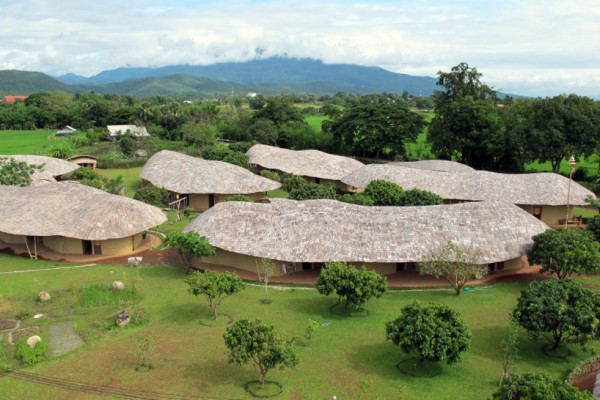 Completed in 2011, the Panyaden School plan is inspired by the branching leaves of the tropical antler horn fern, according to the 24H blog. The main teaching areas are divided into separate sections of three classrooms each, made of compressed-earth walls and covered by large thatched-roof canopies. In between each classroom, a series of pathways lead to open-air pavilions where students can meet for instruction in an even more natural setting.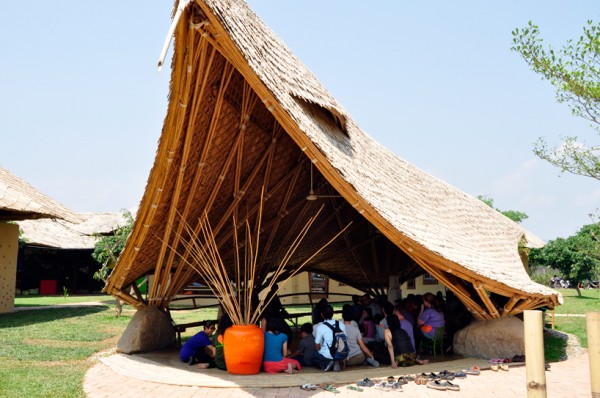 The chief structural material is fast-growing bamboo, which grows in abundant quantities around the school. Large bamboo rods are used as beams to support the woven-bamboo roofs, which include wide overhangs to provide ample shade from the tropical sun. In some of the open pavilions, supporting bamboo rods branch out from natural stone pilings, providing the illusion that children are meeting in a sheltered forest clearing.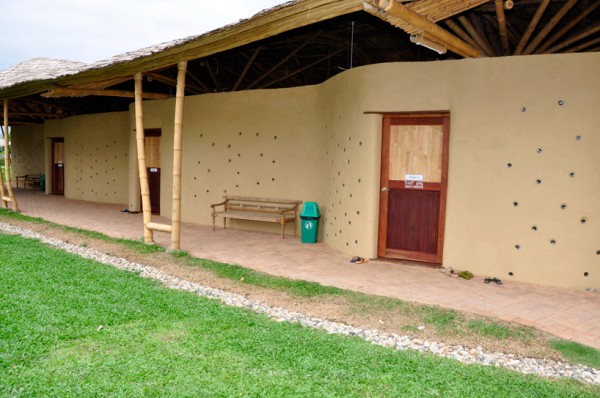 Hardly any right angles can be found in the architecture of the Panyaden School. Most earthen walls are gently curved, and the rooflines and eaves of the rounded structures roll and swoop, sometimes nearly reaching the ground, echoing the rolling hills found in the area.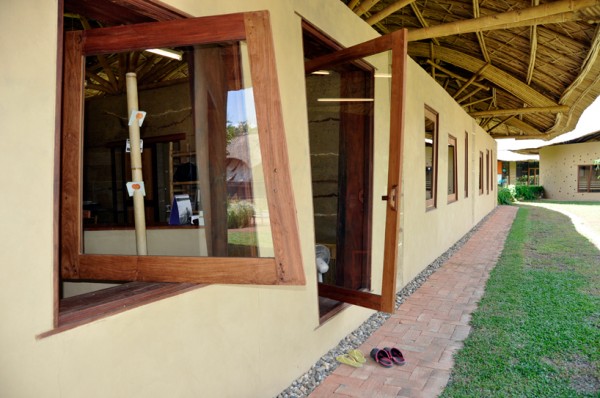 In the main classroom, most of the manmade finished elements come from recycled materials, such as reclaimed hardwood for the door and window frames. The classroom walls are also pockmarked with embedded glass bottles and recovered washing-machine windows to draw in natural light. The doors and glass windows are built on a central pivot system to allow for ventilation in the warm climate.
Surrounding the school are rice paddies and gardens, where school staff grow their own organic vegetables and rice, irrigated with the school's harvested rainwater. To further reduce the facility's carbon footprint, a food waste recycling program also creates natural fertilizer for the soil and collects biogas for use in cooking meals for the students.
For these environmental features, according to the Designboom site, the Panyaden School won a Grand Award for overall design and a Gold Award for sustainability at the 2012 Design For Asia Awards.