How much are Californians willing to pay for solar power that can be delivered after dark? There's considerable difference of opinion on the matter, but the opinion that matters in the end is that of the state's Public Utilities Commission – and late last week it said yes to an apparently expensive power purchase agreement between the utility Pacific Gas & Electric and the solar developer SolarReserve.
The PPA is for SolarReserve's Rice Solar Energy Project, a 150-megawatt power tower plant fully permitted for construction 200 miles east as the crow flies from downtown Los Angeles, nearly to the Arizona state line in Riverside County. SolarReserve plans to use molten salt energy storage technology at the power plant. A similar SolarReserve setup is in the works in Nevada, expected to begin operations this year, but this will be a first for California at this kind of scale.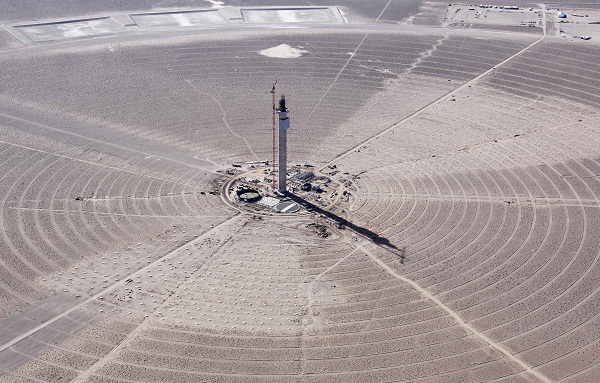 "SolarReserve's market leading technology is a true alternative to conventional generators and can provide firm and reliable electricity as needed by the utility or system operator, day and night," company CEO Kevin Smith said in a statement [PDF]. "This capability will be crucial as California progresses towards its (2020) 33 percent renewable target."
On California's hot summer days, when energy use soars, solar power is a good but imperfect source of electricity; it provides clean power during the busy workday, but output declines in the late afternoon and early evening when demand peaks. At Rice, using molten salts to store heat generated from the reflections of thousands of giant mirrors onto a tower will allow the plant to "operate on demand just like a conventional coal, natural gas or nuclear power plant, but with the harmful emissions associated with burning fossil fuels or other hazardous wastes associated with conventional power plant technology," SolarReserve says. The company says the integrated storage system at Rice will provide "eight hours of full power energy storage."
That's a big advantage over utility-scale PV and even other power tower systems that don't have storage, like the massive Ivanpah plant under construction in the Mojave Desert in California. The only issue with the Rice plant, which will be built on private, previously disturbed land – an abandoned U.S. Army airfield – has been the cost of the power.
By law, that information is confidential for several years, on the idea that releasing it could unduly influence other bidders for RPS energy projects. The Rice power was pricey enough, however, that the PUC's in-house rate watchdog, the Division of Ratepayer Advocates, recommended against allowing PG&E to recover its costs from ratepayers for the PPA. An independent evaluation of the PPA paid for by PG&E also called the contract "distinctly uncompetitive when compared to alternatives made available to PG&E."
But Rice caught a bit of a break: Because the PPA up for consideration was an amended version of one approved in 2010 and offered response to a 2009 RPS solicitation, the PUC judged its competitiveness against projects from that earlier period. Renewable projects have fallen in price since then.
More than that, though, the regulators said that since the original PPA approval in 2010, SolarReserve, with its Nevada project apparently well on course, had demonstrated the viability of the Rice project, a key consideration. And most importantly, the regulators were sold on the added value of solar after dark.
In the end, all five commissioners voted to approve the 25-year PPA, including Mike Florio, who in 2011 cast the lone vote against an Abengoa project in the desert that the PUC staff said had become uncompetitive because of falling costs.
"Eight to 10 hours of fully dispatchable storage is quite impressive and offers significant benefits to the system that we don't yet know how to quantify fully, but there's definitely value there," Florio said at the commission hearing last week, according to the SolarReserve press release. "There is a similar project reaching completion in Nevada, and hopefully this is the first of many."
SolarReserve said it expects to break ground on the Rice project next year and have the plant operating by the middle of 2016. The company said the plant will produce 450,000 megawatt-hours per year, which by our calculations works out to an impressive capacity factor of 34 percent.
While SolarReserve is moving forward on this power tower project, its competitor, BrightSource Energy, recently announced it would "suspend" development on the planned Rio Mesa project in the California desert. The project had run into a wide range of objections for its siting, from environmental to cultural issues, and in an interview with Desert Sun newspaper, BrightSource said it wouldn't be able to have the project online to meet a 250-megawatt PPA with Southern California Edison. State regulators had earlier voted not to approve a second 250-MW PPA for power from the same site, which was not planned to be built with storage.
A 21-page PDF of the PUC's decision is available here.